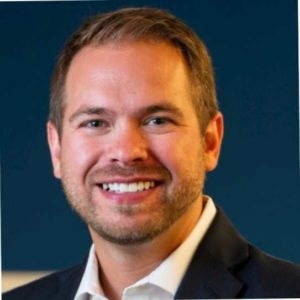 The Society of Collision Repair Specialists (SCRS) announced Friday that Ryan McMahon, Vice President of Insurance and Government Affairs at Cambridge Mobile Telematics, will deliver a presentation for Session ll of the OEM Collision Repair Technology Summit (Summit) on Thursday, Nov. 4, during the 2021 SEMA Show in Las Vegas.
McMahon's topic will be Vehicle Research and Trends: Telematics. During the 90-minute session, McMahon will discuss the visibility into driver behavior and loss analysis that telematics provides. He will review the many use cases different industries have to leverage telematics data collected from connected vehicles, smartphones and loT devices.
For instance, telematics provides visibility into crash severity by identifying the vehicle's change in velocity. This information can benefit collision repair facilities in many ways, such as resolving repair disputes, and automatically identifying a total loss directly from the scene of an accident.
Cambridge Mobile Telematics can predict delta-V, point of impact and the degree of the severity of the damage of a vehicle accident. The company can even determine if a rollover occurred, and in some cases can use an iPhone barometer's air pressure measurements to ascertain if airbags were deployed.
"We can tell non-drivable immediately," McMahon told Repairer Driven News last January. That can be based on a vehicle not leaving a certain point or moving at all in 10 minutes. McMahon said if a vehicle remained stationary that was "certainly part of the story" told by the data.
"Our objective with these Summit sessions has always been to give our audience perspective into the innovation and emerging trends in the automotive and collision repair fields," said SCRS Chairman Bruce Halcro. "Sessions like this are critical to understand how access to information is going to change both the collision repair and claims environments."
The OEM Collision Repair Training Summit will be held in the Upper South Hall of the Las Vegas Convention Center, just down the hall from the Collision Repair & Refinish section of the SEMA Show.
McMahon is scheduled to being his presentation at 11 a.m.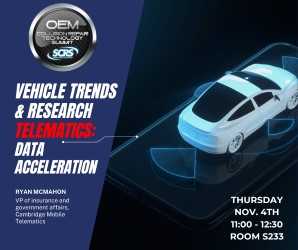 Mobile telematics – which measure and analyze driver behavior — didn't even exist a decade ago, but it certainly has come a long way. Analysts forecast it will be a $125 billion industry by 2026.
Cambridge Mobile Telematics, which was founded in 2010 and is based on MIT research, is the leading telematics company in the world and has offices in its namesake Massachusetts city, Chennai (India), Dallas, Los Angeles, London and Seattle. The company now powers 65 enterprise programs in almost 30 countries.
The Cambridge Mobile Telematics platform combines sensor fusion, artificial intelligence and behavioral science to enable insurers, rideshare companies, fleet operators, automakers and the personal safety industry with information about driving risk. It also helps drivers become safer and offers real-time crash assistance.
The data is evolving and industry segments can better study and leverage the predictive power of speed, braking, cornering and other driving behaviors on their own and in the context of other factors. Consumers, regulators and government officials also continue to adjust their views on privacy.
In the SEMA Show session, McMahon will outline the moving scope of insight gleaned from telematics — the trends, habits, research and use cases — and give the collision industry a look into what is being utilized today and what the future might hold.
Just prior to McMahon's presentation, six industry experts from General Motors, Lucid Motors and Rivian will participate in the OEM Collision Repair Summit on Electric Vehicles from 9-10:30 a.m.
Summit sessions can be selected individually or as part of the Full Series Pass at www.scrs.com/rde.
To learn more about SCRS' education series at the SEMA Show, visit www.scrs.com/2021RDE.
Images:
Featured image: Ryan McMahon (Cambridge Mobile Telematics)
Other image: Vehicle Research and Trends flyer (Society of Collision Repair Specialists)
More information:
No. 1 Cambridge Mobile Telematics buys No. 2 TrueMotion in major auto insurtech deal – Repairer Driven NewsRepairer Driven News
IRC survey: Telematics prompts driving behavior changes, but not always permanently – Repairer Driven NewsRepairer Driven News
Ariz. trial Allstate Milewise telematics format yielding better drivers – Repairer Driven NewsRepairer Driven News
Share This: