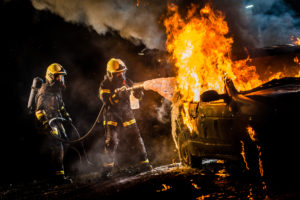 It's Fire Prevention Week and it began with a cautionary tale in Texas.
More than a dozen firefighters worked to put out flames towering from the JM Bodyshop in Odessa on Monday afternoon, according to Nexstar Media.
Shop workers tried to combat the flames with a fire extinguisher before Odessa Fire Rescue could respond, but the flames quickly became uncontrollable and unbearable.
"Nothing was working," an unidentified JM Bodyshop technician told Nexstar. "We just had to get out of there as quickly as we could."
That seems like an important warning for others.
According to Nexstar and Odessa Fire Rescue, the fire was sparked by a welding mishap in the shop and flames quickly spread from that, reinforcing the need for welding caution and to separate and show extra care toward materials ripe for escalating a fire.
"He was welding inside and I guess some fumes from maybe some paint or something caught on fire," said Ronnie Lewis, the building owner.
Lewis has leased JM Bodyshop its home for almost a decade, and said this was a first at the business. He also said that by the time he quickly arrived on scene, the road off Andrews Highway was blocked off, firetrucks clogged the street and a host of firemen were animatedly battling the blaze.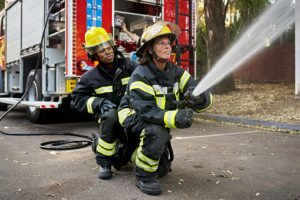 JM Bodyshop workers told Nexstar the vehicles that previously were being repaired or waiting their turns were "unrecognizable" after the fire finally was extinguished. They also said the business would now have to build itself back up "from scratch."
Under "Fire prevention housekeeping" (1910 Subpart E), OSHA's standard calls for the control of accumulations of flammable and combustible waste materials.
"It is the intent of this standard to assure that hazardous accumulations of combustible waste materials are controlled so that a fast developing fire, rapid spread of toxic smoke, or an explosion will not occur," OSHA states. "This does not necessarily mean that each room has to be swept each day. Employers and employees should be aware of the hazardous properties of materials in their workplaces, and the degree of hazard each poses.
"Certainly oil soaked rags have to be treated differently than general paper trash in office areas. However, large accumulations of waste paper or corrugated boxes, etc., can pose a significant fire hazard. Accumulations of materials which can cause large fires or generate dense smoke that are easily ignited or may start from spontaneous combustion, are the types of materials with which this standard is concerned. Such combustible materials may be easily ignited by matches, welder's sparks, cigarettes and similar low level energy ignition sources."
The Lincoln Electric Company has some useful warnings and information on its site:
"The welding arc creates extreme temperatures, and may pose a significant fire and explosions hazard if safe practices are not followed. While the welding arc may reach temperatures of over 10,000 degrees Fahrenheit, the real danger is not from the arc itself, but rather the intense near the arc heat, [and] sparks and spatter created by the arc. The spatter can reach up to 35 feet away from the welding space.
"To prevent fires, before beginning to weld, inspect the work area for any flammable materials and remove them from the area. Flammable materials are comprised of three categories: liquid, such as gasoline, oil and paint; solid, such as wood, cardboard and paper; gas, including acetylene, propane and hydrogen."
On Tuesday, Nov. 2 in Las Vegas, the SEMA Show will present How to Survive an OSHA Visit & Avoiding Common Accidents, which could help shop owners avoid penalties and accidents like the one in Odessa. KPA — which provides environment, health and safety, human resources management and finance and insurance software and services to mid-sized companies — will deliver the messages.
"They're rampant and hidden in plain sight, and they have potentially dire consequences for your people and your bottom line," SEMA states in its preview of the presentation. "Is your organization doing enough to avoid the most common OSHA citations? How do you think your company would fare if an OSHA inspector showed up tomorrow?
"From OSHA penalties to workers compensation claims to legal, operational, and reputational costs, business pay a significant toll," and this session will illustrate how to dodge big trouble.
If your shop has suffered from a big fire — such as the one in Odessa for which the location owner said repairs to the shop alone would be almost $30,000 — the Collision Industry Foundation (CIF) could help.
A 501 (c) (3)) charitable arm of the collision repair industry, CIF provides emergency relief by securing and distributing donations to collision repair professionals who have experienced significant losses due to natural disasters or other catastrophic events.
Images:
Featured image: Firefighters spraying water with hose on burning car. (iStock/simonkr)
Other image: Firefighters at work (Unsplash)
More information:
I-CAR resumes in-shop welding, hands-on training – Repairer Driven NewsRepairer Driven News
Experts: Watch auto body repair welding wire, remember to dress, change STRSW tips – Repairer Driven NewsRepairer Driven News
New SCRS videos give tips on electricity, conductivity during STRSW welding – Repairer Driven NewsRepairer Driven News
Share This: