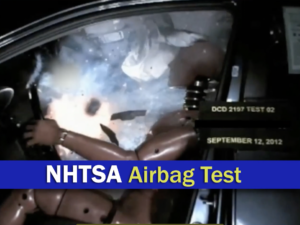 The Automotive Anti-Counterfeiting Council (A2C2) has called on eBay to immediately halt the sale of airbags and airbag components on eBay.com, saying that the move is the only effective way to prevent the sale of dangerous counterfeit airbags on the site.
A2C2 said it has "engaged directly" with eBay executives about the subject since 2017. Although several other e-commerce platforms have agreed to prohibit the sale of airbags and airbag components to address the growing problem, eBay has not followed suit, the nonprofit association said in a news release.
A2C2 told Repairer Driven News that Amazon.com, Walmart.com, Bonanza.com, OfferUp.com, Alibaba.com and Aliexpress.com have enacted sales prohibitions on airbag assemblies.
Counterfeit airbags have been a subject of concern to the National Highway Traffic Safety Administration (NHTSA). According to testing conducted by the organization, counterfeit airbags have shown consistent malfunctions ranging from non-deployment to the expulsion of metal shrapnel during deployment.
Based on those concerns, 28 states have so far adopted bans on counterfeit airbag sales.
Although its focus is on mass-market commerce marketplaces and not the parts procurement systems used by repair professionals, A2C2 said shops face some risk from eBay's position, too.
"As with nearly all consumer products, the sale of automotive parts online has surged significantly in recent years, and with that A2C2 believes the potential for unsuspecting consumers and repair shops to purchase dangerous counterfeit automotive parts, including airbags, has increased as well," the group said.
In a statement to RDN, eBay said that only airbags produced by OEMs can be offered for sale on its site, and only by "approved sellers who adhere to our strict policies and federal and state laws."
"Counterfeits are not tolerated on eBay and we strongly support the goal of keeping drivers and passengers safe," the company said. "We look forward to continuing to work with the Automotive Anti-Counterfeiting Council to address their concerns while supporting approved sellers."
A2C2, in response, pointed to several recent law enforcement investigations over the sale of counterfeit airbags, as well as those incorporating cobbled-together components, on the site.
In one example from 2016, a Cheektowaga, N.Y., man was sentenced to serve 24 months in prison. Prosecutors said he was responsible for importing and selling approximately 360 counterfeit automobile airbags with an average manufacturer's retail price of $650. Prosecutors made multiple undercover buys from the man's business, tested them and found that they failed "miserably."
EBay responded that it cooperated fully with authorities during that 2016 case, and has since "put additional policies in place including that all airbag sellers must get approval from eBay before being allowed to sell, and must abide by strict requirements."
"eBay regularly monitors our marketplace for airbag listings that do not follow our Policy that includes any airbags that are not made by the original equipment manufacturer, or don't comply with federal and State laws and remove items and sellers that are not in compliance," the company said.
A2C2 noted that not all counterfeits are immediately obvious. Some have been found to be "comprised of certain used original equipment manufacturer (OEM) components cobbled together with counterfeit components so as to appear to be complete OEM airbags—an inflator from one vehicle may be combined with an airbag from a different vehicle, shielded by a counterfeit airbag cover."
"Consumers are unaware that some products on online marketplaces are counterfeit," A2C2 said in a white paper on bogus parts issued last year. "Many consumers believe that the offerings online are more akin to brick-and-mortar retailers. Many do not realize the lack of regulation of the third-party sellers and thus are unknowingly putting themselves or their customers (in the case of automotive repair shops) at risk."
"Much like consumers, repairers (mechanical and collision) can employ common-sense research measures when evaluating suppliers and procuring replacement parts. It is most important for shops to know and trust the source of their parts and utilize reputable supply chains," the Council advises on its website.
A2C2 noted that the sale of airbags and airbag components runs counter to eBay's stated policies prohibiting the listing and sale of combustible and recalled goods, and of hazardous materials that are banned by shipping providers.
NHTSA notes that any counterfeit airbag purchased through eBay may be covered by that company's "Buyer Protection" program, and suggests contacting eBay's Customer Support center.
A2C2 advises that anyone suspecting a counterfeit part should contact the National Intellectual Property Rights Coordination Center or the brand protection department for that automaker, as found in the Members section of its website.
NHTSA also suggests contacting a local Consumer Protection Agency or the appropriate State Office of the Attorney General to determine your rights under the law, and the Better Business Bureau or the Federal Trade Commission to file a complaint.
Formed in 2015 A2C2 is a non-profit association comprised of members from Daimler IP, Ford, General Motors, Honda, Hyundai, Kia, Nissan, Stellantis, Subaru, Toyota, Volkswagen Group of America, and their subsidiary brands. Its mission is collaboration among automakers and their partners that strives to eliminate counterfeit automotive components that could harm U.S. consumers.
Images:
A screen capture from a National Highway Traffic Safety Administration test of a counterfeit airbag. (Automotive Anti-Counterfeiting Council)
Twenty-eight states have adopted laws prohibiting the sale of counterfeit airbags. (Automotive Anti-Counterfeiting Council)
More information:
Share This: