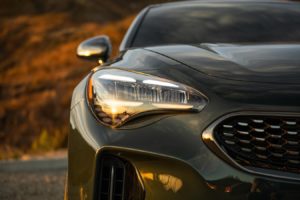 Real-world crash results are proving the value of the headlight ratings program developed by the Insurance Institute for Highway Safety (IIHS), the institute said. Vehicles that have earned a coveted "good" rating in the IIHS evaluation have nighttime crash rates that are 20 percent lower than those with poor-rated headlights, according to the institute.
Moreover, even vehicles with acceptable or marginal headlights have crash rates 15 percent and 10 percent lower, respectively, than those with poor headlights, IIHS found.
Compared with poor headlights, good-rated headlights reduced the rate of crashes in which the driver was hurt by 29 percent, and the rates of tow-away crashes and pedestrian crashes by about a quarter each.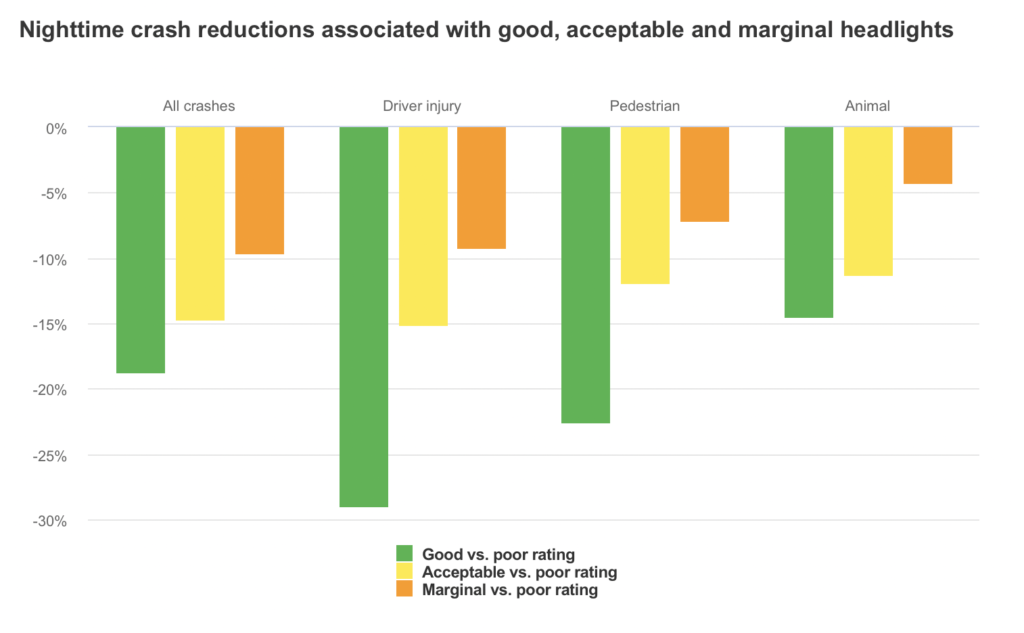 "Driving at night is three times as risky as driving during the day," IIHS Senior Research Engineer Matthew Brumbelow, who conducted the study, said in a news release. "This is the first study to document how much headlights that provide better illumination can help."
The study results are a reminder of the importance of making certain headlight systems are working as they were designed to when a repaired vehicle is returned to its owner.
IIHS has campaigned for better headlights since 2016, when it launched its headlight rating program. It has made high-quality headlights a requirement for its Top Safety Pick and Top Safety Pick+ awards, giving manufacturers an incentive to make better headlights available on more vehicles.
"Our awards have been a huge motivator for automakers to improve their headlights," Brumbelow says. "Now, with our new study, we have confirmation that these improvements are saving lives."
The institute said its study further points out the limitations of federal headlight standards, which have not changed appreciably since 1968. According to IIHS, the federal standard specifies minimum and maximum brightness levels for headlights at various angles, but does not consider how well the headlight is aimed once it is installed on a vehicle.
Aim is, obviously, a critical factor in how well headlights work. In fact, one vehicle recently evaluated by IIHS, the 2022 Mitsubishi Outlander, went from poor to good due solely to aim adjustments made by the manufacturer after the vehicle's introduction. Thanks to better headlights that produce less glare, the Outlander is now a Top Safety Pick+ choice.
As repairers may have discovered, headlight aiming is not an included operation in the P Pages of CCC/Motor, Mitchell or Audatex, even though the procedure can be quite complex — particularly in the case of technologies like curve-adaptive headlights and high-beam assist. The OEM procedure for adjusting the headlights on a 2016-2018 Toyota Prius, for instance, covers no fewer than five pages.
The Database Enhancement Gateway, which allows repairers and insurers to make inquiries and suggestions of the estimating providers at no cost, has fielded inquiries about "headlamp aim" in the past.
In a response to a Jan. 15, 2020 inquiry, the DEG spelled out what CCC/Motor's estimated work time of 0.5hr for headlight aiming on a 2017 Toyota Prius includes and does not include:
After review of the concern, the estimated work times are based on OEM service procedures. Refer to the OEM service procedure for instructions.
Please note: CCC/MOTORS confirms the following as NOT INCLUDED from the OEM procedures.
The estimated work time for "Headlamp Aim-Fog lamp Aim" does not include the following.
Component part replacement.
Inspect vehicle for damage.
Verify Oil level.
Verify Coolant level.
Verify Tire Pressure.
Verify Trunk & Vehicle cargo removal.
Load "150 LBS" in Front Seat.
Special Equipment Set-Up.
Another inquiry to the DEG dealt with the headlights on a 2013 Porsche 911.
"What is included in the labor to aim headlights? Nearly all manufactures have a list of prereq's that need to be completed. Verify tire pressure, driver weight ballast, full tank of gas, measuring bulb height, adjusting lateral beam, measuring distance to wall/tool etc.," a questioner asked.
The DEG reported Audatex's response:
We have reviewed the OEM service information for the aim headlights operation. For the aim headlights operation the only included operations are measuring distance to the wall, measuring bulb height, and perform lateral and height adjust on headlamps. Any other operations such as verify tire pressure, driver weight ballast, full tank of gas are not included in the aim headlight operation. No change warranted at this time.
One user suggested enhancements to the Mitchell P-page on the adjustment of headlamps on a 2013 Subaru WRX STI:
There is no clear explanation of what is and is not included in aim headlamps. For this vehicle procedures for setting up the car before you adjust anything are: Headlamps: – The inflation pressure of tires is correct. – Vehicle's fuel tank is fully filled. 2. For vehicle with a manual leveler, set the headlight beam leveler switch to the 'O' position. 3. Bounce the vehicle several times to normalize the suspension. 4. Make certain that someone is seated in the driver's seat. 5. Measure the distance between the low beam bulb centers and the height of the bulb center – This requires a setup on a wall or board set at 3meters. Has time been considered for the setup and adjustments? Fog lamp aim is similar with addition to removing a portion of an under shield.
Mitchell's response:
This will be taken under consideration for future procedure page update/additions
Currently Mitchell does not create procedural page information information for Lamp Aiming. Specific included and not-included operations are not defined.
The published allowance for aiming the headlamps on the 2013 Impreza includes reasonable considerations to ensure they are aimed to spec as outlined by the service procedure.
Variables identified in the service procedure such as the following have not been factored into the published allowance:
Filling or adding fuel to tank.
Someone seated in the driver's seat during adjustments.
Removal and Installation of components for access-unless identified in a footnote.
Repairers should make sure they've read and followed the OEM procedures to be able to deliver the illumination and minimize the glare to the degree necessary to match the vehicle's IIHS rating.
Over the past five years, IIHS has rated around 1,000 different headlight systems, allowing Brumbelow to examine how headlights with good, acceptable, marginal and poor ratings affect crash rates. As of March 2021, the IIHS said, 28 percent of headlight systems tested on model year 2021 vehicles received a good rating. Half of the systems tested were rated marginal or poor because of inadequate visibility, excessive glare from low beams for oncoming drivers, or both.
When IIHS began its testing program, just four percent of models earned a good rating.
In conducting the recent study, Brumbelow identified 187 vehicle models from model years 2015 to 2020 that were either available with a single IIHS-rated headlight system or multiple systems that could be determined by the vehicle identification number (VIN).
He then examined police-reported crashes involving those vehicles from 11 states that maintain especially detailed records, and isolated around 44,000 single-vehicle crashes that happened in darkness. Ratings were adjusted to exclude point deductions for excessive glare, because it is not a factor in single-vehicle crashes. Differences in miles traveled, driver-related risk factors and other variables, such as differing road conditions, were factored into the results.
IIHS conducts its evaluations by driving vehicles on a test track. The ratings are based on how far the low and high beams illuminate the path to 5 lux on curves and straightaways while the vehicle is traveling at 40-50 mph. (One lux, by the way, equals the amount of light that falls on a one-square-meter surface that is one meter away from a single candle) Points are deducted for glare that can temporarily blind oncoming drivers.
IIHS found wide variation in headlight performance. The best low beams lit the road to a distance of 460 feet, while the poorest managed just 125 feet. At a speed of 50 mph, a driver would have four full seconds more to react to a potential hazard with the best low beams.
Glare was not considered in the stu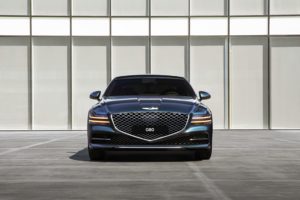 dy, but it has been an important part of IIHS's evaluations. The institute found that, five years ago, headlamp systems emitted 15 percent more glare than what it considered acceptable. In 2020, the average was 10 percent below the acceptable limit.
"Based on some of the comments we get on social media, it seems like some people think we're just pushing brighter headlights and ignoring glare," said IIHS Manager of Active Safety Testing David Aylor. "The reality is quite the opposite."
Automakers have made midyear design changes to nearly 200 headlight systems in the quest for one of the two awards, IIHS said. Genesis went as far as to launch a service campaign to make free, retroactive adjustments for buyers of the 2021 G80 to make sure it qualified for the highest award.
More information:
Featured image: Headlight performance has earned the 2022 Kia Stinger a Top Safety Pick+ rating from the Insurance Institute for Highway Safety. (Kia)

Chart of nighttime crash reductions by good, acceptable and poor headlight rating. (Insurance Institute for Highway Safety)
The 2018 Hyundai Kona LED projector highlights on the Ultimate and Limited trims built after May 2018 are rated "good" for their ability to illuminate a pedestrian at 140 feet and deer at 220 feet, according to the Insurance Institute for Highway Safety. However, all other trims were rated "poor," as were the Ultimate and Limited trims built before June 1, 2018. (Provided by Insurance Institute for Highway Safety)
Genesis launched a service campaign to make free, retroactive headlight adjustments for buyers of the 2021 G80 to make sure it qualified for the highest award from the Insurance Institute for Highway Safety. (Genesis)
Share This: