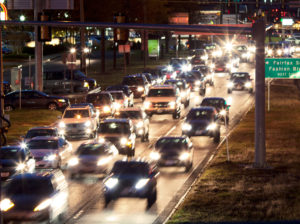 The Insurance Institute for Highway Safety on Wednesday announced it would require automakers to offer  "good" or "acceptable" headlights standard for a vehicle to get its highest Top Safety Pick+ honor.
The move could push OEMs to offer more expensive headlights — though the IIHS has also found that costly and higher-tech headlights can also suck — and raise the stakes for collision repairers on both parts and procedures.
The IIHS has found headlight aiming at the factory level to be a significant contributor to the ability of a headlight to adequately illuminate the road. If OEMs get better at aiming, it might be more noticeable to a customer — "I can't see the road as well as I used to" — if a shop fails to deliver the same precision and illumination.
Not to mention the additional risk to consumers and other road users. According to the IIHS:
Why does headlight performance matter? It takes 1.5 seconds for a driver to react to an unexpected event under ideal conditions (Green, 2000). At a speed of 55 mph, a car travels about 120 feet during this brief period. Once the driver applies the brakes, it takes more than 144 feet, on average, to stop at this speed (Jernigan & Kodaman, 2001).
The low beams of many headlight systems with poor ratings don't provide enough light for a driver going 55 mph on a straight road to stop in time after spotting an obstacle in his or her lane. They provide even less illumination on the left side of a straight road and when driving on a curve.
Glare is another common problem. Properly aimed headlights can illuminate the road ahead without getting in other drivers' eyes. It's also possible to have headlights that provide poor visibility and also cause excessive glare.
Half of all fatal crashes in the U.S. occur in the dark, and more than 25 percent are on unlit roads, according to the IIHS.
IIHS found only three 2016 model-year headlight systems merited a "good" rating and another 36 were "acceptable" — out of 224 studied. For the 2019 model year, 68 out of 465 were "good," and 103 were "acceptable."
"However, many of those good- or acceptable-rated headlights are available only as part of optional packages or on higher trim levels," the IIHS wrote.
The new demand for good or acceptable headlights would apply to all potential trims.
"Decent headlights should be a given, and we hope this change to our criteria will push manufacturers to make them standard across their lineups," IIHS Chief Research Officer David Zuby said in a statement.
Passing the test
It's also possible that OEM improvements in the headlight design itself might not translate to aftermarket lamps. Repairers and more safety-focused modders will need to ascertain whether the imitation or performance lamp has received the same "good" or "acceptable" as the OEM the IIHS' lighting test.
Because according to the IIHS, you can't assume that an OEM or aftermarket headlight is of sufficient quality just because it passed federal testing.
"There are federal regulations on headlights, but headlights that meet the regulations don't necessarily have similar on-road performance," the IIHS wrote. "Under the standard, a headlamp is placed on a test rig, and light intensity is measured at different angles relative to the center of the lamp. Measurements are taken for visibility and glare, but the standard permits a large range of intensities and the angles can be adjusted within a relatively large tolerance.
"In addition, once the headlights are put on a vehicle, the regulations allow a wide range of mounting heights and widths and don't say how they should be aimed. As a result, two vehicles could be equipped with the same headlights but have a large difference in the distances illuminated."
The IIHS' testing demands OEMs provide 5 lux worth of low-beam illumination for distances near 200 feet and possibly more than 300 feet, depending on the curve of the road. (The IIHS wants longer distances the straighter the road gets.) For high beams, that 5 lux is required at a minimum of more than 200 feet and a maximum nearing 500 feet for a straightaway.
Anything less, and IIHS starts docking points, though a set of lights with weaker low beams can reclaim some with high-beam assist (the car automatically switches between lows and highs depending on oncoming traffic), so long as the high beams work better than the low beams. Of course, the existence of such technology means the vehicle is equipped with some sort of ADAS sensory equipment to study the road.
If you're wondering what a lux is, the IIHS said 1 lux works out to what you'd see on the road during a full moon in a clear sky.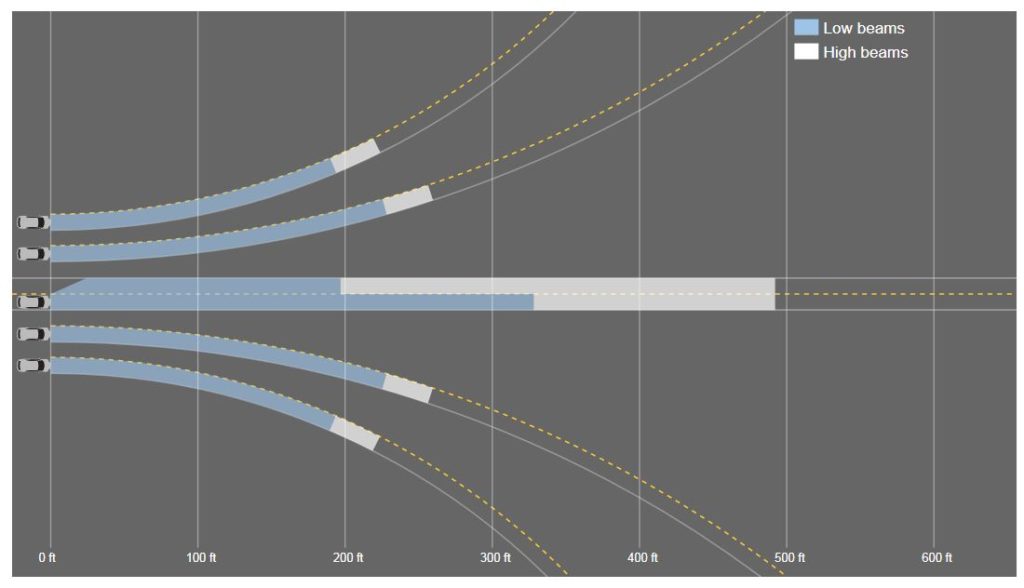 The IIHS also tests the glare oncoming drivers would see. After all, if you can see great but blind the guy coming at you, that's not good.
"Headlights are tested as received from the dealer," the IIHS writes. "Although many headlight problems could be resolved by adjusting the aim of the lamps, IIHS doesn't change headlight aim. Few vehicle owners adjust the vertical aim of their headlights, so leaving the aim the way it was set at the factory makes the testing more realistic. Horizontal aim also is important, but in most vehicles it can't be changed after the initial factory setting."
IIHS senior test coordinator Sean O'Malley said in a Nov. 28, 2018, interview he thought it was random whether the bulb or headlight design deserved the blame for a particular headlight's performance. (O'Malley didn't handle the tests specifically but was aware of them.)
However, he added: "Aim. Aim is a big thing."
Aim
Aiming a headlight might not be as simple as body shops and insurers expect. (Or even as OEMs expect, based on the IIHS' research.) Collision industry experts demonstrated in a July 24 Collision Hub "Repair University" how OEM repair procedures reveal a variety of operations related to aiming which might not be encapsulated in just 0.4-0.5 hours.
Aiming a headlight can demand more like a "book" worth of procedures, Vehicle Collision Experts CEO Mark Olson said then.
Common headlight aiming work can include checking the air pressure of the door jams; filling all four tires; checking the trunk to ensure it contains only what the manufacturer provided; and filling the gas tank, oil, washer fluid and coolant to capacity, according to Olson. (He suggested instructing the customer to fill the gas tank and clean the trunk prior to bringing the vehicle in for the repair.)
The vehicle must often be on a level floor, Olson said. "How many shops have a level floor?" he said.
P&L Consultants co-owner Larry Montanez III said it was "very rare." While a shop might have a flat floor, it might not be level, as a level floor isn't conducive to water drainage, according to Olson.
Often a repairer must put the vehicle a certain distance behind the target, Olson said. In some cases, a person weighing 150 pounds must be seated in the car, he said.
Both high and low beams would likely be adjusted, and sometimes the low beam must be adjusted and then covered — though not with a towel, as it "might catch on fire," Olson said.
As the show observed, even if you don't bill for all of those kinds of steps, you still need to complete them for the customer.
More information:
"IIHS announces tougher criteria for 2020 awards"
Insurance Institute for Highway Safety, Dec. 11, 2019
"Repair University Aiming Headlamps In Collision Repair"
Collision Hub YouTube channel, July 24, 2019
NASTF OEM repair procedures portal
IIHS headlight testing overview
Images:
Traffic in Tysons Corner in Fairfax County, Va. (hroe/iStock)
As of December 2019, the Insurance Institute for Highway Safety demands 5 lux of both high and low beams at these distances on these road types to avoid demerits. (Provided by IIHS)
Share This: