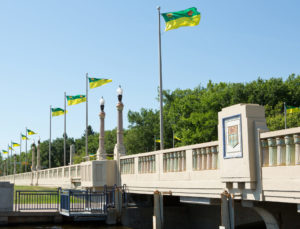 Effective March 1, 2021, any auto body shops failing to meet an upgraded set of equipment and training requirements will see their labor rate cut in half by Saskatchewan's government-affiliated auto insurer.
Accredited shops who achieve the new benchmarks before March 1, 2021, will continue to receive the $92.68 an hour CAD ($70.09/hour USD) they make today from Saskatchewan Government Insurance.
Shops who had been accredited but fail to upgrade by the deadline will only command the unaccredited rate of $46.50/hour ($35.17/hour USD), SGI announced in September.
"We recognize that this is a significant change for the industry," SGI wrote in the Sept. 23 Bulletin No. 72. "It's a big change for repair shops, and it's a big change for us. As vehicles continue to become more complex, we need to ensure we have an industry capable of repairing them safely."
"Most shops rely on a share of SGI's 80,000 claims per year for the bulk of their income," CBC News reported April 2 of the Canadian province's collision industry.
SGI will in March 2021 require accredited shops to be I-CAR Canada Gold Class and complete I-CAR WCS03 on steel welding as well as BRZ02 on MIG brazing. They'll also need additional welding gear: a three-phase, 10,000-Amp, 600-foot-pound squeeze-type resistance spot welder and a pulse MIG welder able to braze with silicon bronze.
Accredited shops must also have "Pressure Feed Anti-Corrosion Application Equipment" and a steel dent removal system by the 2021 deadline.
Finally, accredited Saskatchewan repairers must possess and use OEM repair procedures — but that rule applies now, according to SGI.
"Effective immediately, all collision repair partners are required to access OEM repair procedures as part of the repair planning process," SGI wrote. "Shops are also being asked to ensure that they document all repairs requiring panel or structural component replacement or sectioning. Please include photos of undressed welds and any sleeves/backing used to reinforce sectioned panels/structure (upload into Mitchell as part of the claim)."
"SGI is updating the requirements to be SGI-accredited to match up with the minimum training, tools, and equipment required to safely and properly repair customers' vehicles," the insurer wrote.
"The accreditation program changes will include new tool, training and equipment requirements, plus we will also be introducing a new key-performance indicator (KPI) model and changes to the accreditation levels." (Emphasis SGI's.)
Shops can't share or rent tools to meet requirements, though SGI will permit a shop to lease tools so long as the lease spans the duration of the accreditation. Repairers also won't be able to bill markup or sublet travel allowances if they outsource resistance spot welding, MIG brazing and aluminum MIG welding, according to SGI. (The last of these is interesting, for SGI won't require shops to have aluminum repair capability to keep accreditation.)
Any shop lacking the equipment and training for fix a vehicle in a manner meeting OEM repair procedures "will be required to turn the work away, and if possible, recommend or assist the customer in selecting a shop that has the capabilities to complete the repair."
According to SGI, shops have always had the duty to refuse work if it couldn't be done following OEM procedures.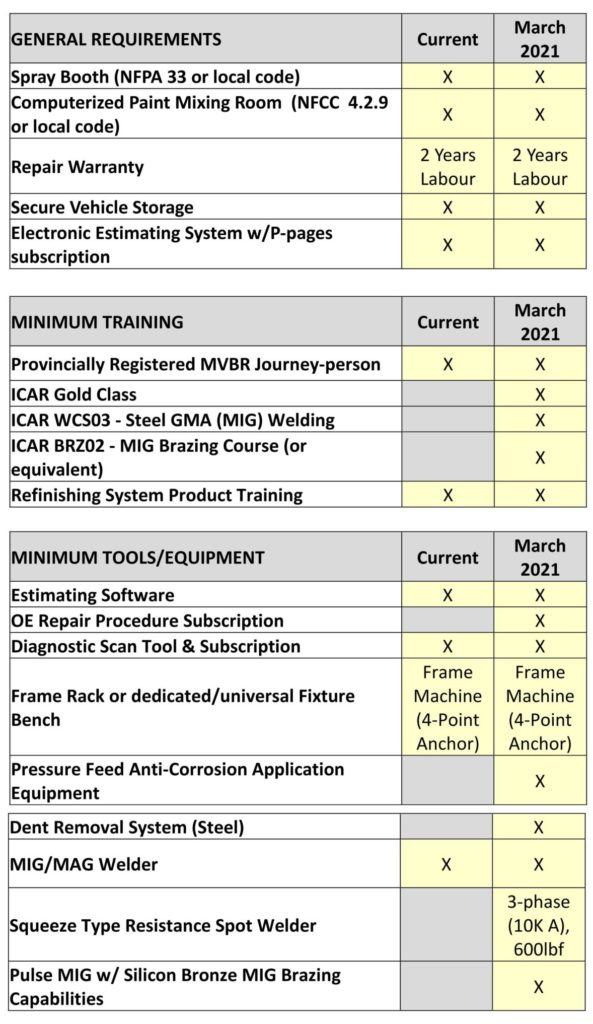 SGI said the idea a shop would merely perform "'minor'" repairs wasn't realistic with the fleet of today.
"'Minor' repairs aren't so minor any more," the carrier wrote in a FAQ in the bulletin. "Replacing a component as simple as a windshield, broken grill, scratched bumper cover or exterior rear-view mirror can result in the requirement for the vehicle to be re-calibrated to ensure the driver assistance safety technologies are operating correctly. These systems are very common on vehicles manufactured over the last few years (and are only getting more popular; for example, Toyota has included these systems as standard equipment on just about every 2019 model). If they are not properly calibrated they can result in accidental triggering of automatic emergency braking or intelligent cruise control malfunction.
"The fact is, just about every vehicle manufactured over the last decade requires some sort of computerized diagnostics as part of the collision repair process," SGI wrote. "… As a result, all shops must have the ability to complete a diagnostic scan using a computer to read the vehicle's on-board computer (technology first introduced in 1997)."
In fact, SGI said its new minimum requirements only suggested a shop was qualified for nonstructural repairs. Repairers might still need even more equipment to handle heavier hits, the carrier said.
"The types of vehicles that an accredited repair shop will be expected to be able to repair will depend on the type, scale and severity of the damage, plus the tools and equipment required by the vehicle manufacturers in their published repair procedures/instructions," SGI wrote.
"In general, shops meeting the new minimum accreditation requirements will be able to complete repairs on claims where there is no damage to any load bearing panels or structure (for example, an animal hit where there is no damage to the vehicle frame or structure, or replacing a dented door panel). These shops may be able to complete structural repairs on vehicles where the manufacturer does not require the use of computerized measuring systems and specialized frame repair equipment (again this will vary by manufacturer), but a majority of vehicles manufactured within the last few years do require the use of computerized measuring and specialized frame machines to repair any structural damage. This is the reason SGI requires all shops have access to the vehicle manufacturers' repair information, to ensure they accept only those claims that they are capable of repairing." (Emphasis SGI's.)
Subsidies
SGI estimated that a shop which hadn't kept up on training and equipment lately would likely have to spend "less than $40,000" ($30,221.20 USD) to hit the new targets.
"We recognize for some this is a significant investment," SGI wrote. "It's important to remember this is about safety. With so much new technology in vehicles today, we want to ensure vehicles are repaired safely and properly to meet national industry standards. To do this, we are working with the industry to give them notice of these changes, and have extended the original deadline by a year. We know some shops will have to invest in tools and equipment to be able to continue to repair collision claims. We also understand that not all shops will be able to make the investment needed to become an OEM-certified facility. That's why new minimum criteria do not require accredited shops to be OEM certified – but it does, as it always has, require shops to turn away work that they do not have the training, tools or equipment to repair in accordance with the OEM requirements."
SGI also began to subsidize shops effective Oct. 1 to help them meet the 2021 goals. Repairers will receive a $6,000 CAD ($4,533 USD) payout once they meet the new accreditation requirements, and they become eligible for $9,000 more ($6,799.50 USD) "if they invest enough to reach an industry-recognized level of certification," SGI wrote.
Assured Performance's Canadian arm, for example, said in October its certification requirements met both thresholds and made a shop eligible for the entire $15,000 CAD. SGI said the Canadian Collision Industry Accreditation Program and Automotive Retailers Association Certified Collision Repair program also met the bar to earn both the $6,000 and $9,000.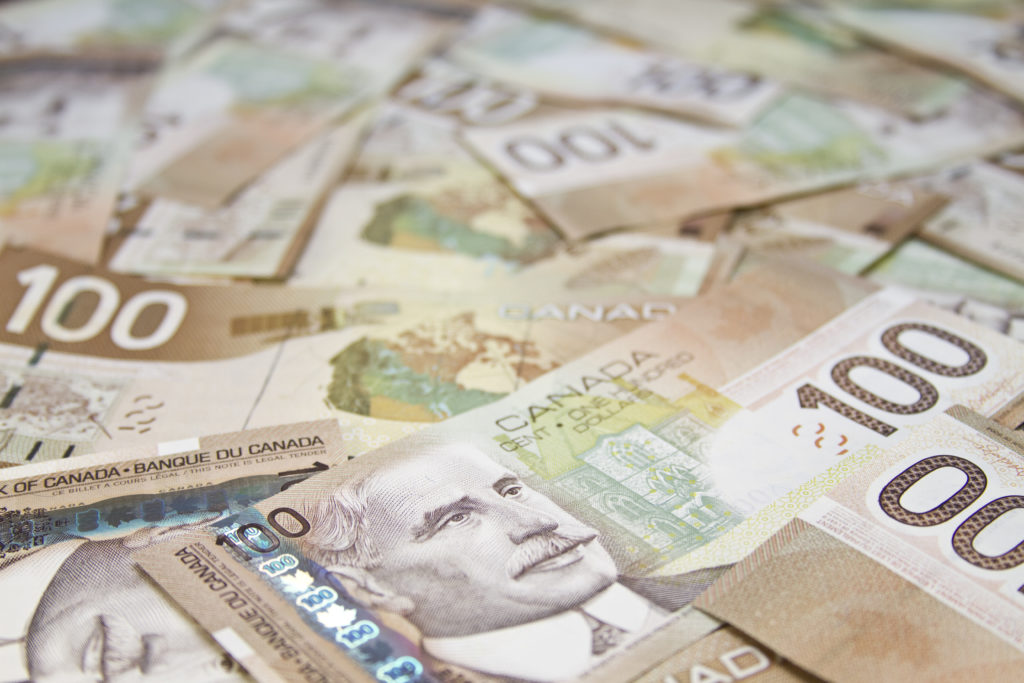 SGI also will give shops $170 ($128.44 USD) a month now through December 2020 to cover the cost of subscribing to OEM repair procedures. If it found out shops weren't using them, it could cut off the payments.
"To access the allowance, shops will be required to have a monthly (or annual) reoccurring subscription with either an OEM or a third-party OEM procedure consolidation software (e.g. ALLDATA or Mitchell Tech Advisor). SGI may ask a shop for evidence that they have an active subscription as part of an audit," SGI wrote. "Failure to provide evidence of accessing OEM procedures may result in the discontinuation of the allowance."
SGI also said it would "amend its policy to include paid time for pre-scans and frame set-up."
While SGI wasn't raising its $92.68, "The combined cost of the pre-scan, frame set up, training incentive payments, and OEM procedure allowance is the equivalent of an effective labour rate increase of 5.2%," the insurer argued.
SGI's scan parameters are oddly limited, however, considering that the carrier in the same document said vehicles back to 1997 could need scans. According to SGI:
Effective Oct. 1, 2019, both pre-repair and post-repair diagnostic scans completed in-house by repair firms will be compensated at a rate of 0.3 hours/scan (at the accredited rate) for:
• vehicles 2011 model years and newer;
• stolen-recovered vehicles;
• vehicles older than 2011 with ADAS systems (e.g. camera, radar or proximity sensors); and,
• vehicles older than 2011 with SRS deployments.
Pre-repair diagnostic scanning is recognized as an industry best-practice during the repair-planning process, and this change will align SGI with the policies of a majority of repair networks and insurers. (Minor formatting edits. Emphasis SGI's.)
As for frame time, SGI said it will "allow an additional two-hour frame set-up time to be added to the current frame-time allowances for frame/unibody structural conditions" to be charged a single time per repair.
"The new allowance is intended to provide shops additional compensation for measuring/gauging the vehicle structure and anchoring (and removing) the vehicle to the frame machine (may be charged once per repair)," SGI wrote. "SGI Appraisal Services will be distributing a new two-hour "frame set-up" long expansion in the Mitchell application. The new two-hour allowance will harmonize our policy with those in neighboring jurisdictions, plus it recognizes the additional set-up time and the investment required to purchase computerized 3D measurement systems and maintain a data subscription."
Longer deadline
SGI said the new checklist marked the first change to accreditation requirements since 1991 — nearly 30 years. "Vehicles have changed significantly in 30 years," SGI wrote in the FAQs.
Despite this, SGI gave repairers more time to meet the new rules than it had initially planned. The insurer had planned to introduce the new threshold effective April 2020.
"We heard from many repair shops that they needed more time, and we listened, extending the deadline by a year," SGI wrote.
SHI held at least 14 town halls and spoke with the Saskatchewan Association of Automotive Repairers and Saskatchewan Automobile Dealers' Association about the changes.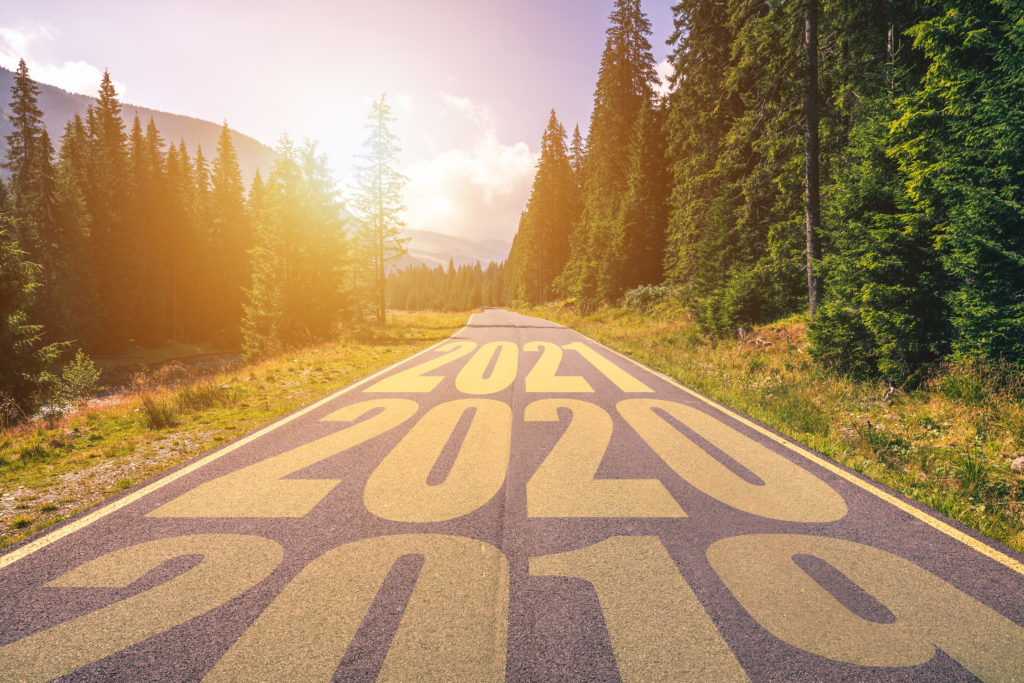 "It's good," SAAR President Tom Bissonnette (Parr Auto Body) said of the SGI revamp, but he questioned the delay to 2021. SAAR members felt a March 2020 deadline for the changes would have been "plenty," he said.
The delay seemed a slight on the top 20 percent of body shops, Bissonnette said.
SGI addressed a similar complaint in its FAQ: Why should an OEM-certified shop get paid the same amount as a shop that hadn't made a similar level of investment?
"As the number of vehicles built using advanced materials and equipped with advanced safety systems increases, so will the volume of work for those shops that are properly equipped to repair these vehicles," the carrier wrote.
Technically, shops should have had the repair procedures and all the other new equipment anyway, based on the terms of their accreditation.
SGI reminded shops in the September bulletin that their accreditation agreement's Section 4.12 already stated: "You agree to complete repairs according to the accompanying Appraisal written by an eligible accredited repair firm, or provided directly or indirectly by SGI, utilizing products and recognized repair techniques that ensure the repairs meet all safety and quality standards, based on I-CAR or OEM repair standards and recommendations." (Emphasis SGI's.)
Despite SAAR objections to the time frame on the new accreditation rules, Bissonnette described relations between the trade group and the carrier as good.
"SGI and the SAAR are working together to streamline the appraisal process, reduce cycle time, do more repair and less replace which in turn creates higher customer satisfaction," he wrote.
Bissonnette said SGI was amenable to paying for OEM repair procedures. If a shop documents the work, "they're not gonna fight it," he said.
"We have been in discussions with SGI and have got them understanding that they need to stop being the 'police' … and start being the 'coach of claims,'" Bissonnette wrote in an email Nov. 2. "We are looking at working with SGI, our local Tech Schools and Accountable Estimating to develop collision appraisal training that helps both the shops and SGI understand how to provide reasons for the repair decisions the shop makes and then provide photo documentation that the work was done.
"Bottom line, if there is an OEM repair procedure that the shop provides and proves that they did the repair according to the OEM procedure SGI will pay it. Exceptions would include things like aftermarket parts, wheel repairs and accepted industry procedures that do not affect safety and quality (like) blending clear coat on certain panels."
He also recalled nine SGI officials attending an SAAR event featuring Roger Cada of U.S.-based Accountable Estimating, and "they were blown away."
More information:
Saskatchewan Government Insurance Accredited Repairer Bulletin No. 72
SGI, Sept. 23, 2019
Official Canadian OEM repair procedure portal
Images:
Saskatchewan flags fly over the Albert Memorial Bridge in Regina, Canada. (skyscapes/iStock)
Effective March 1, 2021, any auto body shops failing to meet an upgraded set of equipment and training requirements will lose accreditation and see their labor rate cut in half by Saskatchewan's government-affiliated auto insurer. (Saskatchewan Government Insurance images)
Canadian dollars are shown. (rzymu/iStock)
Effective March 1, 2021, any auto body shops failing to meet an upgraded set of equipment and training requirements will lose accreditation and see their labor rate cut in half by Saskatchewan Government Insurance, SGI said in September 2019. (DaLiu/iStock)
Share This: