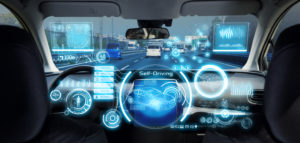 Pennsylvania latest in handful of states to tackle AV legislation; U.S. DOT talks federal regulations
By on
Legal | Technology
Legislation was recently introduced in Pennsylvania's Senate to amend current law to include autonomous vehicle (AV) operation with or without a human driver. If passed, the state will be one of a handful to approve such legislation.
The bill states that a highly automated vehicle (HAV) designed to operate exclusively by the automated driving system (ADS) or a highly automated driver in a remote location for all trips is not subject to motor vehicle equipment laws or regulations that relate to or support motor vehicle operation by a driver seated in the vehicle and are not relevant for an ADS.
When up to three vehicles are traveling together, known as platooning in the state, the lead vehicle must operate with a driver and one nonlead vehicle can operate with an automated driving system engaged with or without a driver present.
HAVs would be required to stop and remain at the scene of accidents and to immediately report accidents to police. If the HAV doesn't make the report, the owner or registrant of the HAV is required to.
Texas, Florida and Arizona laws don't require a driver to be present when AVs are in operation.
Texas law says AVs are to be "operated exclusively by the automated driving system for all trips" and aren't subject to vehicle equipment laws or regulations to do with operation of vehicles by human drivers.
In Florida, an AV or fully autonomous vehicle can operate without a human driver when a teleoperation system is engaged.
The Arizona legislature amended traffic law last year to include AV crashes since testing and operation of the vehicles is allowed on public roads. The law requires AVs with no driver to stop at the scene of a crash just as a human driver is required to. The owner of the AV or someone on their behalf is responsible for reporting accidents to police or giving the owner's name, address and registration number to those involved in the accident if the AV doesn't.
A bill introduced in Wyoming's Senate during the current session allows for AV operation as long as they're capable without a driver present to follow all traffic laws and are compliant with all applicable safety standards, equipment requirements and performance requirements of state and federal law unless a waiver has been granted by the relevant regulating agency. The bill also proposes that commercial vehicles equipped with an ADS carry a $5 million insurance policy and be clearly marked on the front, back and each side with "appropriate signage" to let the public and law enforcement know that they're being operated autonomously.
If passed into law, an annual year‑end report for the previous year will be required of commercial vehicles on the number of miles operated, safety issues encountered, any collisions, the amount of damages caused to any person or property, any injury to any human requiring medical attention and any striking of a big game animal.
Federal AV regulations are still being developed and are currently focused on giving guidance to states rather than imposing sweeping federal mandates. During a Jan. 12 virtual panel with Partners for Automated Vehicle Education (PAVE), U.S. Department of Transportation Senior Advisor and Director of Public Engagement Lynda Tran highlighted the department's six AV principles Secretary of Transportation Pete Buttigieg talked about at this year's Consumer Electronics Show.
Calling the innovation principles the first of their kind, Tran said they're "designed to be the framework for understanding not only how the department thinks about things like automation but also the role of technology in the world of transportation."
The first and most important principle, Tran said, is how the DOT views innovation and its role to further policy outcomes, which will have substantial benefits for how communities operate.
The second is to keep in mind that innovation will help the U.S. "win the future" by making the country more competitive as well as adaptable and resilient to challenges, she said. Thirdly, the DOT wants to ensure that as new technologies and innovations are embraced, "we're not racing to the future just for the sake of racing to the future and are mindful of the technologies and systems that are in place now that many people rely on to make a living," Tran said.
The department wants to allow people to experiment, fail and learn from those setbacks as well as to recognize the opportunity for the three major sectors – public, private and academia – to collaborate and partner on innovative approaches and technology in the future.
Lastly, Tran said the DOT wants to be flexible. "We have to adapt as technology adapts so that we're not holding innovation to the standards that might've applied in the past as things are moving and shifting and evolving very, very quickly," she said.
Ultimately, Tran said, each community needs to decide what transportation mix is best for them. AV has the potential to "expand the world" for the elderly and visually or physically impaired who can't drive. Tran added that the DOT will soon release an equity action plan responsive to President Joe Biden's executive order aimed at advancing racial equity in the American transportation system.
Other issues discussed during the discussion were cybersecurity and safety. The National Highway Traffic Safety Administration (NHTSA) has a "robust" research program underway related to cybersecurity, according to Tran. Best practices issued in 2016 were updated in 2020 and are being finalized now, she said.
Regarding safety, Tran brought up NHTSA's Standing General Order, which makes it possible for the agency to get crash information in relatively real time with a 10-day reporting requirement to understand implications on safety.
When PAVE asked about a comment made by Buttigieg regarding what's available to consumers in the market now – driver assistance technologies, not driver replacement technologies – Tran clarified Level 1 and Level 2 ADAS are very different than "the hope and the dream" of the Level 3-5 automated driving systems that don't exist yet for consumers to purchase. Levels 1 and 2 are defined by SAE International as the driver still being in control while the car is fully in control under Levels 3-5.
IMAGES
Featured image: Cockpit of futuristic autonomous vehicle (AV). (Credit: metamorworks/iStock)
The Society of Automotive Engineers' recently updated its level classifications for ADAS. Ducker's Abey Abraham presented the levels during an SCRS lecture at the 2021 SEMA Show in November. (Chart by SAE International; screenshot from SCRS Video)
Share This: