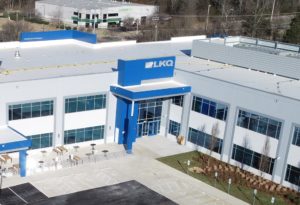 LKQ Corporation has filed suit against Overall Parts Solutions (OPS), accusing that company of giving LKQ's competitors access to its proprietary and confidential pricing data without its permission.
The suit, filed in Delaware's Court of Chancery on Jan. 12, claims that OPS violated an agreement between the two companies that gives OPS and other authorized users access to the data from InTouch, LKQ's proprietary electronic software platform that provides data for real-time availability and pricing of LKQ's non-OEM products.
LKQ said the breach "has distorted competition between LKQ and its OEM competitors, inflicting irreparable harm on LKQ." As a result, "LKQ will likely be forced to retrench its service levels, for example by reducing delivery frequency, further damaging its overall business and harming competition for Vehicle Replacement Products," the complaint states.
The suit asks the court to award unspecified damages, and to issue a permanent injunction against OPS.
In a statement to Repairer Driven News, OPS said the complaint is without merit.
"OPS (Overall Parts Solutions, LLC) has a long history of providing services to many in the automotive industry, including aftermarket/alternative suppliers, dealers, body shops, MSOs and OEMs. While OPS does not comment on pending litigation, the lawsuit is without merit," Chief Operating Officer Sib Bahjat said.
"Further, please note that LKQ's allegations do not include any claim that any OPS system was the subject of a data breach by a third party. Any suggestion to the contrary is untrue. OPS takes the confidentiality of its suppliers' and customers' information seriously. We will respond to the specifics of the allegations in Court."
LKQ said it entered into the agreement because its largest customer, Caliber Collision Centers, uses OPS' business-to-business e-commerce platform, OPSTrax, as its exclusive solution to source vehicle replacement products. LKQ agreed to share its InTouch data with OPS to facilitate the distribution of LKQ's products, the plaintiffs say.
LKQ explained in the complaint that "Buyers of Vehicle Replacement Products have the option to purchase new products produced by original equipment manufacturers, or 'OEMs' ('OEM Products'); new products produced by companies other than the OEMs, which are referred to as aftermarket products; recycled products obtained from salvage and total loss vehicles; recycled products that have been refurbished; and recycled products that have been remanufactured (collectively, 'Non-OEM Products')."
According to the suit, the data usage agreement, signed Jan. 23, 2019, stipulates that only OPS and other users specifically authorized by LKQ could have access to the data. New authorized users could be added by LKQ at OPS' request, or on LKQ's own initiative. Caliber, the largest collision repair chain in the U.S., was the only other authorized user at the time of the signing, with ABRA Auto Body & Glass added on May 23, 2019.
The plaintiffs say that OPS "breached the Data Agreement by disclosing LKQ's data, specifically LKQ's confidential pricing information, to non-Authorized Users, including LKQ's OEM competitors." The users were not named in the suit.
It said it learned around August 2021 that its information was being shared with OEMs through the introduction of additional services within OPSTrax called ValuTrax and TraxMatch.
A subscription to ValuTrax allows an OEM to automate its pricing based on the pricing of competing non-OEM products sold by LKQ and other competitors. "Specifically, ValuTrax enables an OEM to either match LKQ's price or to set its price within a certain fixed percentage of LKQ's price," the complaint states.
TraxMatch is a service that gives a body shop that has chosen a non-OEM item the option of asking for a final quote from an OEM. "In practice, when a Body Shop pushes the TraxMatch button, OPS sends LKQ's confidential price for that specific Non-OEM Product to the relevant OEM dealer in that region, giving the OEM dealer a final opportunity to win the sale," the complaint states.
"OPS's ValuTrax and TraxMatch services are specifically designed to allow LKQ's competitively sensitive pricing information to be deployed for the benefit of LKQ's competitors," the complaint argues. "The 'last look' ValuTrax and TraxMatch services provide OEMs with a regular stream of data on LKQ's real-time pricing for specific Non-OEM Products, which enables the OEM to win the sale and also adjust its future pricing to reflect its access to and understanding of LKQ's pricing information in real-time. This insight into LKQ's pricing on OPS's systems influences OEM pricing strategies against LKQ on other eCommerce platforms, enabling the OEMs to engage in strategic pricing to distort competition with LKQ across the entirety of the relevant markets for sale of Vehicle Replacement Products. This damages LKQ, inflicting irreparable harm on it."
LKQ said it has continued to make sales at affected body shops by providing a shorter delivery time than OEMs, which are experiencing supply chain delays and inventory shortages, and warned that it will suffer "irreparable harm" as those delays ease. "These temporary supply shocks are the main reason that LKQ retains any share at those affected Body Shops," the suit states.
LKQ said it recently learned that OPS is about to sign agreements with Gerber and Service King, the second- and third-largest collision repair chains in the U.S., respectively. If that happens, LKQ's data will be further spread across the market, dramatically enlarging the effects of the wrongful disclosure and spelling "untold lost sales, serious competitive harm, and reputational damage to LKQ."
The corporation said it has repeatedly objected to LKQ's breach of its contractual obligations, "and has been rebuffed by OPS. In fact, Defendant not only refused to stop breaching its contractual obligations to LKQ but is now threatening to broaden the dissemination of LKQ's confidential pricing data to additional unauthorized recipients in further violation of its contractual duties to LKQ."
It also said that OPS refused its demand to be compensated for "all lost sales attributable to these unauthorized disclosures," per the agreement.
In response to a letter from LKQ dated Jan. 11, 2021, "Defendant argued that … LKQ had impliedly consented to the further dissemination of its Data," the complaint states. LKQ said its attempts to resolve the issue through negotiation failed.
The complaint claims that OPS needed to secure pricing, availability and other data from replacement product suppliers such as LKQ as part of an "aggressive marketing campaign" to bring on board Gerber and Service King.
Although OPS announced on Dec. 22, 2021 that it was merging with OEConnection, OPS' website continues to present it as an independent company, LKQ said.
LKQ, headquartered in Chicago, and OPS, headquartered in Grand Prairie, Texas, are both incorporated in Delaware. Neither responded to an invitation to comment from RDN.
More information
LKQ Corporation, Plaintiff, v. Overall Parts Solutions, Defendant
Click to access LKQ-Corporation-v-Overall-Parts-Solutions-Docket-No-2022-0036-_.pdf
Images
Featured image: A Nashville, Tenn., LKQ facility. (Provided by LKQ via Business Wire)
Share This: