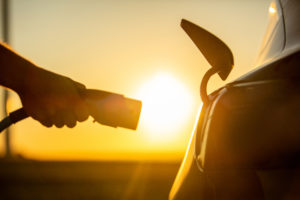 Georgia bill would throw out EV-limiting legislation opening up sales to Rivian, others
By on
Legal
As it stands right now, startup company Rivian Automotive won't be able to sell the electric vehicles it manufactures in Georgia within the state, but proposed legislation would change that for Rivian and all EV manufacturers.
Construction on a $5 billion Rivian plant east of Atlanta is slated to begin this summer. However, Tesla is the only EV manufacturer allowed under state law to sell independently at its own dealerships to Georgians, which is the result of amending the auto-dealer protection law in 2015. Senate Bill 398 proposes to change that law again.
Rivian, like Tesla, skips over selling through dealers to sell directly to customers and has lobbied for legislation to allow that. The business model has sparked legislative fights across the country with car dealers pushing to keep their rights under state laws to exclusively sell new cars.
The Atlanta Journal-Constitution reports that the legislation "sets up a high-stakes battle between electric-vehicle companies and the politically powerful Georgia auto dealership lobby." Franchise car dealers in the state are represented by the Georgia Automobile Dealers Association in fighting against legislation that would let EV companies like Rivian compete for sales.
After the Rivian plant was approved to be built in Georgia, GADA CEO Lea Kirschner told the Journal-Constitution that, "Georgia's franchise automobile dealers and the more than 70,000 Georgians employed by dealers and their suppliers throughout the state look forward to working with Rivian to deliver their electric vehicles to consumers, when they become available, under Georgia's existing franchise dealer laws."
Charles Morris with Evannex, an aftermarket EV and Tesla accessories retailer, wrote on Jan. 30 that 17 states currently prohibit all automakers from selling vehicles directly to customers and another 11 states have specific exceptions for Tesla or EV manufacturers in general, which would include Rivian and Lucid.
SB 398 keeps language specific to allowing manufacturers into the state that exclusively assemble zero emissions vehicles and have never sold vehicles in Georgia through a franchised new motor vehicle dealer. The bill adds language that manufacturers, either themselves or through an authorized agent, must maintain service and repair facilities in the state to satisfy the obligation to consumers under the Georgia Lemon Law. Manufacturers must also have a physical location in the U.S. The bill removes the five-location limitation put on Tesla in 2015.
Perhaps as more states allow the sale of EVs other automakers will begin offering online sales. General Motors said in a Jan. 19 press release that "in the future, in partnership with dealers, GM's digital retail platform will allow customers to shop, purchase and finance electric vehicles entirely online, with the option to transition to an in-store experience at any point in the process," leveraging the digital retail platform that is currently set up for parts and accessories.
"The future of GM retail lies at the intersection of digital and physical e-commerce," said GM Chief Digital Officer Edward Kummer, in the release. "Whether it's selling parts or vehicles, GM will meet our customers where it's most convenient for them."
IMAGES
Featured image credit: SimonSkafar/iStock
Share This: