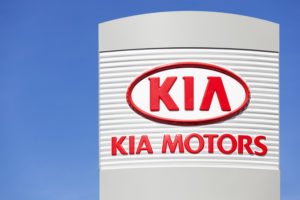 More than 410,000 Kia Soul, Soul EV, Sedona, Forte, and Forte Koup models have been recalled because airbags might not deploy.
Model years affected are the 2017-2019 Souls, Soul EVs and Sedonas, 2017 and 2018 Forte and 2017 Forte Koup. The Air Bag Control Unit (ACU) cover may contact a memory chip on the printed circuit board and damage the soldering joints resulting in an open circuit, which would deactivate the airbags and cause them not to deploy in a crash, according to the National Highway Traffic Safety Administration's recall notice. The issue is "due to variances in the manufacturing of the ACU."
An airbag warning light should come on and be associated with the diagnostic trouble code B1620. The issue was first reported in the Korean market with three reports regarding airbags in July, September, and October of last year, according to NHTSA.
The recall notice states the populations were determined by a review of vehicle production and supplier records. The recall affects 253,281 Souls manufactured from July 25, 2016 through Dec. 24, 2018, 953 Soul EVs manufactured from May 18, 2017 through Sept. 28, 2018., 47,960 Sedonas manufactured from July 12, 2016 through Jan. 10, 2019 and 108,693 Fortes manufactured from March 2, 2017 through July 27, 2018. Only two Forte Koups manufactured on Oct. 4, 2016 are under recall.
NHTSA says Kia plans to notify dealers by March 17 and owners by March 25. Kia will reimburse owners for repair expenses already incurred pursuant to Kia's General Reimbursement Plan filed May 11, 2020, according to the notice. Kia did not return RDN's request for more information by the publication deadline. RDN is waiting on confirmation if the recall extends to replacement parts or is only for the original vehicle components. 
Dealers will be instructed to replace the ACU with an improved one that contains a different memory chip location to prevent contact between the ACU cover. If the airbag warning light isn't illuminated, a software update will be installed to the ACU to ensure airbag deployment during a crash that warrants such protection even if the recall condition related to the diagnostic trouble code occurs in the future, according to the notice.
2019 Sedonas manufactured after Jan. 10, 2019 were equipped with an improved ACU. A different ACU was installed in Souls beginning with the 2020 model year and the 2019 Forte.
Repairers and vehicle owners can use NHTSA's online VIN search tool to find out if a car has been recalled.
IMAGES
Featured image credit: tomeng/iStock
Share This: