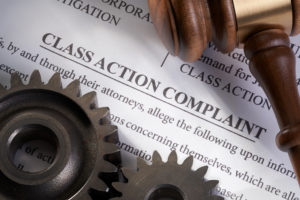 Expert testifies Allstate overcharged some policyholders total of nearly $1B
By on
Insurance | Legal
A 2015 class-action lawsuit filed against Allstate has resulted in an investigation by California's insurance commissioner for which expert testimony claims the insurance company overcharged some of its policyholders by a total of nearly $1 billion.
The suit, filed in the U.S. District Court for the Northern District of California with Andrea Stevenson as the class representative, alleges Allstate engaged in unfair business acts and practices in violation of California's Unfair Competition Law by failing to calculate auto insurance premiums based on risk or loss costs and instead, using elasticity of demand as a rating factor to inflate premiums. Elasticity of demand refers to individuals that are sensitive to price changes, meaning the most loyal customers pay more than they would pay based on the risk they present, according to the lawsuit.
"By using elasticity of demand as a rating factor, Defendants charge customers whose demand is inelastic—who are unlikely to seek insurance elsewhere in response to a price increase—more than customers who are likely to shop around in response to a price increase, all other things being equal," the suit states.
The suit claims Allstate made material and misleading omissions about how they determine auto insurance premiums and "wrongfully and unjustly collected higher auto insurance payments from thousands of insureds than they were entitled to by using elasticity of demand as a rating factor."
Allstate is also accused of violating California's false advertising law and Cal. Ins. Code § 1861.10, which allows any person to initiate or intervene in any proceeding permitted or established pursuant to the chapter, challenge any action of the commissioner under the article, and enforce any provision of the article.
The suit class is all California Allstate customers who were subject to the company's alleged practice of using elasticity of demand as a rating factor, and were charged or paid a higher premium than the risk-based premium, according to the lawsuit.
Allstate filed a motion to dismiss the lawsuit with the argument that the insurance commissioner had primary jurisdiction over the plaintiffs' claims. The court only dismissed the claim that Allstate had violated Cal. Ins. Code § 1861.10. The rest of the suit was stayed pending a decision by the CDI on whether Allstate violated California's insurance laws, specifically Proposition 103.
Insurance Commissioner Ricardo Lara decided to hold an investigatory hearing to determine "(1) whether Allstate has violated California insurance law by using illegal price optimization; (2) how Allstate implemented any such illegal price optimization in its rate and/or class plans; and (3) how any such illegal price optimization impacted Allstate's policyholders," according to an April 27, 2018 hearing notice.
Price optimization is defined by the CDI as "any method of taking into account an individual's or class's willingness to pay a higher premium relative to other individuals or classes."
Allstate Communications Manager Ben Corey told Repairer Driven News, "Allstate has never used price optimization in California. We provide affordable coverage to Californians and all our rating plans are stringently reviewed and approved by the California Department of Insurance before they go into effect."
California Department of Insurance Deputy Commissioner of Communications & Media Relations Michael Soller told RDN an administrative hearing is scheduled for May 10.
"As of now, our Department has no additional comment," he said. "We look forward to presenting our findings through this process."
Proposition 103, passed by California voters in November 1988, requires the "prior approval" of California's Department of Insurance before insurance companies can implement property and casualty insurance rates, according to the CDI. The proposition prohibits rates that are "excessive, inadequate, unfairly discriminatory" or that violate the rates chapter.
To set auto insurance rates in California, insurers calculate a base rate and submit a rate application to the CDI for approval. Rating factors are then applied to the base rate to produce the premium. State law requires a class plan to be submitted, which discloses the rating factors the insurer uses and explains how those rating factors are applied to the base rate to produce individual premiums. Three mandatory rating factors are authorized by statute: mileage driven, driving record, and years of driving experience. Several other rating factors are permitted by law. Any others are prohibited, including elasticity of demand.
Allstate never notified Stevenson that they were charging her more than other policyholders who presented the same risk because of her willingness to tolerate a price increase, according to the suit.
"Had Defendants' use of elasticity of demand as a rating factor been disclosed, Plaintiff (and other Class members) would have paid less for auto insurance," the suit states.
The suit seeks an order for restitution and disgorgement of all profits related to the alleged unfair business acts or practices, equitable and/or injunctive relief, declaratory relief; coverage of Stevenson's attorneys' fees, non-taxable expenses, and taxable costs as well as pre-and post-judgment interest at the maximum rate permitted by applicable law. It also seeks an award for Stevenson and the suit class for compensatory damages in an amount to be determined at trial.
Nonprofit and nonpartisan public interest corporation Consumer Watchdog petitioned the insurance commissioner in 2018 to intervene in the administrative proceedings relative to the Stevenson v. Allstate case to "ensure that Allstate's insurance rates and premiums comply with California law generally and Proposition 103's requirements in particular," according to the petition. Consumer Watchdogs states in the petition that the results of the lawsuit "will have important repercussions for the California insurance marketplace as a whole."
"In addition to the importance of protecting Allstate's current and potential policyholders from violations of Proposition 103, Consumer Watchdog seeks to intervene in this proceeding in order to defend and protect the right of all California consumers to avoid unjust premiums and unfair discrimination via the use of Price Optimization," the petition states.
Attorney and Consumer Watchdog founder Harvey Rosenfield wrote Proposition 103 and led efforts to get it passed.
Leading up to a hearing before a CDI administrative law judge, written expert testimonies have been filed. Allan I. Schwartz, president of actuarial consulting firm AIS Risk Consultants, testified that Allstate engaged in price optimization "by taking into account an individual's or class's willingness to pay a higher premium relative to other individuals or classes, as well as by not seeking to arrive at an actuarially sound estimate of the risk of loss and other future costs of a risk transfer."
He also concluded that excessive premiums were charged to certain policyholders for more than nine years totaling about $1 billion as of October 22, 2021
Edward D. Cimini, Jr., CDI senior casualty actuary, said in his testimony that he believes Allstate engaged in price optimization in regard to the class plans at issue in the lawsuit. His reasons for why he believes that are redacted to the public.
"A billion dollars is a huge amount of overcharges," Rosenfield said. "The insurance commissioner has an independent obligation to monitor the marketplace and punish wrongdoers and punish insurance companies that violate the law because the bottom line for the insurance companies – they're financial creatures. They just do whatever they can to maximize their profit at the expense of everybody else."
The insurance commissioner can implement civil penalties, which would be separate from what the district court decides, Rosenfield added.
Consumer Watchdog attorney Danny Sternberg said Allstate's violations are "no minor violation of the law."
"They figured out a creative, sneaky way to overcharge their safest drivers, their most profitable customers … their most loyal customers," he said. "They cheated not only their policyholders by doing this, but also the marketplace here in California."
IMAGES
Featured image credit: Bill Oxford/iStock
Editor's note: This article was updated to correct information about the hearing that will be held before a CDI administrative law judge. It will not include a jury.
Share This: