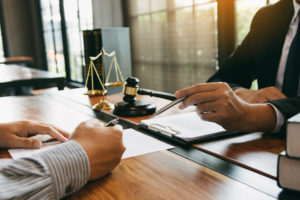 Litigation funding could aid consumers in court
By on
Insurance | Legal
When it comes to lawsuits, a new industry is growing to help finance consumer and commercial litigation.
Litigation funding companies (LFCs) act as third parties to finance consumer and commercial litigation through non-recourse loans or by accepting legal assets as collateral, according to the Swiss Re Institute, which researches and assesses reinsurance risk. Swiss Re says LFCs back many types of commercial and consumer claims in relation to – among others – trucking accidents, bodily injury, product liability mass tort, and medical liability, with the focus on the consumer side being personal injury cases.
While consumers will still need an attorney to take their case to litigation funders for consideration, Forbes reports getting the funds means you and your attorney may no longer have to confront insurance companies alone. Of course, some law firms will prefer to use their own resources instead.
Forbes reports the litigation funding industry – centered in the U.S. and backed by Wall Street hedge funds – is growing.
Not surprisingly, some are against the use of litigation funds. American Tort Reform Association's Bailey Aragorn told Forbes: "Litigation funding inflates settlements and cheapens our civil court system by allowing secret parties to have a stake in litigation." The association is a nationwide network of state-based legal reform coalition organizations.
In June, while commending the U.S. District Court for the District of New Jersey on its adoption of a rule to require parties involved in litigation to disclose information and financial interest of non-parties, The American Property Casualty Insurance Association said: "allowing investors to turn the civil justice system into a profit-centered commodities market is egregious."
"Third-party litigation financing is surging, with more than $13 billion of capital invested globally. This should concern everyone, particularly where that financing occurs away from public view and oversight, designed with rate of return in mind rather than justice and fairness."
Along with New Jersey, the Wisconsin and West Virginia legislatures as well as the U.S. District Court for the Northern District of California require disclosure of litigation funding agreements. State courts in Colorado and North Carolina have concluded that litigation funding can violate usury laws, according to Swiss Re.
But Forbes cautions consumers to use litigation funding only after asking questions about the funder's reputation and whether the funder will have any other role in the case on top of providing money. For example, funder American Legal Finance Association has a code that prevents its members from interfering or participating in their client's litigation. It's also important to ask upfront what the funder's fee is, which can be negotiated as well as the interest rate, and to fully understand the contract before signing it.
Consumer advocates, including the Center for Economic & Social Justice and the Consumer Federation of America, see litigation funders as a "welcome ally in the battle against the trillion-dollar insurance industry," according to Forbes.
Third-party litigation funding (TPLF) investment rose 16% globally last year to $17 billion, according to a Swiss Re Institute December report. Swiss Re said it believes TPLF could have "potentially harmful economic and ethical consequences."
"We see TPLF as a contributor to social inflation in the US, by incentivising litigants to initiate and prolong lawsuits. Higher claims costs drive up insurance premiums, can reduce the availability of liability cover, and lead to higher uninsured legal liability risks for US businesses. These costs are ultimately paid by consumers."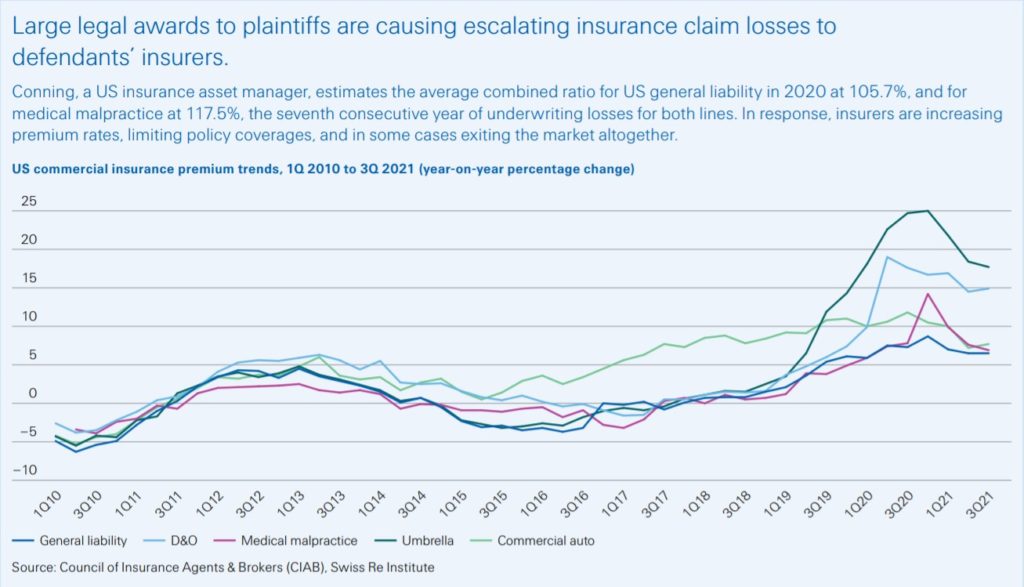 After the seventh consecutive year of underwriting losses, insurers are increasing premium rates, limiting policy coverages, and in some cases exiting the market altogether, according to Swiss Re.
IMAGES
Featured image credit: wutwhanfoto/iStock
"Large legal awards to plaintiffs are causing escalating insurance claim losses to defendants' insurers" (From Swiss Re Institute "US litigation funding and social inflation: The rising costs of legal liability" December 2021 report)
Share This: