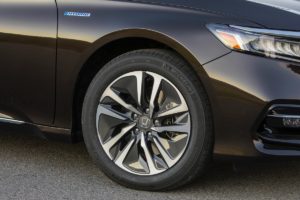 American Honda has filed suit in federal court against LKQ Corporation, claiming that LKQ sells nearly two dozen wheels that infringe on Honda's design patents.
LKQ has denied the claims, and filed a counterclaim accusing Honda of unfairly trying to stifle competition.
The complaint, filed in the U.S. District Court for the Central Division of California, Western Division, claims that LKQ "imports, manufactures, uses, offers to sell, and/or sells wheels" that infringe on patents held by Honda.
The complaint lists seven of the patents as examples, with an additional 16 patents listed in Exhibit 1. The oldest of the patents dates from February 2012, and the newest from December 2018.
Both sides agree that a letter of complaint from Honda, dated April 1, 2021, and a follow-up teleconference failed to settle the matter.
Honda asks the court to declare that LKQ "has willfully infringed the patents-in-suit" and has engaged in unfair competition under California law, and to order LKQ and any of its resellers from continuing to sell the wheels. The suit also seeks unspecified financial damages.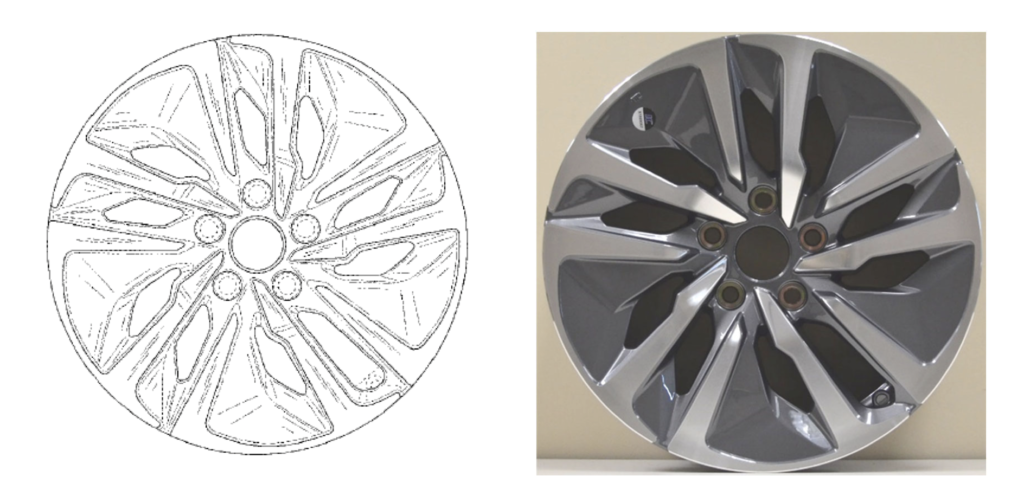 "Honda is the valid owner by assignment of all right, title, and interest in each of the design patents identified in the list attached hereto as Exhibit 1 (collectively, the "patents-in-suit"), including all rights to sue and collect for past, present, and future damages," the complaint states.
Honda said the copies would fool an ordinary observer and induce them to buy the aftermarket products, assuming them to be supplied by Honda.
LKQ knows that the wheels infringe on Honda's designs, the OEM said, because "Defendant has itself marketed and/or referred to the Accused Products as 'replicas' of Honda Products (as shown in an example below) when selling to retailers and/or customers."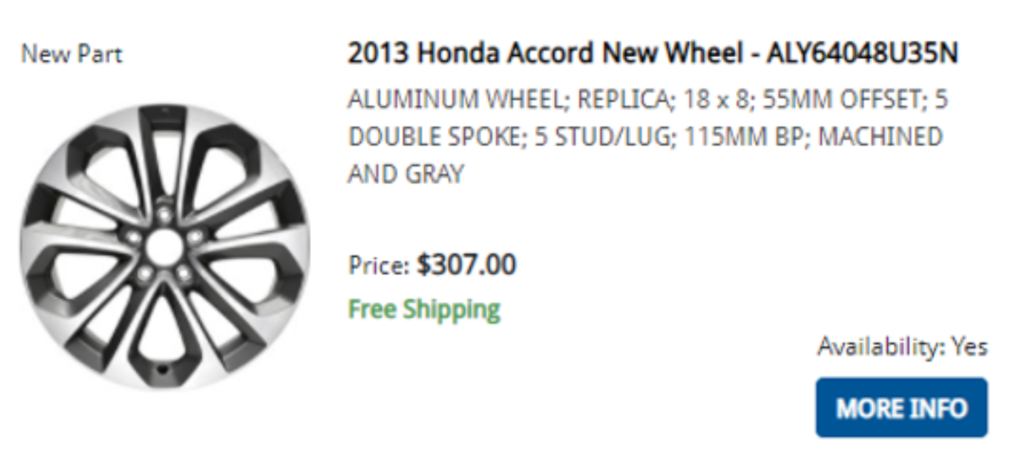 "Given the uniqueness of Honda's designs and the extent to which the Accused Products are similar, it is clear Defendant willfully infringed the patents-in-suit," Honda said.
In its response, LKQ challenges Honda's claim of intellectual property, arguing that "None of the patents-in-suit are assigned to American Honda Motor Co., Inc."
LKQ also claims that the patents themselves are invalid under federal law for a number of reasons. It claims, among other arguments, that the drawings are "incomplete and unclear and fail to comply with the requirements for patent drawings utilized in design patents," that the patents "do not disclose all material aspects of the design Honda 'invented,'" and that the subject matter "is functional and ineligible for design patent protection."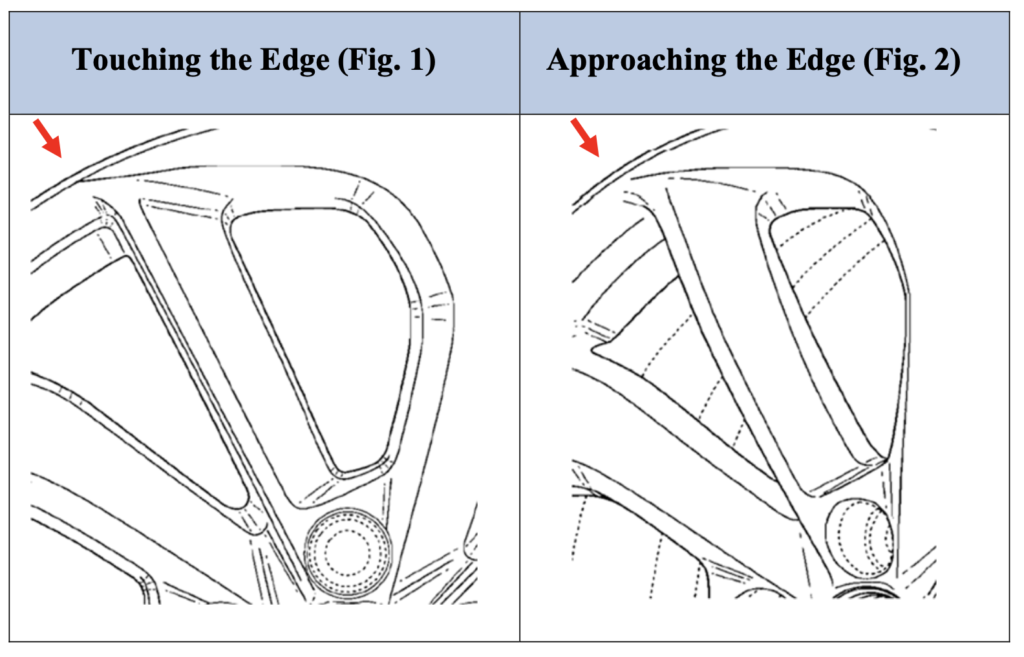 "The Honda litigation is another example of an automobile manufacturer attempting to use design patents that should have never been allowed to extract monopoly profits from the American consumer," Robert Masone, senior marketing director for LKQ, told RDN. "LKQ is committed to making reasonably priced automobile parts available to consumers. If that means LKQ must continuously defend against frivolous lawsuits asserting design patent infringement, it will do so."
In a counterclaim, LKQ accuses Honda of engaging in "unfair or unlawful business practices" by "asserting and pursuing purported rights and claims under the patents-in-suit in bad faith."
It said that Honda's attempts to enforce the patents "are causing confusion among the relevant public and creating a false impression that LKQ's products are illegal, low-quality, and 'knock-off' wheels that are inferior to Honda's goods."
"Honda is enforcing the patents-in-suit to drive LKQ and other competitors out of the market for replacement wheels for its vehicles so that it can charge customers monopoly prices for its own products, thereby depriving the people of the State of California of reasonably priced replacement wheels," the counterclaim states.
Judge André Birotte Jr. has set a scheduling conference for Feb. 25.
Nowhere in its complaint and response does Honda make reference to the quality of the wheels LKQ sells, but it has issued general position statements recommending the use of Genuine Honda parts in repairs.
"Other parts — whether aftermarket, counterfeit, or gray market — are not recommended. The quality, performance and safety of these parts and whether they are compatible with a particular Honda vehicle are unknown," a position statement dated Aug. 20, 2010, states. "Only by purchasing Genuine Honda parts through an authorized US Honda dealer can you be assured of the replacement part's authenticity, reliability and compatibility."
In addition, the company has posted a video on the Honda and Acura Certified Collision site, showing aftermarket wheels failing safety tests that Genuine Honda wheels pass. (The video, called "The Wheel Story," does not identify the maker or supplier of the aftermarket wheels, and the inclusion of this information in this story does not imply that they were supplied by LKQ, or any other company.)
More information
American Honda's complaint against LKQ Corporation
LKQ's answer and counterclaims
Honda's answer to LKQ's counterclaims
Images
Featured image: A 2018 Honda Accord Hybrid wheel, one of the designs cited by American Honda in its complaint against LKQ. (Provided by Honda)
A side-by-side comparison of the design elements claimed by Honda in a patent (left) and LKQ Part No. ALY63141U30N for a 2018 Honda Accord Hybrid. The comparison "undeniably demonstrates Defendant has copied Honda's design," Honda said. (Provided by Honda)
An ad for a wheel for a 2013 Honda Accord, from LKQ's website. (Provided by Honda)
Two drawings of the same wheel design, with one showing that a certain design line reaches the edge of the rim, and the second showing the same line approaching the edge of the rim. LKQ presented the drawings as an example of how the patents are "incomplete and unclear." (Provided by LKQ)
Share This: