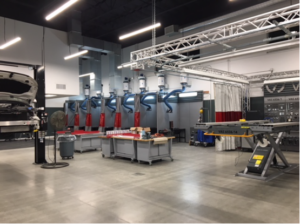 Audi launches mandatory, intensive steel welding technology course for repairers in its network
By on
Announcements
Audi is offering an intensive, four-day DIN ISO 9606-1 course in steel welding technology to shops in its certified collision repair network, ensuring that they're prepared for the potentially complex task of carrying out a proper and safe repair on all of the company's vehicles. The steel certification, like the existing aluminum certification, will have to be recertified every two years.
Audi has made the class mandatory for all new body shops coming into its network, and will eventually expand the requirement to existing shops. At the moment, about 220 shops are in the network, with another 26 in the process of joining, said Mark Allen, Collision Programs Manager for Audi of America.
Technicians will receive training with testing that requires them to produce 27 different welds that are reflective of the work they might be carrying out on a vehicle, Allen said, with both theory and practice covered.
Allen said the welds the students produce, both through MIG/MAG welding and resistance spot welding, will be inspected and tested by an independent certification company. Testing techniques will include X-rays; penetration and porosity testing, in which a fluid will be applied to a ground-down weld, and destructive testing.
"Ultimately, what we're looking for is a repeatable outcome of an excellent weld," he said.
The training requirement is in addition to the I-CAR Gold and Platinum training Audi currently requires of technicians, Allen said.
Classes will be taught at both of Audi's U.S. training facilities, in Ashburn, Virginia, and Eastvale, California. The Virginia instructor is Shawn Hart, who has 10 years of experience with Audi, while Thomas Modlmeier, who joined Audi from Penske Collision Center six years ago, will lead the California classes.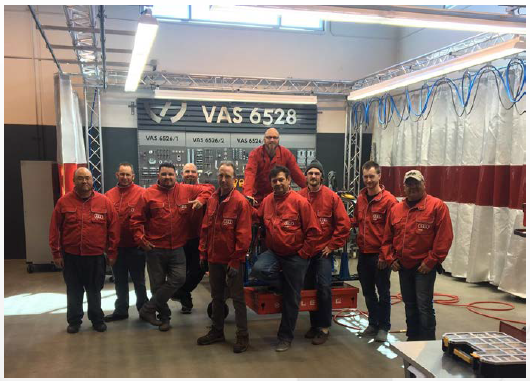 Allen said Audi feels the time is right to focus on steel welding technology. "If you look at the materials in our cars … we have many different forms of steel, everything from mild through ultra advanced high-strength steel. We felt it would be best to bring the industry and our program to the next level with a DIN ISO 9606-1 internationally accredited welding certification," he said.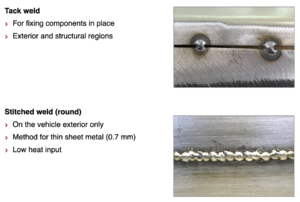 The course is a companion to the DIN ISO 9606-2 aluminum welding course that Audi introduced in 1995, with the launch of the aluminum-intensive Audi A8 and R8 models.
For the time being, capacity is forcing Audi to limit the course to its own repair program, although there's a possibility that might change in the future. "I wish we had that capacity" to open the course to the general industry, Allen said, "because I think the industry would benefit from it greatly."
More information
Audi releases free 'eSelf Study' guide for collision repairers
New Audi-certified auto body shops must take additional I-CAR classes
Images
Lead image: The welding lab at Audi's Eastvale, California, training center. (Provided by Audi)
Thomas Modlmeier (head below numeral "5") and technicians. (Provided by Audi)
Examples of welds to be produced by technicians in the course. (Provided by Audi)
Share This: