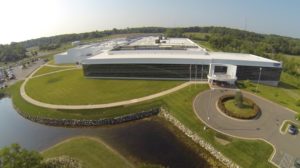 Complying with a 2020 National Highway Traffic Safety Administration (NHTSA) consent order, Hyundai has announced that it will build a Safety Test and Investigation Laboratory (STIL) at its research and development center in Michigan.
The new facility will incorporate a field crash investigation lab, high voltage battery lab, forensics lab, 500-meter track and a Vehicle Dynamics Area (VDA) pad, adding to existing safety testing and analysis capabilities.
The $50 million lab is expected to be in operation by the fall of 2023, potentially generating new information related to the safe and proper repair of the company's products.
Hyundai said the investment "is focused on enhancing Hyundai's safety commitment in identifying vehicle field issues, preventing crashes and keeping passengers safe."
The STIL will allow Hyundai to "analyze field data, understand the root cause of issues and quickly take action to ensure vehicle safety," the company said. It was developed in consultation with NHTSA.
"With the added testing and investigation capabilities of the STIL, we will better understand customer vehicle issues, identify and address defects and analyze vehicle systems more efficiently with our own, on-site laboratory," Brian Latouf, chief safety officer, Hyundai Motor North America, said in a statement.
"The access to real-world data will help accelerate our pursuit of a best-in-class safety office and enable effective safety technologies to help protect our customers and their families," Latouf said.
The agency and the automaker agreed to the consent order after NHTSA determined that Hyundai and Kia had moved too slowly in recalling more than 1.6 million vehicles equipped with Theta II engines, which were prone to seizing. NHTSA also faulted Hyundai for inaccurately reporting certain information about the recalls to the agency.
The order required Hyundai to "build and develop a fully-functioning United States-based outdoor test laboratory and vehicle tear down facilities. The test laboratory will focus on safety field issues, vehicle inspections, and defect investigations."
The consent order also required the OEM to invest in "advanced data analytics capabilities" to improve its ability to detect and study safety-related problems with its vehicles.
In all, Hyundai and Kia were ordered to pay combined penalties of $210 million.
The laboratory announcement is unrelated to Hyundai's Feb. 8 recalls, which affect 126,747 Kia and 357,830 Hyundai models. The vehicles are prone to engine fires, even when not running. When Repairer Driven News asked Hyundai spokesman Michael Stewart if disconnecting the batteries would alleviate the potential risk of fires, he said the company's Safety Office recommends following the instructions in the recall filing.
Affected are the 2014-2016 Kia Sportage, 2016-2018 Kia K900, 2017-2018 Hyundai Santa Fe Sport, 2016-2018 Hyundai Santa Fe, 2014-2015 Hyundai Tucson, and 2019 Hyundai Santa Fe XL.
Repairers who are working on one of these vehicles are cautioned to park it outside, away from buildings and other cars.
More information
"Hyundai Uses Chicago Auto Show to Announce New Safety Test and Investigation Laboratory Facility"
https://hyundainews.com/en-us/releases/3505
"NHTSA Announces Consent Orders with Hyundai and Kia Over Theta II Recall"
https://www.nhtsa.gov/press-releases/nhtsa-announces-consent-orders-hyundai-and-kia-over-theta-ii-recall
Hyundai & Kia recalls over risk of fire caution not to park vehicles inside, near buildings
Images
Lead image: The Hyundai America Technical Center, Inc. in Superior Township, Michigan. (Provided by Hyundai)
Share This:
Related