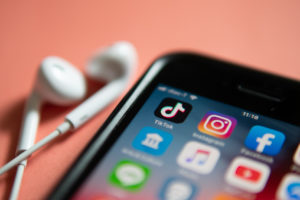 While Facebook and Twitter are likely the first social media platforms small businesses like collision repair shops think of for marketing and advertising use, TikTok and Instagram are also two important online platforms to consider because they're two of the best ways to reach younger groups – primarily ages 18-34. They're also likely affordable for most.
Small businesses could look to State Farm's pivot to TikTok for advertising ahead of and during Super Bowl LVI as an example of engaging with creators "to meet the next generation of consumers by showing up where they're spending their time and in spaces that they're interested in." It wa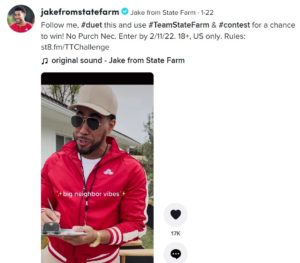 s just last year that the insurance company ran its first Super Bowl commercial featuring widely-known "Jake from State Farm."
After first debuting on TikTok in November, Jake, in January, challenged TikTokers to duet his video for a chance to star in a commercial with him. Three finalists were shared on his TikTok during the game Sunday to garner votes.
In September, TikTok posted a how-to guide for small businesses to market their goods and services on the platform noting that every generation is engaged in its content from Gen Z to Millennials and their parents and grandparents. The first tip is to take an "always-engaged approach" with a combination of organic posts, paid campaigns, and partnerships with creators. TikTok advertising starts at $10 per 1,000 views and campaigns require spending a minimum of $500 for each campaign while Instagram runs between 20 cents to $2 per click, according to Influencer Marketing Hub.
A TikTok business account includes analytics so owners can track how their TikToks are doing. Those insights show what's doing well with your audience and TikTok says will help inform strategic paid campaigns. TikTok provides in-depth metrics on paid campaigns "to amplify that success and dig deeper into why" the videos are resonating.
"TikTok creators are natural storytellers and brand advocates, and the TikTok community trusts the opinions of their peers," the TikTok how-to guide states. "You can find the right creator for your budget or campaign in the TikTok Creator Marketplace, or transform organic content from creators into paid advertising using Spark Ads. Or you can engage directly with the community through organic content and encourage them to post their own videos around a given theme."
TikTok also provides step-by-step directions on how to create ads in its Business Help Center.
The University of Houston Texas Gulf Coast Small Business Development Center (SBDC) Network touts TikTok marketing as a strategy small businesses can take to "solidify brand recognition and messaging, highlight product and service offerings, and connect with a growing and influential audience that has the potential to become loyal and lifelong customers." SBDC offers several webinars on using social media platforms as marketing tools on its website and posts general tips for small businesses on its blog.
With its YouTube video on TikTok marketing tips, entrepreneur online services platform GoDaddy states, "investing in TikTok marketing is essential" for small business owners to reach potential Gen Z and Millennial customers.
GoDaddy Guide Emma said with a "modest" advertising budget, owners will see an "excellent" return on investment. "One of the keys to successful TikTok marketing for small business is keeping your eyes peeled and your ears to the ground," she said. "We know that you're busy and don't have time to scroll through TikTok all day. We're not suggesting that, but when you are on the platform, searching for relevant trends will prove an effective use of your time."
GoDaddy Guide Nealey added that to find trends, search for hashtags that relate to the message you want to put out about your brand or services then create your own "funny, inspirational, or compelling" TikToks.
A more recent GoDaddy YouTube tips video highlights Instagram Reels as another video-marketing option comparable to TikTok for business marketing. According to Nealey, brands, businesses, and influencers are "more polished" on Reels. While both have their pros and cons, Nealey and Emma concluded it ultimately comes down to personal preference and demographics. They recommend Instagram Reels for businesses whose target audience is Gen X and older, and either app has a good reach to Gen Z and Millennials.
Accion, a nonprofit that, according to its website, uses its Opportunity Fund to help small businesses around the world, recommends using Instagram because of its focus on the use of photos and video but says it should still be connected to your other business social media accounts such as Facebook, Twitter, TikTok, and Flickr. Some tips they shared include using vibrant colors to stand out and high-resolution photos that are unusual or intriguing to catch users' eyes when they're scrolling, as well as short videos to show your business in action. And marketing on all of the platforms used should be consistent with your brand by using the same logo, style and tone, according to Accion.
IMAGES
Featured image credit: Wachiwit/iStock
Jake from State Farm TikTok challenge (TikTok screenshot)
Share This:
Related