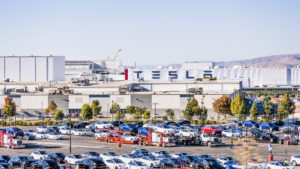 Former employee sues Tesla over safety non-compliance, discrimination
By on
Legal
A lawsuit filed in California on Friday against Tesla by a former manager alleges whistleblowing retaliation, wrongful termination, racial discrimination, and more following many attempts to notify managers and higher-ups of safety violations.
Marc Cage was hired as a project quality manager in November 2018 at Tesla's factory in Sparks, Nevada, and then later worked at the OEM's Fremont, California factory until he was fired in December 2020 for "his commitment to safety and his race," according to the suit.
"Mr. Cage also demonstrated an unwavering commitment to identifying and correcting Tesla's widespread safety and building code violations throughout his tenure at Tesla. The violations Mr. Cage reported directly risked endangering him and his co-workers, and maintaining safety was inherent in his work as a Certified Special Inspector overseeing construction operations.
"…Unfortunately, at Tesla, his efforts to remedy noncompliance were received as antagonistic to the Company's mission of scaling up production at any cost, including the health and safety of its employees."
After two years of trying to have noncompliance and employee safety issues addressed, Cage was fired for "speaking out" after he was allegedly retaliated against with a transfer to another department, described in the suit as a demotion, then put on a "pretextual Performance Improvement Plan" by his manager.
In addition to being discriminated against for his race – Cage is Black – the suit claims he was also discriminated against for being a military veteran and having a disability.
"Mr. Cage reported numerous legal violations and instances of Tesla's regulatory noncompliance to his superiors during his time with the Company, leading to numerous instances of retaliation and harassment towards him," the suit states.
The suit notes Tesla received 54 OSHA violations from 2014-2018 in contrast to Ford receiving four and General Motors zero during the same time period. During Cage's tenure, from 2017-2020, Tesla allegedly received 45 OSHA violations compared to Ford receiving 18, and GM receiving six, according to the suit.
Cage purportedly witnessed and reported more than 200 employee safety and building code violations during his tenure with Tesla. Cage discovered at the Nevada factory that on-the-job injuries weren't reported and that it wasn't verified that employees had completed OSHA training. He also saw an employee welding a pressure vessel without the proper certification to do the work.
The welding job was allowed by management to avoid halting factory production. "Mr. Cage was explicitly told that raising an issue with Tesla's construction practices (or otherwise slowing production) was out of the question, as that would interfere with the agendas of CEO Elon Musk and Jerome Guillen, President of Automotive. Employees firmly believed that raising safety issues could cost them their jobs."
Cage continued to inform superiors higher up the ladder to no avail, and the vessel that he feared could explode due to alleged improper repair remained in use for three months.
At the California factory, he found that 42% of its inspections over two years had been performed by non-qualified inspectors, rendering them invalid and noncompliant with state and city building codes.
The suit also alleges Cage worked in a hostile environment, faced race harassment and retaliation for engaging in protected activity, and negligent and intentional infliction of emotional distress. Tesla is accused of failing to prevent discrimination and harassment.
Racist remarks were made to Cage by his co-workers and written on several bathroom walls, according to the suit. Another lawsuit against Tesla regarding race discrimination is referenced in the suit. It was filed on Feb. 9 by the California Department of Fair Employment and Housing and alleges Tesla is operating a "racially segregated workplace."
Cage's suit demands a jury trial, economic and non-economic damages, exemplary damages, emotional distress damages, injunctive and declaratory relief, prejudgment and post-judgment interest, and payment for the suit and attorneys' fees.
Tesla didn't respond to a request for comment from Repairer Driven News by the publication deadline.
IMAGES
Featured image: Tesla's Fremont, California factory (Credit: Sundry Photography/iStock)
Share This: