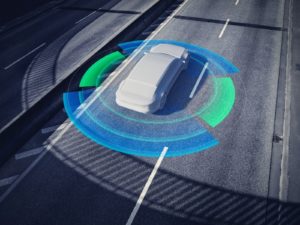 Bosch, VW Group subsidiary join to develop self-driving technology for mass production
By on
Announcements | Technology
Bosch and Volkswagen Group software company Cariad have formed a partnership to develop self-driving technology that is suitable for mass production, the companies have announced.
One of the goals of the partnership is "more rapid deployment of automated driving functions across all vehicle classes," through a shared engineering platform that is "available to the broad mass of consumers," the companies said Wednesday in a joint announcement.
The goals are to develop Level 2 systems for urban, suburban, and highway driving that allow drivers to temporarily take their hands off the steering wheel, and full Level 3 autonomy that will allow the vehicle to drive itself, with no human oversight necessary. The first Level 2 functions will arrive in 2023, the companies said.
Audi will be the first automaker to benefit from the new partnership, Dirk Hilgenberg, CEO of Cariad, said on LinkedIn.
Hilgenberg said Cariad "is becoming an end-to-end software supplier in the automated driving space. With a vertically integrated technology stack, we'll accelerate the development cycle, create a greater integration between hardware and software, and leverage our competitive advantages."
Some Level 2 systems, such as Tesla's Autopilot with Full Self Driving mode, General Motors' Super Cruise, and Ford's BlueCruise, are already on the market.
Level 3 is a far more ambitious goal. Only Honda's limited-edition Legend and Mercedes-Benz's new S-Class are allowed to operate at Level 3 in their home countries, though Automotive News reported Thursday that Mercedes-Benz is aiming to introduce the Drive Pilot technology in the United States this year.
Volkswagen currently offers hands-on-the-wheel driving assistance, called Travel Assist, as part of its IQ Drive advanced driver assistance system (ADAS) package. It uses adaptive speed control, automatic emergency braking, and lane-keeping, but is not a hands-free technology.
For partially and highly automated driving, Bosch and Cariad will jointly develop "a state-of-the-art, standardized software platform" that can be used in all passenger vehicles made by the Volkswagen Group. Bosch said the platform will be made available to other OEMs, too.
The project will make use of information gathered from Volkswagen Group vehicles, the company said. "The best proving ground for the development of automated driving is road traffic," said Mathias Pillin, president of Bosch's Cross-Domain Computing Solutions branch.
According to Hilgenberg, the guiding principles of the project are safety, in-house development, integration of vehicle technologies, and rapid development of knowledge.
Bosch and Cariad "have got what it takes to make increasingly automated driving a common sight on our roads: they have decades of experience in the volume production, scalability, and approval of driving systems, as well as expertise in the areas of software, data-driven development, and artificial intelligence," the companies said in their announcement.
Bosch has long been working on automated driving, according to Markus Heyn, a member of the Bosch board of management. "Together with Cariad, we will now be accelerating the market launch of partially and highly automated driving functions across all vehicle classes, and thus making them available for everyone. This will make driving on the roads safer and more relaxed," he said in a statement.
Teams of engineers from both companies will work together at various locations to develop the technology. The companies will be focused on developing data-driven software that makes use of "360-degree surround sensing," though the joint announcement did not address specific sensors, such as lidar, cameras, or radar.
The work will be carried out in "a highly innovative development environment" created to record, evaluate, and process data with the use of artificial intelligence (AI), the companies said.
"The idea behind this is a simple one. The more extensive the pool of data from real road traffic, the more robust and natural the design of the partially and highly automated driving functions can be," the companies said.
"Automated driving is key to the future of our industry. With our cooperation, we'll strengthen Germany's reputation for innovativeness. Bosch and Cariad will further enhance their expertise in the development of pioneering technologies," Hilgenberg said in a statement. "This underscores our ambition to deliver the best possible solutions to our customers as soon as possible."
"With the help of one of the world's biggest connected vehicle fleets, we will gain access to a huge database. This will allow us to take automated driving systems to a new level. All our customers will be able to benefit from this," Pillin said.
"Together, we can test automated driving functions on a broader scale in actual vehicles and implement them more quickly. Our engineering work will be done jointly, with Bosch and Cariad as one team. There has never been an alliance like this in the automotive industry," said Ingo Stürmer, the alliance's project director at Cariad.
More information
"Automated driving: Bosch and Volkswagen Group subsidiary Cariad agree on extensive partnership"
https://us.bosch-press.com/pressportal/us/en/press-release-16640.html
Images
Featured image provided by Cariad
Share This: