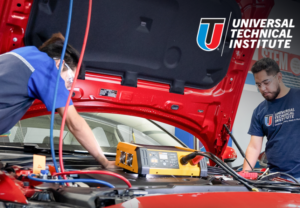 Universal Technical Institute (UTI) now offers an electric vehicle certification curriculum as part of its 15-week Ford FACT (Ford Accelerated Credential Training) program at nine campuses.
UTI also offers EV training for other OEMs in its automotive technology and automotive and diesel technology programs in California. The new program is offered at UTI campuses in Avondale, Arizona; Bloomfield, New Jersey; Exton, Pennsylvania; Houston, Texas; Lisle, Illinois; Mooresville, North Carolina; Orlando, Florida; Rancho Cucamonga, California, and Sacramento, California. Ford provided a new plug-in hybrid vehicle (PHEV) for each of the nine campuses so students can receive hands-on training. Virtual reality goggles were also provided.
The new course is "another step in UTI's overall EV strategy. to expand its overall EV ecosystem," according to a UTI press release.
In response to Repairer Driven News asking how the new program might help address the nationwide automotive technician shortage, spokesperson Alanna Vitucci cited a recent report by McKinsey, that predicts by 2030, 65% of new car sales will be electric, and those vehicles will need EV trained service personnel to maintain them.
"Training on new technology by UTI and the OEMs is one way to help meet that need so that students are better prepared when they graduate," Vitucci said.
Students in the new Ford EV curriculum will take courses on high voltage systems safety, hybrid vehicle components and operation, battery electric vehicle (BEV) components and operation, high voltage battery service, and hybrid and EV operation and diagnosis. To enroll in the program, students must first complete UTI's automotive technology or automotive/diesel technology program.
"Ford has been working with UTI for more than 20 years to ensure our students receive state-of-the-industry training to prepare them for a rewarding, lifelong career in the transportation industry," UTI CEO Jerome Grant said in the release. "Demand for our graduates remains strong, and by staying at the forefront of new technologies like EV, we are building the workforce of tomorrow and supplying automakers like Ford with the skilled technicians they need to adapt to consumer demand."
Ford FACT is part of UTI's Manufacturer-Specific Advanced Training (MSAT), which includes more than 35 auto, diesel, motorcycle, and marine manufacturer brands.
"Ford has been investing in building a pipeline of qualified technicians for years now, and our alliance with Universal Technical Institute allows us to do that through the Ford FACT program," said Elizabeth Tarquinto, Ford Manager of Technical Support Operations, in the release. "The enhancements we're making to the program ensure that Ford and Lincoln Dealers across the country will be able to find certified technicians ready to work on the vehicles of the future, and help them keep up with consumer demand for hybrid and electric vehicle service."
IMAGES
Featured image credit: Universal Technical Institute Twitter
Share This: