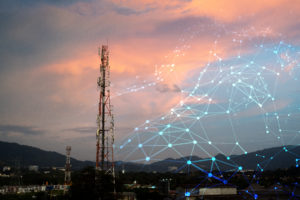 AT&T phased out its 3G network earlier this week "to invest in 5G and improve its network." Along with the move, some in-vehicle functions were nixed and collision repair centers may also be facing issues.
According to CNBC, updates, remote communications, emergency, and convenience features will no longer work in Tesla, Audi, Honda, Nissan, Volkswagen, and Stellantis vehicles – as new as the 2021 model year – operating on 3G. On the repairer side of the coin, AirPro Diagnostics Automotive Technology Solutions Senior Vice President Chuck Olsen told Repairer Driven News some shops – more on the mechanical side with programming – will be affected.
"Shops that do have older [data] plans on the older networks will probably need to upgrade for a multitude of reasons – for their own communications and also being able to utilize remote services," he said. "One of the challenges that shops will have is if they are doing a programming event in-house, especially with a remote service. The 3G isn't going to support that going forward."
AirPro remote diagnostics likely won't be greatly impacted because they use WiFi for their operations. Collision repairers, on the other hand, will experience slower internet speeds, especially with photo estimates because of upload and download speeds, Olsen said. Electronic invoicing is another function that would be impacted.
Business Development Vice President Bob Augustine said Opus IVS uses 4G LTE and WiFi to connect to their devices at shops so "for the foreseeable future" their services won't be affected.
"The OEMs will definitely have internal problems with customers if their telematically equipped vehicles no longer can connect with the mothership," he said.
Volkswagen and Audi have partnered with Mojio to continue to offer vehicle emergency services, according to CNBC.
T-Mobile will shut down its 3G network on March 31 and the last of Verizon's by Dec. 31.
Consumer Reports published a list of impacted vehicles by OEM, which includes Chrysler, Dodge, Jeep, Ram, Hyundai, Lexus, Nissan, and Toyota. Owners, if they haven't been contacted by automakers already, also can check brand websites to find out if their vehicle is affected.
On the same day AT&T shut down its 3G network, Audi announced it will include Verizon 5G Ultra Wideband connectivity in select 2024 model year vehicles, which will provide "the speed and telecommunication architecture necessary for highly personalized and augmented mobile services, new driver-assistance features, and connectivity-enabled innovations for the automated future of driving," according to a statement on Audi's website.
"Audi drivers will be among the first in the world to experience a new generation of automobiles, one in which their car is both a 5G mobile device and a vehicle," said Tami Erwin, CEO of Verizon Business, in the statement. "We're proud to bring our transformative 5G networking expertise in the world to a visionary partner like Audi, whose premium automotive engineering deserves second-to-none 5G technology to match."
IMAGES
Featured image credit: Jaiz Anuar/iStock
Share This: