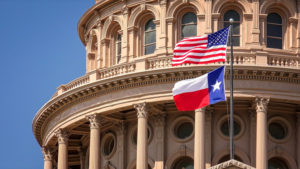 AG forces Texas insurance department to release some State Farm labor rate survey info
By on
Insurance | Legal
Responding to a directive from the attorney general's office, the Texas Department of Insurance (TDI) has released one document sought in an open records request related to a State Farm auto body labor rate survey.
The document, a three-page Request for Information sent by TDI to State Farm in October 2017, was provided to Burl Richards, president of the Auto Body Association of Texas, who had made the open records request on Nov. 17.
Asked for further information, a spokesman for TDI said Friday that "the releasable documents were sent to the original requester," and advised Repairer Driven News to file an open records request to receive copies.
The OAG also denied TDI's request that it issue a "previous determination," allowing TDI to "withhold information obtained during the course of a market conduct examination without requesting a ruling from your office," as provided for under state statute. This would have given the office authority to deny future similar requests without involving the AG.
Which information is protected, and which is not, was not specified in the three-page opinion issued by Assistant Attorney General Gerald Arismendez on Tuesday.
"Upon review, we find State Farm has demonstrated some of the information at issue constitutes commercial or financial information, the release of which would cause substantial competitive harm. Accordingly, the department must withhold the information we marked" under state law, Arismendez wrote.
Which information had been "marked" was not specified in the letter. The AG's office did not respond to RDN's request for clarification.
Richards provided RDN with a copy of the AG's opinion, and the accompanying Request for Information sent to State Farm, the two documents he received from TDI.
"In the end, the information that we received is filled with great questions that were posed to SF and I applaud the specific questions," Richards told RDN. "On the other hand, this was 7 years ago and how relevant is that information today?"
Richards explained why ABAT had sought the information from TDI.
"ABAT believes that insurance surveys and other methods used by insurance companies to determine prevailing rates and processes should be reviewed yearly and they should be thoroughly investigated to ensure transparency," he said. "Why should how an insurance indemnifies the consumer be considered proprietary?"
Richards has contended that State Farm's labor rate survey instructs shops to respond with the hourly rate they would charge a State Farm customer, rather than their retail or door rate, possibly skewing the result.
In addition, he said, at least some of the respondents may be in State Farm's direct repair program (DRP), in which the rates they may charge are spelled out in their agreements. Commonly, DRPs promise shops a high volume of work in exchange for reduced billing.
Richards, on ABAT's behalf, made an open records request for "[a]ll documents relating to the Texas Department of Insurance's (TDI) request for State Farm's automobile repair labor rate survey, including but not limited to correspondence detailing the date the survey was requested and the person(s) at TDI making the request."
TDI did not grant the request, instead asking Texas Attorney General Ken Paxton, to determine if the information should be released. That request was made on Dec. 6.
Richards said the questions he wants answered are: Did TDI receive the survey results from State Farm, and, if so, when was the request for the data made, and by whom?
Click to access R013939_Docs_to_Release_per_OAG.pdf
State Farm had sought to shield all of the information ABAT requested under Section 552.110(c) of the Texas Government Code, which protects from disclosure "commercial or financial information for which it is demonstrated based on specific factual evidence that disclosure would cause substantial competitive harm to the person from whom the information was obtained."
Arismendez wrote that State Farm had satisfied that requirement for some, but not all, of the information sought. "[W]e find State Farm has failed to provide specific factual evidence demonstrating the remaining information at issue constitutes commercial or financial information, the release of which would result in substantial competitive harm. Therefore, the department may not withhold any of the remaining information under section 552.110(c)."
The Request for Information, sent to the State Farm County Mutual Insurance Company of Texas on Oct. 23, 2017, lists dozens of questions and requests for documentation covering a variety of issues. The inquiry covers calendar year 2015.
Questions about labor rates are just one of the seven major areas covered in the request. TDI asked State Farm what its DRP and non-DRP rates are, how it sets its rates, how often the process is completed, the date of the most recent labor rate adjustment, and whether shops could appeal for reconsideration of rates.
Other main sections include training, parts, DRPs, repair quality, complaints, and specific items, including pre- and post-scans of vehicles involved in an accident.
TDI did not indicate whether State Farm responded to the survey by the Oct. 30, 2017 deadline, or, if so, what its responses were.
More information
Settlement relieves State Farm of Texas judge's order to release labor rate survey data
Images
Featured image: The flags of the United States and Texas fly outside the Texas State Capitol, in Austin. (CrackerClips/iStock)
Share This: