As Lucid ramps up Air production Stellantis talks EV cost, future
By on
Announcements
Lucid plans to ramp up production of its Lucid Air models to 12,000-14,000 this year after reaching "a significant milestone" in the fourth quarter of 2021.
CEO Peter Rawlinson was referring to the delivery of 125 Lucid Air Dream Edition electric vehicles (EVs) during the last three months of the quarter. That may seem small, but that's not out of the ordinary for the startup. As of Feb. 28, the date of the Q4 earnings call, Lucid had delivered 300 vehicles to its customers and more than 25,000 have been reserved.
"Indeed, we could have chosen to build faster, but we elected not to sacrifice quality, given our unwavering commitment to the highest standards," Rawlinson said.
The projection for 2022, according to CFO Sherry House, "represents our best estimate as we analyze our relationship with our suppliers and where the bottlenecks still exist in the supply chain, as well as our own internal plans to improve logistics."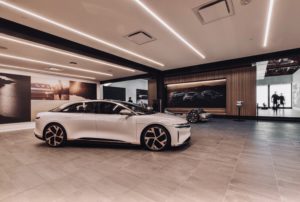 Rawlinson said ramping up production is "moving from concept to reality and delivering on our mission to create a future where there is no longer an artificial choice between doing great things and doing the right thing."
Also during Q4, Lucid kicked off phase two of the 2.85 million-square-foot expansion of its AMP-1 vehicle manufacturing facility in Casa Grande, Arizona. It has the capacity to produce 34,000 Lucid Air EVs per year and, after the expansion, will be able to produce 90,000. Also on Feb. 28, the OEM announced it will build its first international manufacturing facility in Saudi Arabia with a 150,000-vehicle production capacity. Rawlinson said it's slated to open in 2025.
By the end of the quarter, Lucid opened six new stores for direct-to-customer sales and service centers, bringing the total to 20 in Arizona, New York, Michigan, Texas, Virginia, Washington, Illinois, Florida, California, and Canada. Mobile service vans have been deployed in over 12 major metropolitan areas already, and House said that will be expanded this year. Personnel were hired in North America, Europe, and the Middle East to prepare for the coming international sales and service expansion.
"Over the next several quarters, we will continue to build out our core business systems and direct-to-consumer digital and physical infrastructure to transact with customers in new countries," House said.
Supply chain impact and the future of EVs
Both Rawlinson and Stellantis CEO Carlos Tavares mentioned continued supply chain issues as hiccups in the quarter during their earnings calls, although Stellantis seemed to have more production losses. Tavares said the company saw "significant losses" throughout the year due to the chip shortage while Rawlinson noted Lucid's issues were with commodity suppliers, finishes, carpet, and glass. However, with a strong vehicle mix, Tavares said raw material inflation and chip shortages were offset.

Both Tavares and Rawlinson said the consumer and OEM shift to EVs is rising.
"We are at an inflection point in terms of consumer interest in and adoption of electric vehicles, which means our timing as we scale simply couldn't be better," Rawlinson said. "The entire car market is going electric. One need not look further than the six Super Bowl ads for electric vehicles to know that the tide has turned, whether it's Bentley planning to be all EV by 2030, GM and Renault-Nissan investing significant sums to build EV capacities over the next few years; of all those efforts to become the first all-electric legacy automaker. We started where they're all heading, and I like our odds."
Tavares said it's more expensive to build EVs and the OEMs shouldn't have to pick up the extra cost. "For us, the big gorilla in the room is the cost of electrification. … We can expect electrification to represent an additional total production cost of around 40% to 50% against the conventional vehicle. There is no way we can transfer 40% to 50% additional total production cost to the customer because if we do so, we will lose the middle classes and our customer bases will shrink.
"… The only way to move forward is to absorb those 50% of additional costs. … When you have to absorb 50% of additional costs coming out of electrification, your suppliers need to be a significant contributor for this additional productivity because they have been doing significant business over the last 30 years with this kind of cost structure."
IMAGES
Featured image credit: Fritz Jorgensen/iStock
A Lucid Air sits inside a sales location, called a "sales studio." (Provided by Lucid)
Stellantis logo (Provided by Stellantis)
Share This: