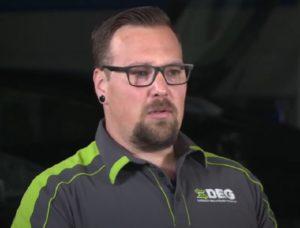 The Database Enhancement Gateway (DEG) has several new sponsors, including Reliable Automotive Equipment (RAE) and AkzoNobel at the platinum contribution level, the highest level of support within the sponsor framework.
DEG is a free online resource that repairers and others can use to help identify, address and resolve omitted or inaccurate information in the CCC, Audatex, and Mitchell estimating systems through a standardized inquiry process. It can also be used to verify and document necessary operations.
Administrator Danny Gredinberg announced RAE's sponsorship earlier this week in a press release in which he wrote, "We are all really proud to recognize RAE for sponsoring with a generous platinum status contribution to help invest in industry resources that are having a positive impact on their membership."
RAE president Dave Gruskos told Repairer Driven News Gredinberg's ability to come up with solutions for repairers is "second to none" and the company decided to sponsor DEG because of its importance to the industry.
"It's one of the few tools out there that truly makes a difference in every aspect of the data supply for repair and for estimating," he said. "Somebody could be doing something so simple, as taking a simple fastener off a car, and the book time is .5 or something when in reality it takes three hours. Danny will dig in and tell you how and why."
AkzoNobel West Business Services Manager Nada Jokic told RDN the company is happy to sponsor DEG because it's a valuable resource to the industry.
"DEG helps improve the quality and the accuracy of the collision industry's estimates, which is critical to the well-being of the individual body shops," she said.
Gredinberg said others recently signed on as silver-level sponsors including KECO Body Repair Products, Montana Collision Repair Association (MCRA), and Nebraska Auto Body Association (NABA). Those sponsors couldn't be reached for comment by the publication deadline.
"We're not a for-profit service so it just helps maintain the support and keeps the [web]site funded; keeps it free to the industry," Gredinberg said. "The ongoing continued support from all of our sponsors is a testament to the value DEG provides to our industry. We cannot thank them enough for recognizing the need to provide value back to the industry as well as their customer."
Automotive Service Association (ASA), PPG Industries, and Collision Advice continue to be platinum sponsors as well as Spanesi Americas, Autobody Association of Texas (ABAT), ALLDATA, BASF, NCS, Single Source, Carolinas Collision Association (CCA), and Nylund's Collision Center as gold level sponsors. Auto Body Hawaii, Washington Metropolitan Auto Body Association (WMABA), and Kansas Auto Body Association (KABA) continue to be silver-level sponsors.
The Society of Collision Repair Specialists (SCRS) and the Alliance of Automotive Service Providers (AASP) provide DEG with its primary funding so corporate sponsors help offset a large chunk of operating funds contributed by the two associations. Details on how to become a DEG sponsor are available online at degweb.org/sponsorship/sponsorship-inquiry.
IMAGES
Featured image: Danny Gredinberg, Data Enhancement Gateway (DEG) administrator (SCRS Quick Tip video screenshot)
Share This: