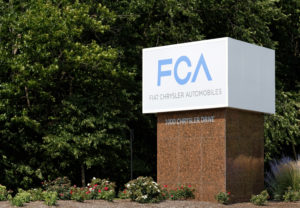 Arizona Supreme Court allows AEB lawsuit against Chrysler to move forward
By on
Legal | Technology
A March 1 Arizona Supreme Court opinion allows for a 2015 lawsuit to move forward against Fiat Chrysler Automobiles (FCA US) and others in the death of a 4-year-old girl, Vivian Varela.
The wrongful death suit, filed by Vivian's mother, Melissa Varela, argues that the 2014 Jeep Grand Cherokee Limited that rear-ended her car should've been equipped with forward collision warning plus (FCW+), also known as automatic emergency braking (AEB), and that if it had, the crash would've been avoided, or at least would've caused less damage. Instead, Chrysler chose to make the safety feature optional for the Limited models and standard on the Summit and SRT, according to the suit. Chrysler is accused of negligence, defective product design, and defective product warning in addition to wrongful death.
The court's opinion centers on pre-emption – whether a federal law exists that would displace state law – and sides with Varela in shooting down Chrysler's argument that it shouldn't be held accountable for the crash because the National Highway Traffic Safety Administration (NHTSA) doesn't require AEB.
In addition to the decision on the Varela case, the court's opinion overturns Dashi v. Nissan North America, Inc. where the plaintiff claimed a 2008 Nissan Rogue that hit her vehicle was "unreasonably dangerous and defective" because it lacked then-available AEB technology.
As recent as December 2020, NHTSA stated its policies on automated driving systems regulation would not trump state laws, according to the opinion. "the Agency noted that '[t]he goal of State policies in this realm need not be uniformity or identical laws and regulations across all States. Rather, the aim should be sufficient consistency of laws and policies to promote innovation and the swift, widespread, safe integration of [automated driving systems].'"
And while Chrysler argues allowing Varela's suit to proceed "'would frustrate [the Agency's] federal regulatory objectives by thrusting a jury-imposed AEB standard on [manufacturers] inside Arizona's borders," the high court disagreed.
"To the extent there is a manifest Agency policy objective concerning AEB installation, it is to see AEB deployed as quickly and as broadly as possible. Varela's suit may spur the very type of activity the Agency seeks. A jury finding in Varela's favor could encourage manufacturers who have decided to offer AEB technology on vehicles for sale to make AEB standard on all trim levels and not just some. Varela's suit may provide a complementary shove to the 'pull' resulting from efforts by the Agency to encourage voluntary compliance for increased AEB deployment and the 'push' from the effects of the Program and independent rating agencies to highlight the use of AEB by manufacturers."
The court concluded that NHTSA "has neither conveyed an authoritative statement establishing manufacturer choice as a significant federal policy objective nor made explicit a view that AEB should not be regulated" and "encourages AEB innovation and desires it be deployed more broadly and sooner rather than later."
Brent Ghelfi, co-counsel for Varela, told Repairer Driven News the crux of the case is, "Chrysler can't option safety."
"It had the safety systems available," he said. "It had installed them on this particular vehicle – the Jeep Grand Cherokee – in this particular model year, but they withheld the safety systems from the lower trim levels of the Jeep Grand Cherokee and used it as a high-priced, expensive option in the higher trim levels of that same vehicle. That violates all notions of what safety is all about, of what a responsible company would do, and therefore we think Chrysler needs to be held accountable for that in court. …The Arizona Supreme Court agreed with us that NHTSA's failure to mandate these safety systems didn't let Chrysler off the hook. …Chrysler can't hide behind a failure to regulate by NHTSA."
According to the court's opinion, Chrysler moved to dismiss the lawsuit "relying on policy guidance published by the Agency [NHTSA] in 2016 and 2017, as well as the Agency's denial of a petition to regulate AEB in 2017," and based on that, the trial court granted the dismissal.
In a written statement to RDN, Stellantis – the parent company of FCA US – said that while it disagrees with the Supreme Court's ruling, the company "extends its deepest sympathies to the Varela family for their loss and other injuries stemming from this horrific, high-speed collision caused by an inattentive driver."
"While we disagree with the Arizona Supreme Court's ruling on the preemption defense, we look forward to presenting our other defenses to the trial court. The 2014 Jeep Grand Cherokee complied with all applicable Federal Motor Vehicle Safety standards. While automatic emergency braking is a promising new technology, it cannot prevent all crashes in every accident scenario. Lawsuits attempting to impose an autonomous feature on all vehicles can inadvertently stymy the development of better versions as technology matures. FCA agrees with the federal government's goal of allowing such technology to evolve so that it can be safely deployed in a manner that encourages innovation and technological advancement."
The court's opinion notes that beginning in model year 2010, the NHTSA identified FCW as one of several technologies for inclusion in a program for rating crash and by 2015, the NHTSA's New Car Assessment Program "incorporated each element of AEB among recommended crash avoidance technologies."
Ghelfi told RDN the National Transportation Safety Board (NTSB) has said automated safety systems should be standard in all models and OEMs have disregarded that. "Lawsuits like ours sort of push or shove manufacturers toward making better decisions and making safety a standard feature, not an optional feature," he said.
The case will go back to Superior Court to be tried after the Supreme Court issues a mandate, which will happen within the next 30 days, Ghelfi said.
The suit seeks from the OEMs payment for medical fees and expenses, lost income, pain and suffering, loss of enjoyment of life, funeral and burial expenses, and pre- and post-judgment interest as well as exemplary damages against FCA US.
Toyota Motor Corp. and Toyota Motor Sales U.S.A., Inc. were initially involved in the suit because Varela and her daughter were in a 2004 Lexus RX330 at the time of the crash that had "defective and unreasonably dangerous" seatback strength for moderate to severe rear-end collisions as evidenced by "failure of the subject Lexus driver seatback to retain properly seat belted Melissa Varela in the front driver seat during the subject collision," according to the suit. Toyota reached a settlement with Varela and is no longer part of the case, according to Ghelfi.
The suit also names the driver of the Jeep Grand Cherokee, Kristina Schoeck, as a defendant and seeks for her to pay a "percentage of fault" of the medical fees and expenses, lost income, pain and suffering, loss of enjoyment of life, and funeral and burial expenses due to her "negligent failure to purchase a 2014 vehicle with inexpensive and available Forward Collision Warning Plus."
This article was updated to state that Toyota is no longer a defendant in the case.
IMAGES
Featured image credit: wellesenterprises/iStock
More information
Click to access OP%201%20CA-CV%2019-0209%20-%20Varela.pdf
Ford, Honda latest to meet pledge to equip nearly all vehicles with AEB
Share This: