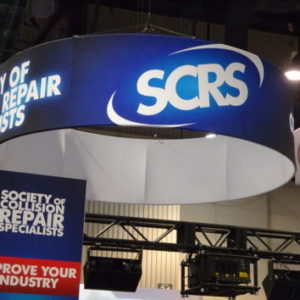 Get to know SCRS Board nominees ahead of April election; Repairer Roundtable & open meeting coming up
By on
Announcements | Associations
The Society of Collision Repair Specialists (SCRS) will hold a Repairer Roundtable on April 13 from 9-11:30 a.m., an open board meeting from 2-5 p.m., and its annual board member election from 5:15-6 p.m.
All three events will take place at the Sheraton Oklahoma City Downtown. Hotel reservations can be made here.
The last in-person Repairer Roundtable was held in April 2019, focused on workforce development and solutions to skilled labor challenges. During the upcoming roundtable, the SCRS Board of Directors will present a focused dialog addressing the issues that are currently impacting collision repairers the most. SCRS will collect in-person responses and input as well as address challenges shared by repairers across the industry.
The Repairer Roundtable will feature a panel of three collision repair facility operators and three association representatives: Andy Tylka, owner of Tag Auto Group in Indiana; Bruce Halcro, owner of Capital Collision Center in Montana; Kye Yeung, president of European Motor Car Works in California; Kyle Bradshaw, president of the Carolina's Collision Association (CCA); Jill Tuggle, executive director of the Auto Body Association of Texas (ABAT) and Jordan Hendler, executive director of the Washington Metropolitan Auto Body Association (WMABA).
You don't have to be a member to participate in the roundtable, and the event is open to all who are in Oklahoma City for the week of industry events. There is no fee to attend, but SCRS asks guests who plan on joining to RSVP so appropriate accommodations can be made for the meeting room.
Following the roundtable, the SCRS board will hold an open board meeting for those who would like to learn more about the association's ongoing activities. The meeting will include updates from SCRS staff and special presentations from SCRS committees, including one by the Education Committee on Kool Tools, which was postponed from the previous meeting. The annual election will be held afterward.
In accordance with SCRS bylaws, the nomination process closed on Feb. 26 so there will be no nominations from the floor.
The election will fill four open board seats. The incumbents are Rob Grieve with Nylund Collision in Colorado and Dave Gruskos with Reliable Automotive Equipment in New Jersey. The new nominees are Kris Burton with Rosslyn Auto Body in Virginia, Josh McFarlin with AirPro Diagnostics in Florida, and Erin Solis with Certified Collision Group in Colorado.
The election is open to current, designated voting representatives of SCRS member businesses. In accordance with SCRS bylaws, members must be present to vote. To join as a member of SCRS to participate in the upcoming election, contact the association office at info@scrs.com or join online at www.scrs.com/join-scrs.
Those who are not the designated voting representative for their organization, but wish to be the representative during the election, must fill out and send a designation form to SCRS' office before the close of business on March 31. The form can be found online here.
All of the nominees summed up their careers and why they want to be on the board for SCRS, which can be found in full here. Repairer Driven News also caught up with each of them ahead of the election.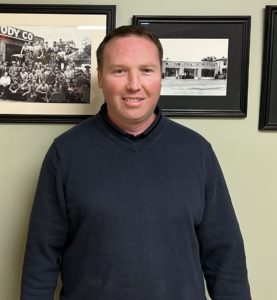 Kris Burton is a second-generation shop operator of Rosslyn Auto Body in Alexandria, Virginia, which was founded in 1937. Burton started out in the industry by sweeping floors and completing basic tasks as an entry-level porter. He now serves as vice president.
During his 20 years in the collision repair industry, Burton has gained experience in repair processes, insurance negotiations, and overall management of the operations and people of an auto body shop. As a people manager, he believes the most important resource and support system repairers have is each other. He currently serves on the board of the Washington Metropolitan Auto Body Association (WMABA) and supports local collision repair education initiatives.
"I want to be a part of the national solution," Burton said. "I think there's a lot of good things going on. I don't think it's all doom and gloom. I want to be part of the solution; not part of the problem. I want to take some of those things that I've learned over the years and be a part of the bigger picture."
If elected, Burton says he will continue to seek the best methods in which his voice and standing with this board can further improve the overall industry. He strives to always stay on top of industry changes and advances within the future of the overall industry.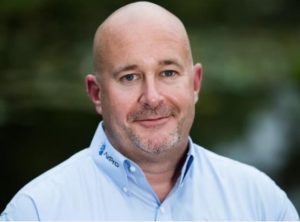 Josh McFarlin is the executive vice president of operations at AirPro Diagnostics. In his role, he is responsible for all service delivery operations out of multiple locations, internal and external training, accounting, finance, and legal activities, as well as over 130 employees. He has been in the automotive industry for more than 27 years starting as a service technician and later as a service engineer for both Ford and Audi.
He is interested in serving on the SCRS board of directors because he sees it as the best way to directly support the part of the industry that he values most and identifies with the strongest: the shops and technicians working every day to fix complex cars correctly to get them back on the road and operating as designed.
"I'm just looking to take that next step and really demonstrate my commitment to the board, the organization, the mission, the industry, et cetera," he said. "I think it's important that the industry is represented by repairers, but I think it's also important to get some diversity of thought in there as well that comes from having people involved that have experience outside of the repair shops specifically as well and I think I bring some of both of that."
McFarlin has worn a lot of different hats in his career, but he still identifies most closely as a technician and "car guy" at his core. He feels that the repairers need all the support and representation they can get and that there is no organization doing more on that front than SCRS.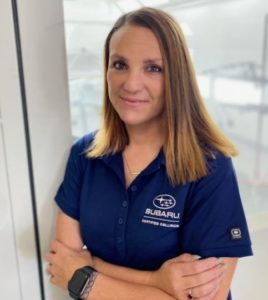 Erin Solis has been in the industry for 25 years since she was 16 years old. She is currently the director of OEM and industry relations at Certified Collision Group. Her experience is spread across many companies, platforms, and responsibilities. She said her career goal is to leave the industry better than she found it by helping anyone in any way that she can to provide the best quality and safest repair for the consumer.
"For at least the last 10 years of my career, all I have wanted is to be part of making this industry better – better for the customers, better for the employees, and most recently, better for the owners who want to pass it along down the same line," Solis said. "I have a genuine passion for the repairer side of our industry and I would welcome any opportunity presented to me that would assist that goal. I am humbled to be included in such a prestigious group of candidates."
Most of her career has been in shop operations, but she also spent several years in claims management before returning to the repairer side. She has also operated her own consulting business to help repairers improve front office operations to better serve their customers.
Solis has held the position of I-CAR Certified Estimator and Platinum Individual, is a current member of WIN, and volunteers on the Collision Industry Conference (CIC)'s Estimating Committee. She is also currently the Colorado region OEM auditor for Subaru, Jaguar Land Rover, Volkswagen, and Audi.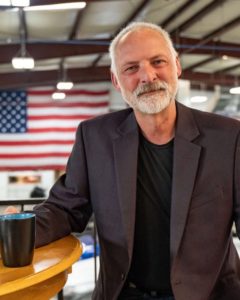 Rob Grieve started his career in the automotive industry in the late 1970s and, like many in the industry, has worked his way up from the shop floor of a Buick dealership in Englewood, Colorado to a role overseeing dealership service, parts, body shop, and fixed operations to the responsibility as dealership general manager.
He has been an SCRS Board member since 2019 and is running for his second term. He has served on multiple committees and is currently the Executive Committee's director at large.
Throughout his career, Rob's focus has been to raise the bar of excellence in the industry. Grieve joined SCRS to align himself with like-minded professionals looking to help the industry repair vehicles at the very highest level of quality.
"Being in an industry and being part of an industry, for me, are two different things," Grieve said. "I feel being part of an industry means giving back, lifting up, and/or contributing to the betterment of it. I am so grateful for the opportunity the SCRS membership gave me three years ago to serve our industry and help other repairers while working in concert with the other incredibly passionate board members. I humbly ask the membership to consider me once again this year for another term to continue the important work at hand."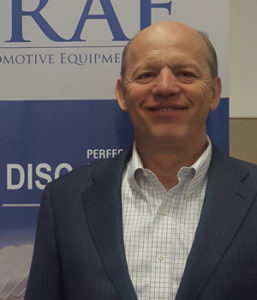 Dave Gruskos has been the president of Reliable Automotive Equipment, Inc. (RAE) since 1987 and has served on the SCRS board for six years.
"Having been part of this board for some time, the one thing you never hear from anyone is the word I," Gruskos said. "It's always we. It's an honor to be involved with so many people who put their personal needs aside and do what's in the best interest of the industry at all times. To be part of that, to me, is one of life's greatest joys."
Gruskos said he believes in helping those who are less fortunate, so he's actively involved in both the local community and the collision repair industry, as his "true enjoyment and passion" is leaving his mark in those areas through education.
He has served on numerous other boards, including Oceanport's Planning Board and Zoning Board of Adjustment and the Central Jersey Bank Loan Advisory Board. He has also served as the commodore of the Shrewsbury Sailing and Yacht Club and as a New Jersey Racing Commissioner.
For more information about SCRS, or to join as a member, visit www.scrs.com, call 1-877-841-0660, or email info@scrs.com.
For those also attending the Collision Industry Conference (CIC) in April, click here to get information and pre-register for the in-person event.
IMAGES
Featured image: The Society of Collision Repair Specialists logo over its SEMA 2017 booth. (John Huetter/Repairer Driven News)
All nominee images provided by SCRS.
Share This: