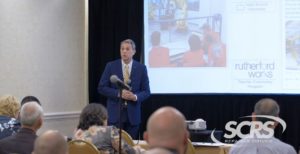 The Society of Collision Repair Specialists on Thursday released the video of its April "Repairer Roundtable" featuring workforce development leaders from the public and private sectors.
The footage offers technician-strapped shops who couldn't make the trip to Tennessee an opportunity to hear and glean ideas from the panel.
Dan Caldwell, senior manager of learning pathways for Nissan, and educational partner Jon Mandrell, president of the Tennessee College of Applied Technologies-Murfreesboro, joined Tennessee Department of Economic & Community Development workforce development director Ann Thompson and Complete Tennessee Executive Director Kenyatta Lovett at the April CIC Week event.
Thompson and Lovett "covered TN-based programs developed to spur more adults and graduating high school students to work toward a degree or certificate in a vocational school or program, with an objective of better meeting market demand for skilled workers," SCRS wrote Thursday.
Caldwell and Mandrell "shared a look into Nissan's application of these programs to address a shortage of skilled workers, and how the collaboration between the state, TCAT and industry addressed that need through a cutting edge public/private partnership."
Later in the program, panelists offered takeaways for auto body repair small businesses struggling with their own workforce demand. See it around 1:03:09 or read our coverage here.
Subscribe to the SCRSCollision YouTube channel here.
More information:
"Repairer Roundtable: TN Programs Encouraging Workforce Development & Growth of Skilled Workers"
Society of Collision Repair Specialists YouTube channel, June 27, 2019
"SCRS Releases Video from 2019 Repairer Roundtable on Workforce Development"
SCRS, June 27, 2019
Featured image: Dan Caldwell, senior manager of learning pathways for Nissan, speaks during an April 17, 2019, Society of Collision Repair Specialists "Repairer Roundtable" session on workforce development. (Screenshot from SCRS video)
Share This: