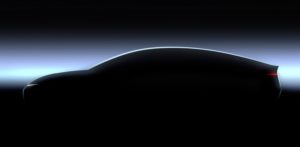 Volkswagen says it expects new Trinity sedan to bring L4 autonomy to volume production
By on
Announcements | Technology
Volkswagen on Monday offered a glimpse of Trinity, the new EV sedan it intends to launch in 2026. The OEM said it expects the new model to bring Level 4 autonomous driving to the volume segment of the automotive market.
The sedan is the result of VW's Project Trinity, which the automaker said stands for three major themes: "a newly developed electronics platform with state-of-the-art software, the simplification of the supply structure, and fully networked and intelligent production at the main plant in Wolfsburg [Germany]."
Trinity represents a new way of equipping vehicles. In the future, Volkswagen said, every example of a model coming off the assembly line will have the same hardware, with customers able to activate the functions they want "on demand." For repairers, this means needing to obtain OEM information about each car, at the VIN level – and, possibly, having to check the operation of systems that are not in use, but could be activated in the future.
Volkswagen's supervisory board on Friday approved €2 billion, or roughly $2.2 billion, for the new factory, as the company seeks to become a leader in the EV field. Construction is to begin by the spring of 2023.
Company executives have said that they expect one in four vehicles sold to be BEVs by 2026.
"Trinity is a sort of crystallization point for our ACCELERATE strategy, a lighthouse project, our software dream car," Ralf Brandstätter, CEO of the Volkswagen brand, said in a statement. VW said the newly developed vehicle architecture "will set standards in terms of range, charging speed ('charging as fast as refueling') and digitalization."
Volkswagen said Trinity would make autonomous driving possible for more people. By the time series production begins in 2026, Volkswagen expects that Trinity will offer Level 2+, and be technically ready for Level 4.
As defined by SAE International, Level 4 vehicles are referred to as having high-driving automation. Unlike the Level 2 "hands-off" driver assist systems currently offered, they require no human interaction in the vehicle. With no driver ever needed, these vehicles may not have a steering wheel, pedals, or other controls.
No vehicles currently sold in the U.S. approach Level 4 autonomy.
"We are using our economies of scale to make autonomous driving available to many people and to build a learning neural network. In this way, we are creating the conditions for the continuous exchange of data from our vehicle fleet—for example, on the traffic situation, on obstacles or on accidents," Brandstätter said.
He said Volkswagen "will completely rethink the way we build cars and introduce revolutionary approaches. Digitalization, automation and lightweight construction play an important role here."
Volkswagen offered no hints of where Trinity would fit in the market, but suggested that its uniform approach to equipment would "significantly reduce complexity in production."
"Volkswagen also intends to set standards in Trinity production when it commences in 2026, and is aiming for a production time of 10 hours per vehicle. The key: Fewer variants, fewer components, more automation, leaner production lines and new logistic concepts," the company said in a statement to investors.
More information
Bosch, VW Group subsidiary join to develop self-driving technology for mass production
Images
Featured image: The profile of Volkswagen's Trinity concept car. (Provided by Volkswagen)
Share This: