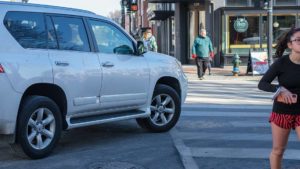 GM patents see-through A-pillar; IIHS focuses on visibility issues in SUV crashes involving pedestrians
By on
Technology
General Motors has been granted a patent for a see-through A-pillar, a design the automaker said could eliminate blind spots and improve safety for both pedestrians and vehicle occupants.
In its patent application, GM points up the dilemma with A-pillar design: Added size improves occupant crash protection, but cuts down on the visibility that might help prevent an accident in the first place.
GM notes that while adjustable steering wheels and seating systems give drivers adequate visibility through the windshield, to the side mirrors, and to the dashboard, "they still do not provide a user with adequate visibility to the blind spots hidden by typical vehicle framing, such as the driver's A-pillar. The inability to locate objects that would otherwise be seen, except for the blind spot caused, for example, by the A-pillar structure, can create potential safety concerns for the driver, other drivers, and pedestrians."
Reducing the width of the A-pillars can help reduce the blind spot, but such slimming is "constrained in part by structural performance requirements. In other words, arbitrarily small pillar widths are not possible without sacrificing the structural performance of the vehicle frame and negatively impacting passenger safety."
GM's design is for a novel, fiber-reinforced composite A-pillar that includes one or more openings filled with a transparent resin or composite. The opening is "designed to maximize the occupant's field of view, especially on left hand turns, within structural constraints," GM said.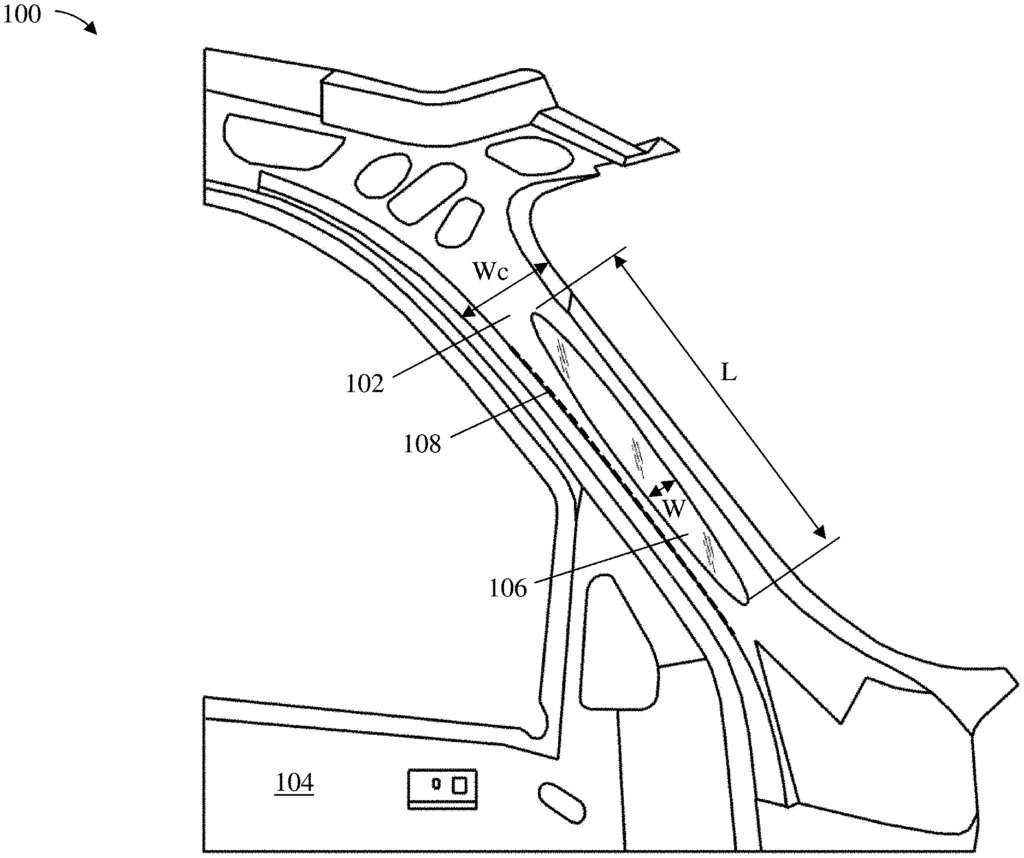 The transparent material is to be made of materials with "a transmission coefficient of at least 50 percent for light in the infrared (IR), visible, and ultraviolet (UV) wavelengths and a refractive index between 1 and 2 for visible light, such as polymethylmethacralate (PMMA) or an optically transparent polycarbonate."
Resistance wires would be embedded in the transparent resin or composite, to keep the material at the optimal temperature for transparency, and to melt snow or ice.
"Assembly cost can be further reduced by embedding electrical wiring in the vehicle frame, easing electrical integration," the patent states.
The automaker has given no indication of when, or if, it might use its new design on a production vehicle. But it's worth noting that both federal and nonprofit safety organizations in the U.S. and Europe have placed a high priority on reducing collisions between vehicles and pedestrians.
On Friday, the Insurance Institute for Highway Safety (IIHS) issued the results of a new study, which found that SUVs, pickups, vans and minivans are substantially more likely than cars to hit pedestrians when making turns.
The research suggests that "these larger vehicles may not afford drivers as clear a view of people crossing the road," and specifically points up the role that A-pillars play in visibility.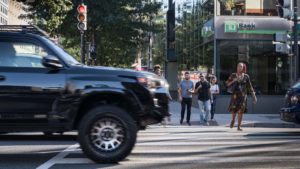 "It's possible that the size, shape or location of the A-pillars that support the roof on either side of the windshield could make it harder for drivers of these larger vehicles to see crossing pedestrians when they are turning," IIHS Senior Transportation Engineer Wen Hu said in a statement.
While more research is needed, earlier studies have pointed out that as A-pillars become larger, the blind spots they create become larger, too.
"While their heavier weight means that larger passenger vehicles need stronger pillars to protect occupants in rollover crashes, a systematic assessment of A-pillar design by vehicle type has not been conducted," the study said.
Beyond A-pillars, other design elements of larger vehicles, such as their high ride heights and long front ends, could also impede drivers' ability to see pedestrians, it said.
IIHS pointed out that pedestrian crash deaths have increased nearly every year since hitting a low point in 2009. In 2020, the most recent year for which data are available, pedestrian deaths rose 59%, to top 6,500. Pedestrian injuries reached 54,700 that same year. One suspected factor is the growing prevalence of larger vehicles.
"We already know that larger vehicles cause more severe injuries when they strike pedestrians," IIHS Vice President of Research Jessica Cicchino, one of the study's authors, said in a statement. "The link between these vehicle types and certain common pedestrian crashes points to another way that the increase in SUVs on the roads might be changing the crash picture."
The new IIHS paper shows that certain types of pedestrian crashes, including those that happen while the vehicle is turning, are more likely with SUVs, pickups, vans, and minivans, vehicles that are becoming ever more common on U.S. roads.
In accidents involving a vehicle turning left at an intersection, crossing pedestrians were twice as likely to die if struck by a SUV, three times as likely if hit by a van or minivan, and four times as likely if struck by a pickup truck, IIHS said.
Crashes involving a turning vehicle accounted for more than 900 of the approximately 5,800 fatal pedestrian crashes at or near U.S. intersections during 2014-18.
More information
Transparent vehicle A-pillar patent
IIHS: The association between pedestrian crash types and passenger vehicle types
https://www.iihs.org/topics/bibliography/ref/2249
Images
Featured image: A new Insurance Institute for Highway Safety paper shows that certain types of pedestrian crashes, including those that happen while the vehicle is turning, are more likely with larger vehicles like SUVs. (Provided by IIHS)
A figure from GM's patent application. (Provided by USPTA)
More than 900 pedestrians were killed by a turning vehicle between 2014-18, the IIHS said. (Provided by IIHS)
Share This: