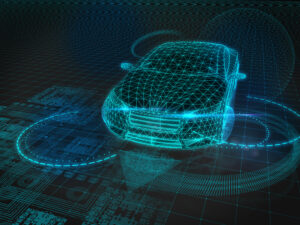 Advances in 4D radar touted to make next-generation ADAS, AVs possible
By on
Technology
In April, Austin, Texas-based startup, Uhnder, will launch the first mass-produced, 4D digital imaging radar-on-chip that the company believes will make next-generation advanced driver assistance systems (ADAS), autonomous vehicles (AVs), and automated mobility applications possible.
The digital radar is more accurate and can sense moving or stationary objects regardless of size at short and long distances in all weather and lighting conditions, according to Uhnder's website.
The Austin American-Statesman reports the chip is expected to debut with Magna's ICON Digital Radar and will likely be used in the Fisker Ocean crossover.
"Digital radar provides 16 times better resolution, 24 times more power on target, and 30 times better contrast than today's analog offerings, improving detection capabilities for better road safety for all users – drivers, passengers, cyclists, and pedestrians," said Uhnder CEO and co-founder Manju Hegde, in a statement. "As more and more radars are fitted onto vehicles and other mobility solutions, interference among adjacent radar becomes problematic. Our radar, based on Digital Code Modulation, mitigates this problem."
Research and Markets reported in October that Uhnder, Arbe Robotics, Vayyar Imaging, RFISee, RadSee, Smart Radar System, Zadar Labs, Oculli, InnoSenT, Infineon, and Ainstein are the leading emerging players in the 4D imaging radar industry.
"Exterior application, especially in the short-range applications such as blind-spot detection, shows huge market potential along with in-cabin applications of occupant monitoring and left-child detection," Research and Markets states on its website.
4D radar combines sensors and electronic processors and serves as the "essential component of the sensor suite" to "enable truly safe ADAS and will be a mandatory sensor for Level 2+ and higher autonomy," according to Forbes Councils Member and Arbe CEO Kobi Morenko. At this year's Consumer Electronics Show, Arbe announced it has added free space mapping to its radar, which senses what drivable space is around it – a critical function for AV driving, according to Embedded Computing Design.
Digital processing is built into Uhnder's chips, which enables high-resolution digital perception for ADAS, AV, and logistics automation systems, according to the company's website. The S80 chip will have completed "stringent" automotive requirements, including Automotive Electronics Council (AEC) Q104 qualification, ISO 26262 Automotive Safety Integrity Level (ASIL-B) rating, and Production Part Approval Process (PPAP) with its first Tier 1 automotive customer, Magna.
The chip is programmable in nature, which allows customers and automakers to adapt the chip and what it detects in the way that best fits their needs, according to the Austin American-Statesman.
"Uhnder's 4D digital imaging radar-on-chip is a next-generation product that demonstrates new ways to advance automotive safety to save lives," said Automotive Safety Council President Douglas Campbell, president, in a statement. "Fatalities of vulnerable road users are now 20 percent of all roadway deaths in the US and even more in developing countries. ADAS technologies, such as pedestrian automatic emergency braking (P-AEB) that can reliably operate at night, can help reduce pedestrian fatalities per the latest report from the Insurance Institute for Highway Safety. Improved high-resolution perception sensors, such as Uhnder's radar-on-chip, can potentially help reduce this rising fatality category."
IMAGES
Featured image credit: JackyLeung/iStock
Share This: