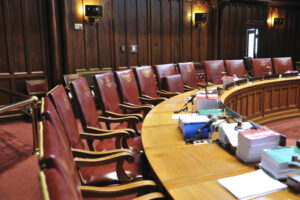 A Connecticut bill that would restrict insurers' involvement in decisions about collision repair received approval from the legislature's Transportation Committee on Thursday, with the understanding that more work on language around parts use remains to be done.
The legislation, House Bill 5366, would require repairers to follow OEM procedures and guidelines, including the use of OEM parts, unless the customer requests otherwise; and prohibit any "person or entity," aside from the owner, from asking or requiring a shop to "repair a vehicle in an unsafe manner," or to use an aftermarket part or a recycled part from a vehicle older than the one being repaired. The legislation would leave it to a shop, or the OEM, to determine what is "unsafe."
The committee faced a Friday deadline for voting on which proposed bills they want the Legislative Commissioner's Office to draft in formal statutory language. Without a yes vote, the bill would have been dead for the legislative session.
Before the roll call vote, Rep. Roland Lemar (D-96th District), the House chair of the joint Transportation Committee, said the committee has been having ongoing conversations with representatives of the OEM, aftermarket and recycled parts industries.
"I believe that two of those three entities are happy with the language that we have in this bill. The third party that is not, I committed to working with them as we move forward," Lemar said. "And if we cannot reach a place where we feel comfortable that what we're doing is … providing customers with a full and honest choice in the types of materials they use in their vehicles, this [bill] will not likely see the House floor."
The most discussed parts of the bill, sections 12 through 14, "are certainly a work in progress," he said. "We will continue to discuss it with impacted parties and the leadership of all four caucuses," he told Repairer Driven News in response to a question after the vote.
As amended, the pertinent sections of HB 5366 read:
"Unless otherwise requested by a customer, a motor vehicle repair shop shall follow the collision repair procedures, guidelines, recommendations or service bulletins issued by the original equipment manufacturer when repairing a motor vehicle and repair a motor vehicle, in a manner determined by such motor vehicle repair shop, to ensure the safe operation of the motor vehicle and reasonably mitigate the diminished value of the motor vehicle.

No person or entity, other than the owner of the motor vehicle, shall require, request, encourage or cause a motor vehicle repair shop to: Repair the motor vehicle in an unsafe manner, as determined by the repair shop or the original manufacturer of the motor vehicle, install an aftermarket part, or install a used part on the motor vehicle unless such used part is from a motor vehicle of the same model year age or newer and is of like kind and quality of the part being replaced."
Some legislators expressed reservations about the bill before the vote.
"I have strong objections to the OEM language until someone can prove to me that there's valid safety concerns," said state Rep. Stephen Meskers (D-150th District). "And I'm worried that its impact on the residents of the state and their insurance policies, and the cost of insuring cars and their repair bills would be exorbitant, and the number of business to salvage parts that we would basically be tossing then into the junk pile."
"I'm not sure if I'm going to vote no on the bill. I'd like to see it get into the light of day, out of committee. But I unless I feel good otherwise, I will be a strong opponent to the bill on the general floor unless we resolve the OEM issue."
"I certainly appreciate those concerns, and echo Representative Lemar's comments that we're going to continue to engage with the relevant parties here and hopefully seek a resolution that everybody can get behind," said state Sen. Will Haskell (D-26th District), the Senate chair of the Transportation Committee. "Otherwise, to the co-chair's point, I can't imagine it reaching the floor of the House or the Senate."
The bill has drawn support from automakers and collision repair shops, and opposition from the aftermarket and recycled parts industries. During a four-hour hearing by the Transportation Committee on March 9, proponents said the bill is an effort to give consumers the right to determine how their vehicles are repaired; opponents argued that it would raise costs, and tried to characterize it as banning the use of recycled and aftermarket parts.
The Alliance for Automotive Innovation, representing the manufacturers of nearly 98% of the passenger cars and light trucks sold in the U.S., offered its strong support of the bill.
"Sections 12, 13, and 14 of this legislation are simple. They are about consumer choice and they are about consumer protection," reads a letter submitted to the committee by Wayne Weikel, senior director of state affairs for AAI.
"No one is saying a consumer has to choose an OEM part, but if a consumer does not want aftermarket or used parts to be used in a repair, they should have the right to say so," Weikel said.
Addressing the issue of safety, he noted that "Vehicles today are complicated machines, with over 30,000 parts and an estimated 100 million lines of software code. To return any vehicle to pre-collision condition and ensure safety systems will perform correctly in the future, repairers need to follow automaker repair procedures, for there are no other repair procedures to follow."
"Insurance companies have actuaries to price insurance policies; they do not have engineers who know how to repair today's complex vehicles," he said. "Substituting – whether through formal or implied financial pressure – untested repair procedures for OEM repair procedures will only lead to unsafe vehicles on the roadways across the country. Consumers buy insurance to be made whole after an accident; shoddy repairs, designed to get a repair done faster and cheaper, but not done correctly, are not part of the policy."
Tom Tucker, senior director of state affairs for the Auto Care Association, has characterized the bill as a de facto ban on all parts but OEM parts.
"This language is anti-consumer choice because vehicle manufacturers will always recommend the use of OEM parts in their service bulletins, position statements, or they can simply change their repair procedure to mandate the use of those parts," Tucker testified on March 9.
He referred committee members to the OEM's position statements on parts use on the OEM1Stop website. "These position statements are abundantly clear that they did not authorize or recommend the use of any parts except genuine OEM parts purchased through the dealer network," Tucker said. "As a result of this language, this bill would then become a de facto ban on any parts except OEM parts."
The American Property Casualty Insurance Association, in an unsigned letter to the committee, made a similar argument.
"If this bill were to pass, it would likely result in only original equipment manufacturers (OEM) parts being used in most autobody repairs in Connecticut when the repair is paid for under an insurance policy," APCIA said. "Not only would this bill prohibit any entity other than the owner of a motor vehicle from requiring, requesting or encouraging the use of an aftermarket part, but it would also require vehicle repair shops to follow all repair procedures, guidelines, recommendations and service bulletins of the original equipment manufacturer and such recommendations will also require OEM parts, thereby preventing the use of aftermarket parts."
"While insurers would agree that the manufacturer's technical repair specification requirements should be followed," APCIA said, the bill goes further by including OEM's "recommendations," many of which, it purported, "have nothing to do with vehicle safety."
"Accordingly, this bill would result in almost a complete ban on aftermarket parts in the state of Connecticut," the letter states.
Weikel, writing for AAI, called that argument a "red herring."
"While Alliance members absolutely believe all consumers would be best served by using genuine OEM parts on their vehicle – parts which have been designed and tested in the same manner as the original parts on the vehicle – that is not our fight on this bill," Weikel said. "To prove this point, if the Committee wanted to add an amendment to make it clear that – regardless of any language contained in an OEM repair procedure to the contrary – the use of replacement parts in an insurance-funded repair shall be governed by Connecticut's existing law on the subject (Chapter 700, Section 38a – 355), we would have no objection, provided the consumer choice in Section 14 of this bill is passed into law."
John Parese, general counsel for the Auto Body Association of Connecticut (ABAC), told lawmakers during the hearing that the legislation is necessary to limit decision-making on repairs to professional repairers and their customers.
While repairers bear the legal responsibility for the quality of repairs, he said, "we have the forces of an insurer who's demanding all these cutting of corners and bears no liability for that downward pressure. So I think that what the bill is suggesting is that, you know, you who have no liability exposure and only to gain in cheap parts should not be allowed to interfere."
More information
House Bill 5366
https://www.cga.ct.gov/asp/CGABillStatus/cgabillstatus.asp?selBillType=Bill&bill_num=HB5366
Connecticut bill would restrict insurer influence over collision repair decisions
Testimony on Connecticut bill centers on quality of OEM, aftermarket, recycled parts
Images
Featured image: the Senate chamber of the Connecticut State House. (aimintang/iStock)

Other images screen captures via YouTube
Share This: