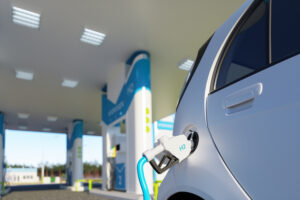 Could hydrogen-fueled EVs be part of the transportation future?
By on
Technology
As OEMs steadily increase production of electric vehicles (EVs) with the goal of decreasing greenhouse gas emissions – some with a zero-emissions future in mind – the Compressed Gas Association (CGA) and U.S. Department of Energy are considering the use of hydrogen as a clean energy source to power fuel cell EVs (FCEVs).
The CGA says safety standards are the key to the future of hydrogen use in the vehicle fueling industry.
"They're what will enable industry players to grow much faster," a statement on the association's website says. "When polled, we found that 92% of consumers won't use hydrogen fuel cell technology unless they know it's safe."
CGA believes there should be "smart development and harmonization" of safety standards to:
Improve public safety;
Create interoperability;
Simplify the installation process to make it faster; and
Prevent onerous regulation.
The U.S. Department of Energy has been working on its H2@Scale initiative for more than two years to develop an integrated hydrogen energy system. The department's National Renewable Energy Laboratory (NREL) issued a report in 2020 that states as renewable electricity generation from wind and solar power have rapidly grown, work on developing alternative energy sources for residential, commercial, transportation, and industrial use is ramping up "to take advantage of their cost, security, and health benefits."
"Systemic changes present numerous challenges to grid resiliency and energy affordability, creating a need for synergistic solutions that satisfy multiple applications while yielding system-wide cost and emissions benefits," the report states, adding that one solution is an integrated hydrogen energy system.
"Hydrogen has many current applications and many more potential applications, such as energy for transportation—used directly in fuel cell electric vehicles (FCEVs), as a feedstock for synthetic fuels… Transportation is the largest new hydrogen market opportunity. Light-, medium-, and heavy-duty FCEV fuel constitutes 29 MMT/yr (27%) of the serviceable consumption potential. That hydrogen demand could reduce petroleum use by up to 15%."
During the 2021 SEMA Show, Lucid Motors North American Body Repair Program Operations Manager Jake Rodenroth said he sees alternative fuel ventures, such as hydrogen, as a potential option for oil companies to undertake in the future.
"I think the elephant in the room that everybody is ignoring are the oil companies," he said. "Multi-billion companies aren't just going to go away. I feel like some of them are going to evolve and some of them are going to find ways to remain relevant in transportation so I don't know that it's 100% an EV play. I think there's also going to be some alternative fuels."
In a video Rodenroth showed by Mahle and Porsche, executives shared the results of testing hydrogen fuel in a Porsche 911 Carrera 4 GTS, which they said ran without a problem during tests, including several hours of test drives.
"I was definitely surprised and positively impressed," said Moritz Martiny, Porsche engine tuning sportscars manager. "If I were to do a so-called blind test, I really wouldn't be able to tell if the car was running on synthetic or normal fuel."
In reference to Martiny's observations, Rodenroth said, "He could not tell a difference between regular gasoline and the alternative fuel in the same car and when it comes down to a person like a Porsche owner or a Corvette owner, that's kind of important. They drive that car for a very specific purpose. If this thing can ever get legs, it'll be interesting to see how it plays out with existing fuel infrastructure."
CGA said green hydrogen supply is "one critical gap" in support infrastructure.
"Small-scale integration of green hydrogen production with compression and storage requires further standardization. Guidance on modular approaches to fueling station design and operation – including connectors and safety interlocks – also needs to be developed. In addition, there are siting issues that need to be resolved, including setback distances, 'occupancy' requirements, and canopies over refueling sites."
In the transportation sector, the association's focus is on hydrogen FCEVs. "More efficient than conventional internal combustion engine vehicles, FCEVs produce no tailpipe emissions other than water. The use of fuel cells in forklifts is already well-established, and development of passenger FCEVs is well underway. Initial efforts in medium and heavy-duty trucking hydrogen FCEVs adoption are on the rise."
FCEVs use electricity to power an electric motor but, unlike other EVs, they produce electricity using a fuel cell powered by hydrogen, rather than drawing electricity from only a battery, according to the Department of Energy. "Most FCEVs today use the battery for recapturing braking energy, providing extra power during short acceleration events, and to smooth out the power delivered from the fuel cell with the option to idle or turn off the fuel cell during low power needs."
Hydrogen-powered cars Hyundai Nexo and the Toyota Mirai are already on the road in California, but in small numbers due to there only being 50 hydrogen fueling stations open as of March 11, according to the California Fuel Partnership. Data on the partnership's website through the end of February shows 12,703 FCEVs had been purchased or leased in the U.S.
A $1.2 trillion infrastructure bill signed into law by President Joe Biden in November includes establishing a grant program "to strategically deploy publicly accessible electric vehicle charging infrastructure, hydrogen fueling infrastructure, propane fueling infrastructure, and natural gas fueling infrastructure along designated alternative fuel corridors or in certain other locations that will be accessible to all drivers of electric vehicles, hydrogen vehicles, propane vehicles, and natural gas vehicles."
Consumer acceptance of EVs is closely tied to the availability of charging stations, as Repairer Driven News and other news outlets have reported due to range anxiety.
IMAGES
Featured image credit: onurdongel/iStock
Share This: