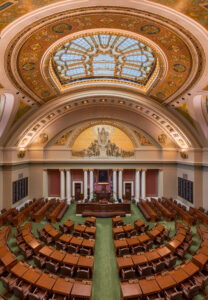 Minnesota bill follows auto right to repair legislation for use in other industries
By on
Business Practices | Legal
Minnesota House "Digital Fair Repair" bill sponsor Rep. Peter Fischer (DFL-District 43A) cites automotive right to repair legislation as a successful example for lawmakers to consider when voting on his digital electronic equipment right to repair bill. Fischer asserts that right to repair solutions in the automotive industry with OEMs should serve as a model across different industries.
House File 1156 would require OEMs in virtually all industries to give consumers and independent repairers access to repair manuals and other documentation as well as tools and parts that authorized repairers already have access to. The legislation could be far-reaching as it would apply to "any product that depends for its functioning, in whole or in part, on digital electronics embedded in or attached to the product," according to the bill. It specifically excludes automotive OEMs and dealers because, according to Fischer, federal and state laws already address the issue.
Fischer said the legislation is similar to a 2012 Massachusetts law, which requires auto OEMs to share information, parts, and tools with repair shops. He didn't share which law he was referring to but it was likely Chapter 93K. There are no federal right-to-repair laws in place, but H.R. 6570, also known as the "Right to Equitable and Professional Auto Industry Repair," or REPAIR Act was introduced in February and is supported by the automotive aftermarket.
A memorandum of understanding (MOU) signed by vehicle manufacturers in 2014 guarantees vehicle owners and independent shops access to the same tools, software, and repair information available to franchised dealers.
The bill also excludes medical device OEMs and distributors.
The bill doesn't state why medical devices are excluded and Fischer didn't elaborate on the reason behind their exclusion during a Feb. 2 House Commerce Finance and Policy Committee meeting, but he didn't disagree with a concern raised by Rep. Eric Lucero (R-District 30B).
"Back in the 2012-ish timeframe, I recall that one of the insulin pumps had been compromised by hackers and demonstrated that it could pose a life issue by pumping a lethal dose of insulin to patients. That's just one of a thousand examples I could come up with. My question is, would your bill allow access to repair, said insulin pump or any of the other medical devices, that would potentially result in untrained or uncertified people making repairs; creating a consequence, potentially, to the patient?"
Fischer responded that the bill "explicitly excludes any application to medical equipment."
HF 1156 states: "For digital electronic equipment and parts for the equipment sold or used in Minnesota, an original equipment manufacturer must make available on fair and reasonable terms documentation, parts, and tools, inclusive of any updates to information or embedded software, to any independent repair provider or to the owner of digital electronic equipment manufactured by or on behalf of, or sold by, the original equipment manufacturer for purposes of diagnosis, maintenance, or repair."
"Fair and reasonable terms" is defined in the bill as "obtaining a part, tool, or documentation means at costs and terms, including convenience of delivery and rights of use, equivalent to what is offered by the original equipment manufacturer to an authorized repair provider, using the net costs that would be incurred by an authorized repair provider to obtain an equivalent part, tool, or documentation from the original equipment manufacturer, accounting for any discounts, rebates, or other incentive programs in arriving at the actual net costs. For documentation, including any relevant updates, 'fair and reasonable terms' means at no charge, except that when the documentation is requested in physical printed form a fee for the reasonable actual costs to prepare and send the copy may be charged."
After hearing testimony from 21 people, including trade association leaders, small business owners, farmers, dealers, and others, the committee voted 9-8 to send the bill with a favorable recommendation to the Committee on Judiciary Finance and Civil Law, which also recommended approval. It's been read a second time by the House but hasn't been voted on. Its companion bill hasn't been acted on in the Senate. The deadline for Minnesota Legislature committees to act favorably on bills in their house of origin is Friday.
Six testified in support of the bill and the rest were against it citing safety, environmental, cybersecurity, copyright, and improper repair concerns that they believe the bill would cause. The opponents also said many OEMs already provide consumers and independent shops with repair documents and/or tools.
Proponents were The Repair Association, World Data Products, Minnesota Tech For Success, Solid Waste Administrators Association of Minnesota, the Minnesota Farmers Union, and a small business owner. Opponents included The Toro Co., Entertainment Software Association, TechNet, Repair Done Right Coalition, CTIA, Association of Home Appliance Manufacturers, a Cummins Sales and Service general manager, Dan's Southside Marine, C&B Operations, Arnold Companies, RDO Equipment Co., Truck & Engine Manufacturers Association, Nuss Truck & Equipment (two employees spoke against the bill), and a professional that works with John Deere dealers.
Fischer said the bill serves the combined interests of individuals who want "freedom of consumer choice" and would enable independent businesses to repair, resell, refurbish and recycle electronics without flack from OEMs. The purpose of the legislation is "multifold," he said, in that it gives consumers the choice to repair their electronic devices, supports tech jobs in Minnesota, allows for free market access, helps reduce e-commerce waste, and is "critical" for farmers to quickly get their equipment repaired.
"Growing limitations on electronics repairs are becoming more and more challenging to consumers and, in some cases, businesses are struggling to do the work on behalf of the consumers and other businesses," Fischer said. "The use of electronics is exploding but repair options have been significantly reduced by some corporations using monopolistic practices to crush their competition.
"…We've got cars these days that are almost driving themselves. Vehicles like this that are so complex, and there are many safety concerns, many environmental concerns around cars; if we're able to do this – make fair repair available for cars – why can't we do it with the other services and equipment that we have at our own homes?"
The MOU was cited by the Federal Trade Commission in its "Nixing the Fix" report, released in May 2021, as having the effect of creating "a broad, if not complete, right to repair in the automotive industry across the United States."
Fischer pointed out, and the bill states, that OEMs wouldn't have to divulge trade secrets. He also noted computer source codes wouldn't have to be shared, data privacy would be protected, and OEMs wouldn't be held liable for independent repairs that are made. However, those three points are specifically addressed in the bill. If approved, the law would be effective Jan. 1, 2023. The short timeframe to comply could prove problematic for OEMs, much like it has with automotive OEMs in Massachusetts after voters approved a ballot measure in November 2020 that was to begin with model year 2022 vehicles. Lawmakers there are considering two bills that would amend the new right to repair legislation to give OEMs three more years to comply.
"Repairing the things that you own never hurts the manufacturer because the manufacturer's already been paid in full when you bought it in the first place," said Gay Gordon-Byrne, The Repair Association executive director, during testimony at the committee meeting. "You become responsible for your own privacy, for your own security, and for your own safety. Your mistakes are also yours too."
Tyler Diers, with TechNet, testified that consumers can have their electronics repaired at many locations across the state at a "pricepoint that makes sense for them," including at Best Buy. He noted that the handling of lithium-ion batteries and other high-risk components without adequate training can lead to "serious and entirely avoidable injuries."
"It's imperative technology companies be able to manage their repair networks in order to provide safe and effective repairs," he said. "It's an unfair and unfounded claim that electronic products are not being recycled. Electronic product manufacturers have designed policies and programs to ensure that they are continuously improving the sustainability of their products and reducing the overall amounts of e-waste generated."
Many other opponents also testified that the safety of consumers would be at risk if state law mandates independent or self-repairs.
"Manufacturers want to ensure that their products are serviced by professionals who understand the intricacies of these products and have spent time procuring the knowledge necessary to safely repair them and return them to consumers without compromising their own standards or undermining safety and security of their products," said Dustin Brighton with the Repair Done Right Coalition.
Lisa McCabe, state legislative affairs director for the wireless communications industry trade association, CTIA, called the bill "an unnecessary intervention in the marketplace."
"The marketplace already provides a wide range of consumer choice for electronic product repair without the mandates imposed by this legislation. For example, manufacturers have relationships with authorized repair providers. These providers, which include local and small businesses, have received the appropriate training from manufacturers to help ensure that repairs are done properly and safely."
OEMs also provide warranty repair operations at retailers, mail-in services, and the use of independent repairers isn't prohibited; although quality assurance can't be guaranteed, she said.
Jack Gerhardt, aftermarket vice president for C&B Operations, called the bill "deceptive and reckless" and said it threatens 250 John Deere dealership technician jobs in the state.
After hearing from several opponents that the bill would allow for dangerous modifications to devices and equipment, Fischer clarified that the bill doesn't give the green light for modifications – it only addresses repairs.
IMAGES
Featured image: House of Representatives Chamber in the Minnesota State Capitol. (Credit: gnagel/iStock)
Share This: