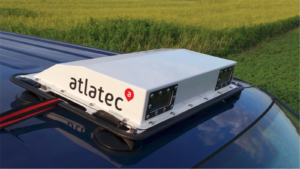 Bosch has announced that it has agreed to buy digital map specialist Atlatec to bolster its position in the field of automated driving.
The pending purchase makes the Tier 1 supplier "the only company that can offer its customers all the necessary building blocks of automated driving – from actuators and sensors to software and maps – from a single source," Mathias Pillin, president of the Cross-Domain Computing Solutions division, said in a news release announcing the deal.
Atlatec, a German company, provides high-resolution, 3-D digital maps for driver assistance and automated driving. The company, which was spun off from the Karlsruhe Institute of Technology in 2014, employs around 25 people in Germany, Japan, and the United States, Bosch said.
"In Bosch, we have found the right partner for us as we take the next step in expanding our digital mapping expertise even further," Henning Lategahn, CEO of Atlatec, said in a statement.
The companies have agreed not to disclose the purchase price. The acquisition is subject to regulatory approval.
Bosch called automated driving "a strategic area of business," and said it sees "huge business potential for SAE Level 4 automated driving systems."
Bosch said that Atlatec can not only record and process the data, but create the maps themselves. The maps contain much more information about a vehicle's surroundings than can be detected by onboard sensors using radar, video, and ultrasonic technologies.
Atlatec's technology uses artificial intelligence (AI) to analyze the data collected by its sensors, and can add important information, such as traffic signs and the sharpness of bends. "Since the AI algorithms are continuously learning, the proportion of road and environmental features detected purely by AI is constantly growing," Bosch said.
Atlatec's technology "is very intelligent and agile, which sets it apart from other vendors," said Stephan Hönle, senior vice president of the Automated Driving unit in the Bosch Cross-Domain Computing Solutions division.
For example, he said, the system's AI "identifies and maps road features such as guardrails and lane markings with the highest accuracy and consistency. This lets us design our driving strategy algorithms even more precisely," Hönle said.
He said Atlatec is a "useful component" of a Bosch technology that uses real-world traffic data from vehicle sensors to keep digital maps up to date, and to help other vehicles determine their exact position.
Bosch's acquisition of Atlatec is another of several recent steps in the industry's apparent movement toward automated driving.
The Alliance for Automotive Innovation, concerned about "persistent confusion" among consumers and policymakers over the difference between Level 2 driver assistance systems and Level 3-5 autonomous driving technologies, said last week it is seeking to further clarify the important distinctions between the two.
In addition, the National Highway Transportation Safety Administration (NHTSA) issued a final rule on crashworthiness requirements for self-driving vehicles, saying it decided to address the issue because "an increasing number of companies are developing technologies to make that idea a reality."
Bosch is among the top Tier 1 suppliers to the automotive manufacturing industry.
Images
Featured image: An Atlatec sensor box mounted on a vehicle roof. (Provided by Bosch)
Share This: