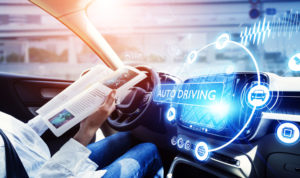 AAI seeks to reduce 'persistent confusion' over levels of vehicle autonomy
By on
Legal | Technology
Concerned about "persistent confusion" among consumers and policymakers over the difference between Level 2 driver assistance systems and Level 3-5 autonomous driving technologies, the Alliance for Automotive Innovation (AAI) is seeking to further clarify the important distinctions between the two.
AAI, which represents the manufacturers of 99% of all passenger vehicles sold in the U.S., this week approached SAE International about discussing changes that could be made to its "Levels of Driving Automation" standard for consumers. Those changes could include "additional supporting or clarifying materials that could be developed or further modifications," AAI said.
"Auto Innovators strongly believes in the potential of automated driving features to significantly improve roadway safety, provide important environmental benefits, and increase access to mobility," the Alliance said in a letter addressed to George Nicols, chair of SAE's On-Road Automated Driving Task Force. "To this end, we are strong advocates for a federal framework that supports the safe and responsible testing and deployment of automated driving features at scale in the U.S."
The Alliance's outreach comes amid mounting evidence of consumer misuse of Level 2 systems as they become more common on America's roadways. General Motors (Super Cruise), Ford (BlueCruise), and Tesla (Autopilot with Full Self-Driving) are among those currently offering such systems, and more advanced levels of driving technology are on the way from Mercedes-Benz, Honda, Stellantis, and Volvo, among others.
"…[W]e have become increasingly concerned about persistent confusion among consumers and policymakers over the critically important difference between partial automation (Level 2) and automated driving systems (Level 3-5), particularly as it relates to the responsibility of a human driver in the driver's seat," AAI said. "It has become apparent to us that industry, government, and other stakeholders need to focus even more attention on clarifying the essential difference between these systems."
SAE last updated its standard, J3016, in June to "further clarify the distinction between Level 3 and Level 4 automation, terms to address and define remote-support functionality and other new definitions and descriptions for driving-automation operability."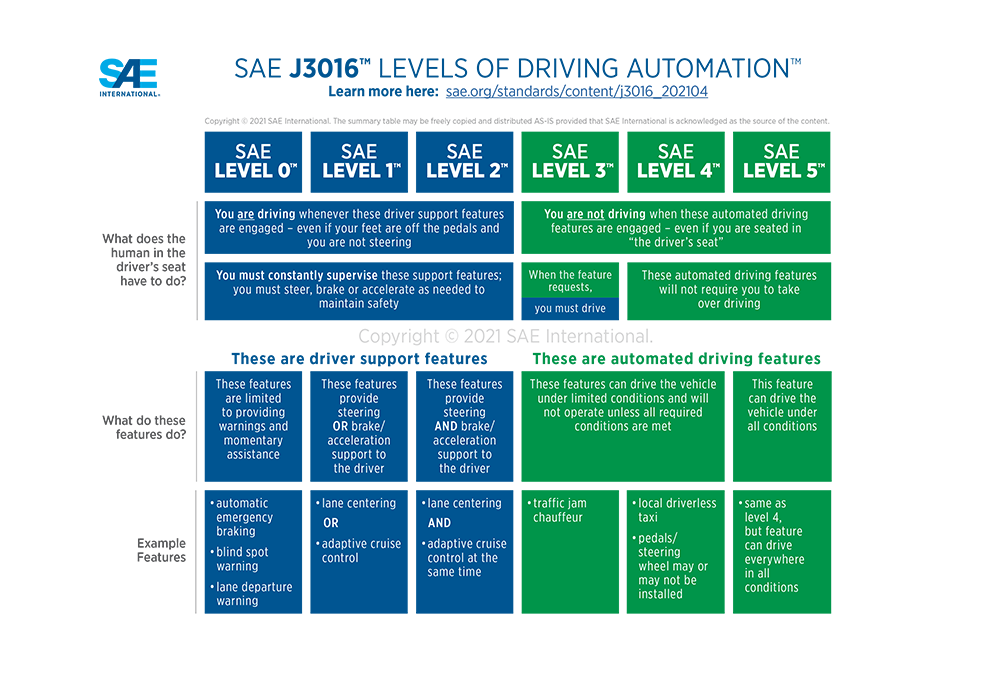 It defines Levels 0, 1, and 2 as "driver support features," which leave the driver responsible for the vehicle at all times, and Levels 3, 4, and 5 as "automated driving features," in which the vehicle takes control. No automaker currently offers Level 3 or higher technology in the U.S.
Level 2, sometimes promoted as "hands-off" driving, uses active lane centering and adaptive cruise control simultaneously to guide the vehicle down the road. The driver must be watching the road and prepared to take control at any time.
Level 2 systems monitor the driver, either with a camera or by measuring microinputs to the steering wheel, when driver assistance is engaged.
The Insurance Institute for Highway Safety (IIHS) warned about driver confusion over automated systems in a pair of studies published in 2019. One found that the names manufacturers use for these systems can send the wrong messages to drivers regarding how attentive they should be, while another found that drivers don't always understand important information communicated by system displays.
Tesla, under scrutiny from members of Congress, has acknowledged that its Autopilot with Full-Self Driving capability requires "constant monitoring and attention of the driver," in spite of its name.
Concerned about misuse of Level 2 technology, safety experts have been pressing for better driver monitoring systems. Consumer Reports, for instance, has begun awarding extra points for models that combine limited self-driving technologies with effective active driver monitoring systems, while the IIHS is developing a new ratings program to evaluate these safeguards, and expects to issue its first set of ratings in 2022.
"Most drivers, most of the time, are using the systems responsibly," David Zuby, executive vice president and chief research officer for IIHS, said during a Feb. 16 Center for Automotive Research (CAR) webinar. "But, at the same time, we are seeing troubling behavior, like increased tendencies to look away from the road, increased tendency to engage in secondary tasks and to speed, more than when people are doing manual driving."
More information
Alliance for Auto Innovation letter to SAE
Images
Featured image: A driver reads a magazine in an autonomous car. (metamorworks/iStock)
Share This: