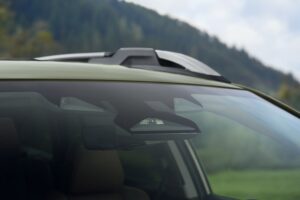 Subaru adds third camera option to 2023 Outback
By on
Announcements
Subaru is adding a third forward-facing camera as part of the top-level Touring trim on the 2023 Outback, the OEM said yesterday.
All 2023 Outbacks will be equipped with the latest version of Subaru's dual-camera EyeSight advanced driver assistance system (ADAS) technology, the automaker said.
In addition, the Touring trim will add a wide-angle mono camera that will work with the EyeSight cameras, Subaru said. This camera will further expand the field of view to help the system recognize pedestrians and bicyclists sooner when the vehicle enters an intersection at low speed.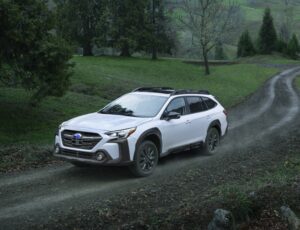 When a cyclist or pedestrian is identified, EyeSight will give an alert to the driver, and, if necessary, apply the brakes to try to avoid a collision, Subaru said.
Subaru also announced that automatic emergency steering, a relatively new technology, will be included on Outbacks equipped with blind-spot detection with lane-change assist and rear cross-traffic alert.
First offered on the WRX and Forester models for 2022, automatic emergency steering works in conjunction with the vehicle's pre-collision braking system to assist with steering control to help avoid a collision at speeds under 50 mph.
The federal government and consumer safety organizations have placed increasing emphasis on pedestrian safety. The National Highway Traffic Safety Administration (NHTSA) has been directed by the Department of Transportation to initiate rulemaking on a requirement that new passenger vehicles be equipped with pedestrian automatic emergency braking (PAEB) by 2024.
The Insurance Institute for Highway Safety (IIHS) and the Highway Loss Data Institute (HLDI) have gone a step beyond, petitioning NHTSA to require PAEB that is effective in the dark.
According to IIHS, pedestrian crash deaths have increased nearly every year since hitting a low point in 2009. In 2020, the most recent year for which data are available, pedestrian deaths rose 59%, to top 6,500. Pedestrian injuries reached 54,700 that same year.
Subaru debuted the 2023 Outback at the New York International Auto Show on Wednesday.
Images
Featured image: A third forward-facing camera will be added to the EyeSight ADAS technology in certain 2023 Subaru Outbacks. (Provided by Subaru)
The 2023 Subaru Outback. (Provided by Subaru)
Share This: