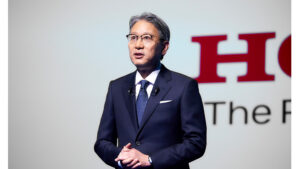 Honda has announced that it will invest the equivalent of $39 billion in electrification and software technologies over the coming decade, as it joins a global movement toward electric vehicle (EV) production.
The OEM said it plans to launch 30 EV models globally by 2030, with "a full lineup from commercial-use mini-EVs to flagship-class models." Production volume of more than 2 million units a year is expected.
For now, Honda will be relying on partnerships with several companies for the lithium-ion batteries it will need. That includes its agreement with General Motors for a supply of that OEM's Ultium batteries.
At the same time, Honda will be accelerating its development of solid-state batteries, a power supply that's meant to be lighter and faster to charge than lithium-ion cells. A demonstration production line will be operational in the spring of 2024, with the introduction of the next-generation batteries in production vehicles expected to follow in the second half of the 2020s, the automaker said.
Honda said it has been working to "solidify existing businesses" and reduce expenses to prepare for new growth. Part of that effort has been a 50% reduction in the number of variations in the trim and option level for global models since 2018.
Honda said it expects to further reduce that number to one-third by 2025, and is on track to cut the costs of global automobile production by 10% since 2018.
The 30 new EVs that Honda expects to launch will be tailored by market. In North America, Honda in 2024 will introduce two mid- to large-size EV models currently being developed jointly with GM. In the same year, the OEM plans to introduce a commercial mini-EV in the 1 million yen, or $8,000, price bracket in Japan.
While declaring its intention to "realize carbon neutrality for all products and corporate activities," Honda said that it would not be relying entirely on BEV technology.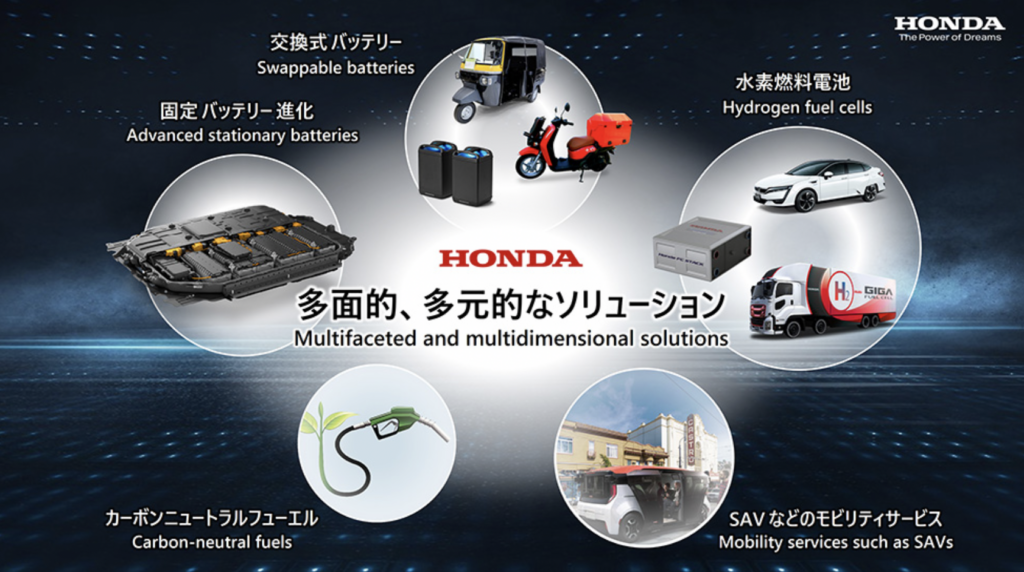 As the "As the world's largest power unit manufacturer with annual sales of approximately 30 million units of mobility products including motorcycles, automobiles, power products, outboard motors and aircraft," Honda said it believes believes that "a multifaceted and multidimensional approach is needed, not a mere replacing of engines with batteries."
"Including the utilization of swappable batteries and hydrogen as well as electrification of automobiles, Honda will offer a variety of solutions for all of its mobility products according to how its customers use the products in various countries and regions," it said.
As part of its move toward electrification, Honda has reorganized its structure. Technology areas that were once divided among the automobile, motorcycle and power products divisions have been combined into a new department.
This Business Development Organizations branch will include such core areas as electrified products and services, batteries, hydrogen and software/connected technologies, Honda said.
The OEM also announced that it intends to produce two new sports models, a specialty and a flagship model. "The 'joy of driving' will be passed on to our models even in the era of electrification," Honda said. No details were offered on when or in which markets those models would be introduced.
 More information
GM, Honda to co-develop affordable EVs; production to start in 2027
Could hydrogen-fueled EVs be part of the transportation future?
Images
Featured image: Toshihiro Mibe, president and representative director of Honda, speaks Tuesday at a press conference. (Provided by Honda)
Share This: