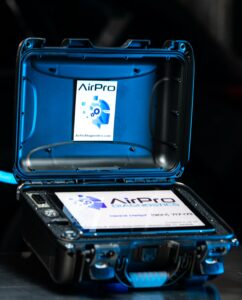 Nissan authorizes use of AirPro for diagnostic scans
By on
Announcements
Nissan North America has authorized the use of the AirPro diagnostic platform in its certified repair network, AirPro has announced.
Until now, all Nissan- and Infiniti-certified collision repairers have been required to use the asTech remote diagnostic tool or an official OEM CONSULT tool to scan all 2008 or later vehicles.
"With this change, the certified network now has options to choose the best option for their business when deciding on a diagnostic platform," Eric Newell, executive vice president for business development at AirPro, told Repairer Driven News.
"We are excited to expand our relationship with Nissan North America and their network shops," Newell said in a statement. "As automotive technology continues to accelerate, we want shops to be assured that AirPro and our cadre of brand specialists will be there to assist them each and every step of the way. The safe operation of all repaired vehicles has always been job 1 here at AirPro."
The AirPro tool and calibration devices meet OEM requirements by having OEM licensed software and multi brand diagnostic applications resident and directly connected to the vehicle, the company said.
According to its current position statement, revised in July 2019, Nissan recommends a pre-repair system scan on all vehicles, and requires a post-repair scan on all 2008 and newer vehicles.
Nissan emphasized that not every diagnostic trouble code (DTC) will set an indicator light on the dashboard, and that, in any case, dashboard indicators are meant for driver information, not vehicle diagnostics.
"The presence of increasingly sophisticated and inter-connected technology supports and necessitates the requirement of all Nissan vehicles, having a diagnostic system scan to identify any diagnostic Trouble Codes (DTCs) present, even in cases where there is no identifiable malfunction indicator light (MIL) illuminated on the vehicle's dashboard," the statement reads.
More information
Nissan retools scan position statement to highlight 1996-2007 vehicles, OK asTech
Images
Featured image: An AirPro device. (Provided by AirPro)
Share This: