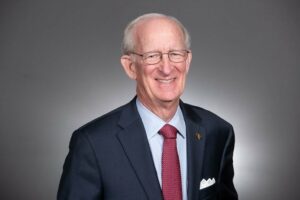 Ray Farmer has retired as director of the South Carolina Department of Insurance, ending a nearly 10-year tenure there and a 53-year career in the industry.
In recognizing his service to the state, South Carolina lawmakers applauded Farmer's push for the state's data security law, considered the first in the nation to require insurance companies to have a comprehensive plan to protect consumer data.
Farmer was also credited for policies that resulted in more insurance companies doing business in the state. "The number of carriers that have come into South Carolina under his watch has created more competition and has benefited consumers, I'd say," Russ Dubisky, executive director of the South Carolina Insurance Association, told Insurance Journal.
At the same time, the president of the Carolina's Collision Association (CCA) noted that the DOI, under Farmer, has not been engaged on complaints about auto insurers' actions.
"My experience with them has been limited, but based on what our members have said they have not been very responsive to issues brought to their attention and simply just pass the complaint along to the carrier, and do not intercede in any way shape or form regardless of the issue/concern," Kyle Bradshaw told Repairer Driven News.
"CCA has also reached out to Mr. Farmer's office a couple of times without much response or guidance in regards to carriers steering consumers away from member shops," Bradshaw added, providing copies of emails that had gone unanswered.
Like many of the nation's insurance commissioners, Farmer was hired to oversee the industry where he used to work. In an interview published on the DOI's website, Farmer said he took a job as an insurance adjuster for a private carrier after graduating from college in 1969. Three years later, he went on to what would become a 40-year career with the Georgia Department of Insurance, and was appointed director in South Carolina by former Gov. Nikki Haley in September 2012.
With Farmer's retirement, effective April 15, deputy director Michael Wise will serve as acting director, as South Carolina Gov. Henry McMaster considers a permanent successor.
Bradshaw said he hopes the new leadership will create an opportunity for positive change.
"Honestly, I hope that the new director will be involved in spearheading consumer protection issues that our members are dealing with daily," he said.
One example, he said, was the need for an appraisal provision.
"Currently, many auto policies in South Carolina do not have an appraisal provision listed within the policy and if there is a dispute between the insured and the carrier there is no way to resolve that dispute without the insured seeking legal action against the carrier," Bradshaw said. "This is particularly an issue because many consumers do not receive a copy of their policy until after they have paid to have coverage. It ultimately puts an insured in a 'what we say goes' scenario in regards to repairs.
"Obviously, repairs are not the realm that insurers operate in, so it places consumers in a tough situation of having to pay large sums of money out of pocket to have their vehicle properly repaired due to the lack of dispute resolution in their policy."
Bradshaw said he's prepared to work with whoever is chosen as the new director. "I truly believe that it takes a village and my hopes are that we can develop a relationship with the new Director and his staff to make things better for the consumers of South Carolina, which will ultimately benefit our members of CCA," he said.
More information
'Insurance Career Spotlight: Director Ray Farmer'
https://doi.sc.gov/1005/Insurance-Career-Spotlight-Director-Ray-
Images
Featured image: Ray Farmer has retired as director of the South Carolina Department of Insurance. (Provided by the DOI)
Share This: