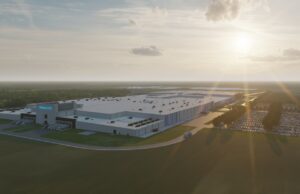 Four federal lawmakers have asked the Environmental Protection Agency (EPA) to speed up its review of General Motors' plans to use carbon nanotubes in the production of its Ultium lithium-ion vehicle batteries, warning that further delays could hold up the opening of three electric vehicle (EV) battery plants.
Four members of Congress from Michigan – senators Gary Peters and Debbie Stabenow, and representatives Elissa Slotkin and Tim Walberg – wrote to EPA Administrator Michael Regan on April 6, requesting a "timely review" of two Toxic Substances Control Act (TSCA) applications filed in September by battery maker LG. One of the three Ultium plants is to be located in Michigan.
"We understand that EPA has a significant backlog of more than 300 TSCA section 5 applications awaiting review and that the agency has taken a 'first-in, first-out' approach to review these applications," the letter reads.
"As it now stands, the PMN (pre-manufacturing notice) applications have been pending for more than five months, although the TSCA statute mandates a 90-day review. Our concern is that if EPA does not complete its review of the PMNs by May then the launch of the three EV battery plants will be delayed."
Carbon nanotubes are cylindrical molecules that consist of rolled-up sheets of single-layer carbon atoms. According to the website Nanowerk, they're ideal for use in Li-Ion batteries because they're tiny, strong, have high thermal conductivity, and are highly chemically stable.
The use of carbon nanotubes requires special approval from the EPA because of concern that the substance can damage lungs if not handled properly.
GM announced in January that Ultium Cells, its joint venture with LG Energy Solution, would spend $2.6 billion to build a battery cell manufacturing plant in Lansing, Michigan. The plant was expected to provide 1,700 new jobs when fully operational. Other Li-Ion battery plants are being constructed in Ohio and Tennessee, the OEM said.
GM, LG, and the EPA did not respond to repeated requests for comment by Repairer Driven News. An EPA spokeswoman told NPR affiliate Michigan Radio that the agency is reviewing the request.
Michigan Radio said a GM spokeswoman did not comment on whether the company is concerned about delays, but said, "As we continue our work on site preparations to move forward with our investment in Lansing, we are grateful for the ongoing support from Representatives Slotkin and Walberg and Senators Stabenow and Peters."
GM is not the only OEM with a stake in Ultium battery production. Honda recently announced a deal with the automaker to use its Li-Ion batteries in a series of planned new vehicles, even as it develops its own solid-state battery technology.
More information
Honda to invest $39B in EVs over 10 years, launch 30 new models
Images
Featured image: Ultium Cells, a joint venture of LG Energy Solution and General Motors, is building a $2.6 billion battery cell manufacturing plant in Lansing, Michigan.
Share This: