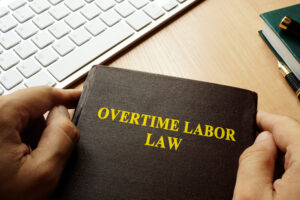 Adjuster's overtime lawsuit against GEICO wins class action certification
By on
Announcements
A federal judge has granted class action status in a former claim adjuster's lawsuit accusing GEICO of violating federal and state overtime laws.
District Court Judge Denise J. Casper has certified the class as all auto, residential, and catastrophic damage adjusters who worked for GEICO in Massachusetts at any time between October 2018 and March 2021.
The suit, Pugliese v. GEICO, seeks unpaid overtime wages that it says are owed to more than 50 current and former adjusters, as well as applicable statutory damages.
Former adjuster Marc Pugliese filed suit against GEICO on Oct. 6, 2021 in the U.S. District Court for Massachusetts, claiming that he and other adjusters had been pressured not to report the overtime hours they routinely worked.
Pugliese claims the insurer directed him and other adjusters to always report working 7.75 hours each workday, or 38.75 hours each week, even though they "regularly and customarily" put in eight to 10 hours a day, or as many as 50 hours a week.
He also asserts that adjusters were routinely not paid for working through their 45-minute meal periods.
The under-reporting of hours worked was ordered to "ensure overtime and, by extension, time-and-one-half overtime wages would not be due and owing to non-exempt employees like the Plaintiff and other GEICO Adjusters performing duties in Massachusetts," the complaint says.
The company used "intimidation tactics and implied adverse employment consequences" to assure compliance, the suit claims, contending that GEICO's strategy was to claim that workers who needed more than 7.75 hours to complete their duties were showing "poor work performance."
In that way, the suit claims, GEICO created a "company and class-wide policy and practice" to discourage adjusters from reporting their true hours worked. It says that the insurer made it known that it was better for adjusters "to stay quiet and allow GEICO to steal their hours/wages rather than speak up, complain about additional compensable work hours, and risk a poor workplace reputation, negative performance reviews, and risk additional negative workplace consequences."
The insurer was aware of the inaccuracy of its time sheet system, through employee complaints, text messages, emails, internal chat or messaging programs and other means, the suit claims.
Michael Loughlin, a New Hampshire resident who also worked as a claim adjuster for GEICO for three years in the same geographical area as Pugliese, was later added to the suit as a second plaintiff.
GEICO stands accused of violating the federal Fair Labor Standards Act (FLSA), 29 U.S.C. section 201, and the Massachusetts Wage Act (MWA), M.G.L. c. 149 sections 148, 150, and 151.
The carrier has denied all of the allegations, and claimed that Pugliese "concealed his actual hours of work to cover performance and productivity deficiencies."
In opposing class action certification, GEICO asserted that "it is legal for an employer to prohibit or limit overtime," and to "evaluate its employees' performance based on their efficiency."
Casper countered that argument, noting that case law has held that "an employer's formal policy or process for reporting overtime will not protect the employer if the employer prevents or discourages accurate reporting in practice."
She also rejected GEICO's argument that the adjusters "had different work habits, abilities and that their workloads varied, requiring the Court to conduct 'extensive individualized determinations' for each Plaintiff."
Again citing case law, Casper wrote that "In the present case, still at the notice stage, Plaintiffs have … made the 'modest factual showing' that they were subjected to GEICO's company practice of directing Adjusters to enter 7.75-hour days and 38.75-hour weeks, with a forty-five-minute meal deduction, despite working more than forty hours a week, without a meal break."
Finally, she was unconvinced by GEICO's argument that the adjusters' job responsibilities were too dissimilar to for them to constitute a class. "Plaintiffs sufficiently allege that they perform similar job duties, the modest showing that they need to make at this point," Casper wrote.
She ordered GEICO to provide the names, home addresses, email addresses, and telephone numbers, including home and cellular, for any of the potential Massachusetts adjusters in the class, so that they can be notified.
Images
Featured image provided by designer491/iStock
Share This: