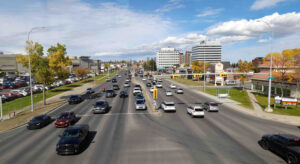 Report: Alberta auto insurers brought in $1.3B more than they paid out in 2020
By on
Announcements
Alberta, Canada's auto insurers brought in $1.32 billion more in premiums than they paid out in claims in 2020, according to a report from the province's Superintendent of Insurance.
According to the report, insurers collected $5.81 billion, about $400 million more than the previous year, while claims totaled $4.49 billion, about $200 million less.
Overall, insurers reported a claims ratio of 77% for 2020. The ratio, a measure of claim settlements paid against premium dollars collected, stood at 87% in 2016, and has declined each year since. (All figures are in Canadian dollars; the $1.32 billion figure is the equivalent of $104.6 billion in USD.)
The report was posted online Thursday.
The opposition New Democratic Party (NDP) says the higher profits are the result of the United Conservative Party (UCP) government's 2019 scrapping of a rate increase cap on auto insurers.
"Insurance companies have been generating massive profits off Alberta drivers, and they're doing it with the UCP's help," NDP energy critic Kathleen Ganley said during a livestreamed news conference.
"In 2020, the car insurance industry charged Alberta drivers $385 million more in premiums than they did in 2019. That's $385 million in additional premiums," Ganley said. "That's $385 million more out of the pockets of Alberta drivers in a single year."
She noted that in 2019, auto insurers collected $1.15 billion more in premiums than they paid out in claims.
Kassandra Kitz, press secretary for Finance Minister Travis Toews, told Yahoo! News that the rate cap had several disadvantages, among them the need for many drivers to pay their premiums a full year in advance, rather than monthly. That meant that many Albertans experienced an increase of 5%, in spite of the cap, she said.
Kitz said Bill 41, introduced by the UCP government and enacted in 2020, changed regulations around how premiums are calculated.
"We introduced Bill 41 last session that made legislative and regulatory changes to stabilize auto insurance rates, enhance medical care benefits and ensure more options and flexibility for drivers," Kitz told the Calgary Herald.
"The goal of changes made by the Alberta government to the auto insurance system is to help stabilize out of control claims costs, and ultimately help make insurance more affordable for drivers. These changes also give Albertans more and better options for care when they've been injured in an accident," the Insurance Bureau of Canada, an industry group, said in a statement.
Kitz said seven insurers have filed for rate reductions in 2021 and that across the board, premium rates for private vehicles are down by just under one percent over the past 12 months.
An August 2021 report presented by the Alberta Civil Trial Lawyers Association found that projected Alberta automobile insurance pre-tax profits amounted to more than $1.7 billion for 2020 and 2021 combined.
"Automobile insurers in Alberta have reaped a significant windfall due in large part to the effects of COVID-19, but also due to increasing premiums and stabilizing claims costs," the report, presented to the Alberta Insurance Rate Board, states. "The further cost-saving measures brought about by Bill 41 will only serve to solidify these cost savings for insurers."
"At minimum, a period of evaluation should occur to allow the effects of Bill 41 and the long-term impacts of COVID-19 to be observed in the industry before any further premium increases are permitted," the report says.
Images
Featured image: Motorists in Alberta paid $1.32 billion more in premiums in 2020 than they received in claim settlements, the provincial government has reported. SeasonLIVINUS/iStock
Share This: