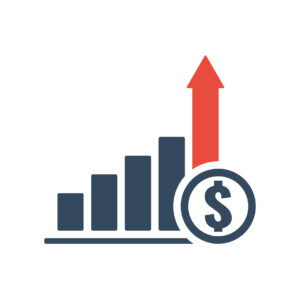 Based on data presented during the Collision Industry Conference (CIC)'s meeting last week by its Parts and Materials Committee, inflationary pressures and rising costs are only going to get worse for the collision repair industry.
Mitchell International Performance Consulting Director Ryan Mandell said a couple of "unique" factors are at play in the collision space – there are variabilities in each OEM's supply chain, including the cost of moving cargo particularly for aftermarket parts manufacturers, and the cost of raw m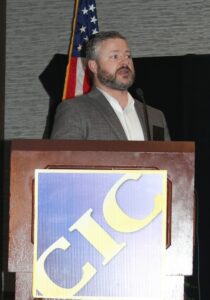 aterials continues to go up. For example, petroleum is more expensive, which is used to manufacture steel, polyethylene plastics for bumpers, and paint, Mandell said.
The Ukraine-Russia conflict also negatively affects parts manufacturing, because Ukraine makes 7% of the world's wiring harnesses and produces more than 50% of the world's neon gas supply, according to Mandell. The latter may seem to not affect the automotive sector, but the inert gas is irreplaceable in the manufacture of semiconductor chips, not only those that are put in vehicles but those that are used in manufacturing processes.
Mandell added that he believes we're still a couple of years away from being able to balance semiconductor supply with demand.
"We're in a stage right now where we're going to continue to see inflation specific to collision parts and specific to the automotive industry that has the potential at outpacing any other inflation that we're seeing anywhere else in our economy because of these very specific instances of what's going on," Mandell said.
Mandell shared a line graph during his presentation (below) that shows the average labor rate has remained between $50 and $55 since the first quarter of 2019, while the average total gross cost of repairs has sharply increased twice and is on the rise again.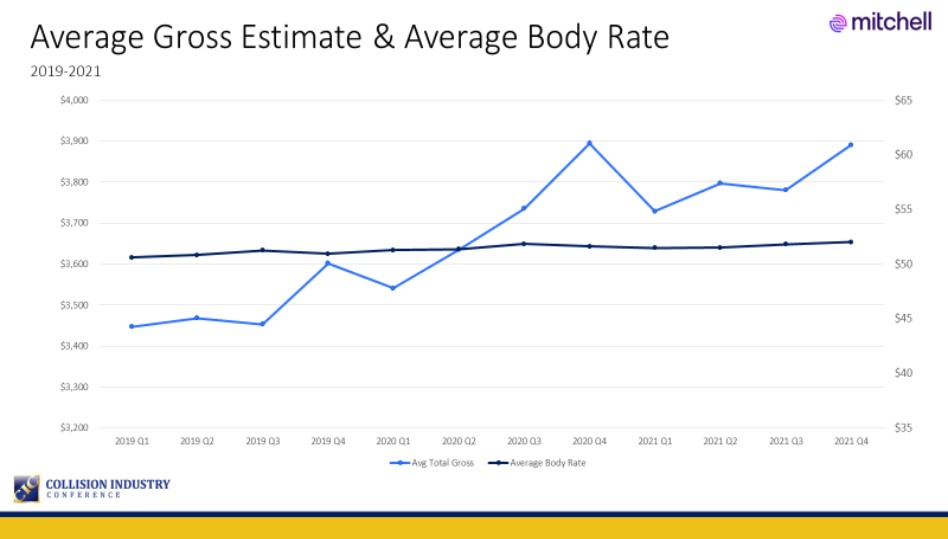 "We've seen tremendous growth in the average cost of repair – average growth severity," Mandell said. "This is being driven by a number of different factors. …The increase in vehicle technology through ADAS [advanced driver assistance systems] functionality. We're seeing the change in vehicle construction – more lightweight materials, which drives further complexity in the repair process. Just the fact that vehicles are getting a diagnostic scan now across the board – that adds cost to the repair."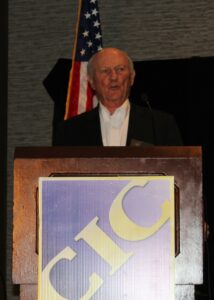 Computer Logic President Rick Palmer called it a "disparity" based on his company's tracking of pricing information from nearly all major paint companies and material suppliers.
"We can see, obviously, the disparity between the increase in costs of paint and materials versus the compensation that is reflected on the allowance amount that's showing on invoicing," he said.
Palmer said if 2017 labor rates had maintained pace with inflation, the average current rate could now be $46.38 versus the actual average rate of $34.60.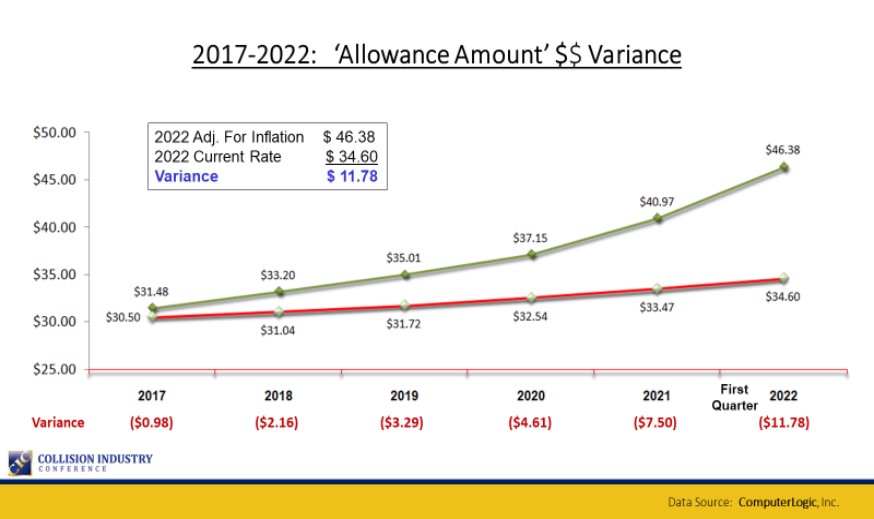 Paint and materials reimbursements are now only 18.5% higher than they were in 2017, compared to the 43.9% increase in paint and material costs that collision repair facilities have experienced in the same period of time, according to Palmer's research.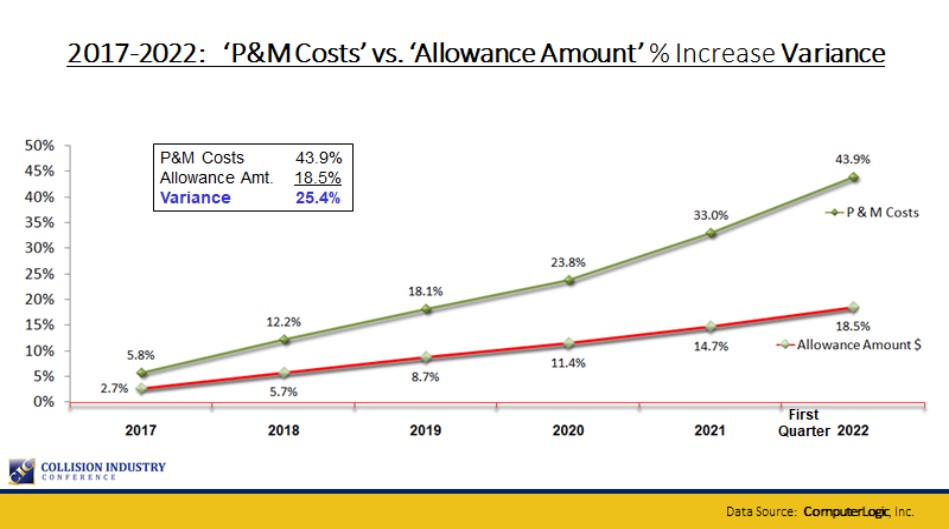 Robert Dauffenbach, senior associate dean at the University of Oklahoma's Price College of Business and economic development and impact director of the Center for Economic and Management Research, told CIC meeting attendees that he predicts labor costs throughout the economy will "continue to expand." While U.S. paints and coatings costs have exploded and are up about 24% since March 2020, the pace, so far, "has not been outside the ranges experienced economy-wide," he said. Suggesting that material costs will also continue to rise.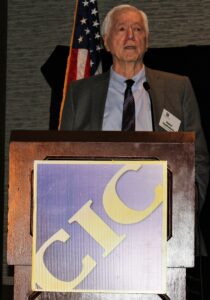 "It's [inflation] not happening to a particular sector of the economy," Dauffenbach said. "It's something general, operating overall, in the entire economy. It's permeating the economic system. It's ingrained in the populations. It's ingrained in expectation. And if you let that happen, it's very hard to take it down. …The Federal Reserve, if they're not accommodating to inflation, inflation will ultimately stop, but not without pain; particularly if you're trying to remove that ingrained inflation expectation that citizens may have."
"Tremendous" growth of the nation's money supply in 2020 was caused by the federal government giving $4 trillion in COVID relief dollars to households and businesses. However, he said "the consumer's in pretty good shape so I'm not anticipating a recession at this point."
"It's likely to get a little bit worse. I don't think a whole lot worse. Our core inflation rate, that when you subtract out energy and food, was at the 6.5% level in the recent report."
According to Dauffenbach's research, technicians in the automotive sector earned more per hour from 2000-2021 with hourly earnings continuing to rise at about a 2.2 percent compounded rate, and benefits at a relatively constant 31.6 percent of total employment costs.
In 2000, auto glass technicians were making around $13 an hour, auto technicians about $15 an hour, and auto body technicians around $16 an hour. Auto body technicians, as of last year, were still making the most at about $25 an hour, followed by auto technicians at around $23 an hour and auto glass technicians at $20. It's worth noting that while auto body technicians are making more per hour than auto glass and auto service technicians, the labor rates within the sector have historically been lower than the other two categories.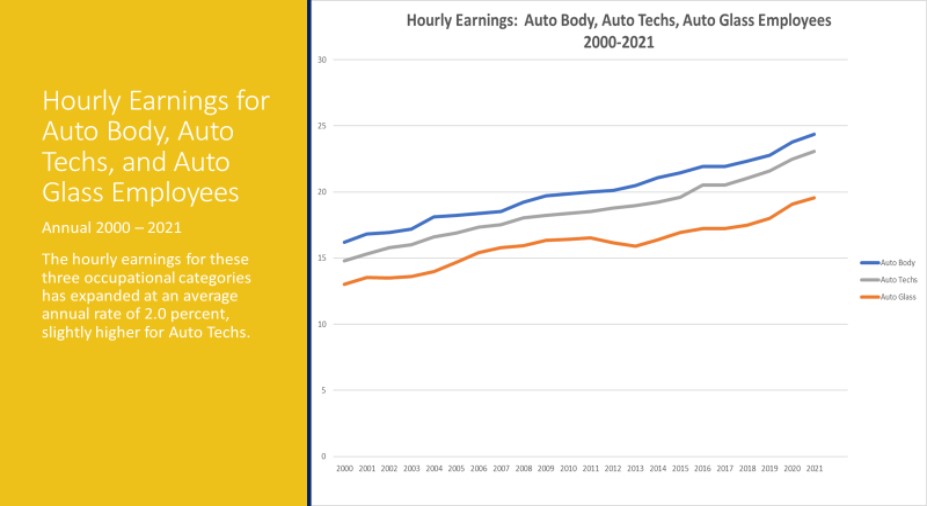 Mandell noted that the average price of the most commonly replaced vehicle parts from OEMs, aftermarket suppliers, and recyclers combined was stable from 2018 through the second quarter of 2020, but since then there have been "rather steep increases quarter over quarter," which is partially due to the volume of parts, he said.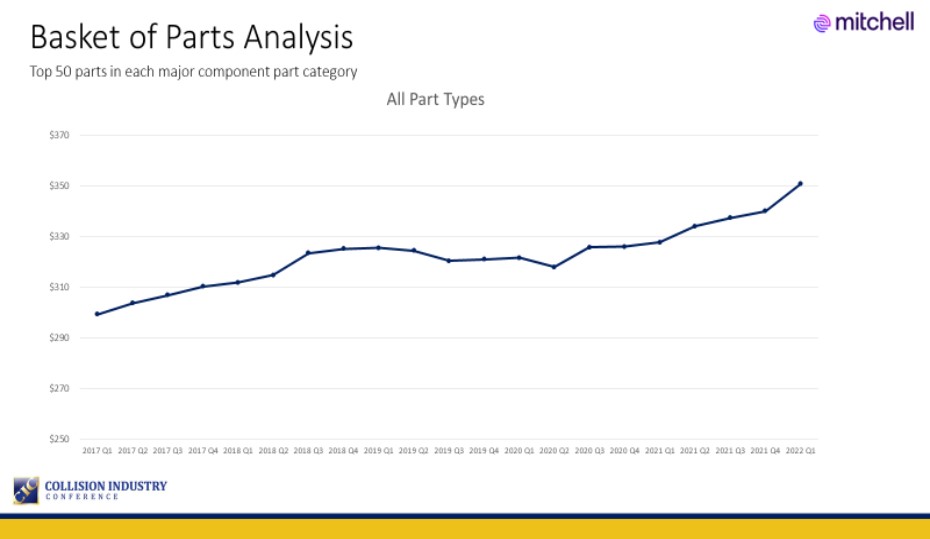 "In the most recent two quarters, the biggest change that we've seen the biggest increase in price have been from the aftermarket manufacturers," Mandell said.
AkzoNobel Performance Coatings Senior Services Consultant Tim Ronak said shops are facing costs rising faster than the reimbursements they're paid.
"The margin that they make on parts has not changed that much," he said. "The margin that they make on materials, in many cases, is slight. With that said, shops are backing different strategies to be able to capture reimbursement back in different ways…. We're talking about a small subset of the industry that's actually doing this. The balance of the industry is just struggling with this in trying to figure out the cheapest way to the solution."
When repairers who attended the CIC meeting were asked if rates and reimbursements are adjusting accordingly to their costs, 81% said no. Sixty-three percent of insurers at the meeting said their settlement practices are changing in accordance with costs.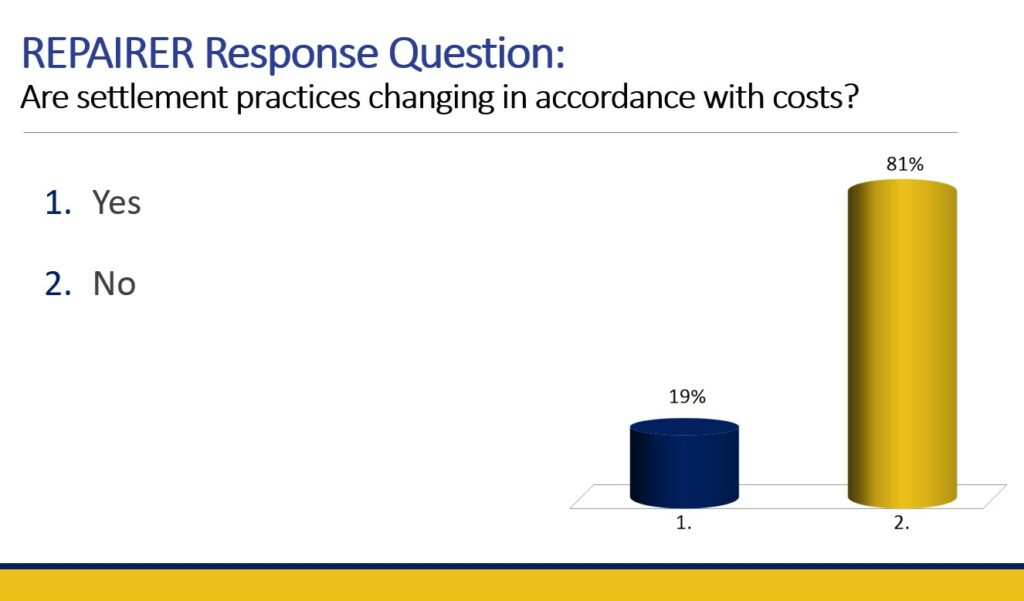 BASF Performance Group Manager Braxton Ewing agreed with Ronak in that rates aren't going up as much.
"Historically, we haven't had to control costs as much, now we're having to tighten it up," he said. "I think we're at a valley now where we can't go any lower down. You can't get cheaper materials. The prices are going to go up due to that supply and demand. You're going to start seeing where those profit margins are going to grow, especially on the net profit side."
Editor's note: This article has been updated to state that 81% of repairers said rates and reimbursements aren't adjusting accordingly to their costs.
IMAGES
Featured image credit: masterSergeant/iStock
Mitchell International Performance Consulting Director Ryan Mandell (Photo by Lurah Lowery)
"Average Gross Estimate & Average Body Rate" (Provided by Ryan Mandell and CIC)
Computer Logic President Rick Palmer (Photo by Lurah Lowery)
"2017-2022 'Allowance Amount' $$ Variance" (Provided by Rick Palmer and CIC)
"2017-2022 'P&M Costs' vs. 'Allowance Amount' % Increase Variance" (Provided by Computer Logic President Rick Palmer and CIC)
Robert Dauffenbach, senior associate dean at the University of Oklahoma's Price College of Business and economic development and impact director of the Center for Economic and Management Research (Photo by Lurah Lowery)
"Hourly Earnings: Auto Body, Auto Techs, Auto Glass Employees 2020-2021" (Provided by Robert Dauffenbach and CIC)
"Basket of Parts Analysis" (Provided by Ryan Mandell and CIC)
More information
Inflation: What are the causes & how should shops plan ahead?
Gerber reports securing rate increases from insurers, says it expects more
Allstate pursues auto insurance rate increases in bid to return to profitability
Share This: