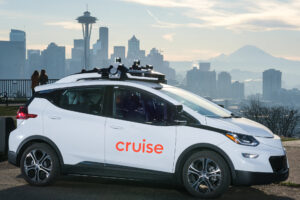 GM files patent for automated driver training technology
By on
Announcements
If fully autonomous vehicles (AVs) become a reality, will humans still need to be taught how to drive? The answer is yes, according to a recent General Motors patent application.
GM has submitted a patent for "methods and systems to autonomously train drivers." It envisions a system in which the student driver's control inputs would be constantly monitored and compared with "one or more recommended actions for the autonomous vehicle."
The application notes that, while AVs "offer many potential advantages over traditional vehicles," there may be good reasons to train a person to drive without relying on the AV's capabilities. Among those are times when a person wants to drive "for personal satisfaction," and when an AV is either not available or not permitted to operate in a certain location.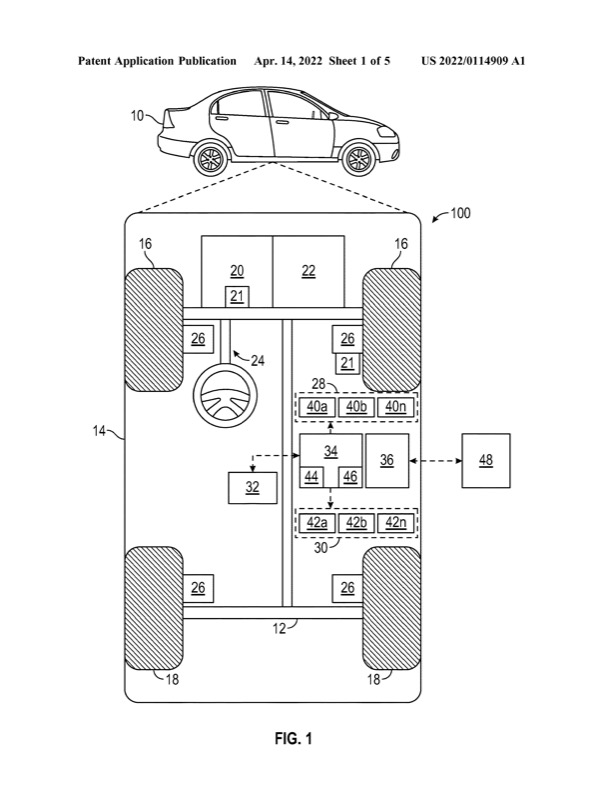 Using a human instructor, the patent application says, "may not always be optimal." Instruction by human can introduce biases, "and/or may be more time consuming, costly, and/or difficult to schedule, and/or may include risks and/or inefficiencies, in certain situations."
In addition to grading the student driver's inputs against the AV's algorithms, the system could also give the student selective control over the vehicle – for instance, allowing them to steer, but not to accelerate or brake.
GM's patent filing, application number US 2022/0114909, was published with the United States Patent and Trademark Office (USPTO) on April 14.
Autonomous training would give GM another use of the AV technology now under development by its Cruise Automation subsidiary.
Cruise intends to launch a fleet of at least 1 million self-driving vehicles by 2030, and GM plans to introduce its first personal autonomous vehicle by mid-decade. The Cruise Origin, an electric autonomous shuttle, is expected to go into production next year.
Artificial intelligence and driver safety
Could AVs eliminate car crashes altogether? The New York Times has taken a look at artificial intelligence and driver safety, and concluded that, while the potential exists, there are more achievable approaches that could make roadways safer in the short term.
The article, written by contributor Tanya Mohn, quotes World Health Organization figures showing that about 1.35 million people die in traffic accidents around the world each year, and as many as 50 million more are seriously injured.
"Artificial intelligence is already being used to enhance driving safety: cellphone apps that monitor behavior behind the wheel and reward safe drivers with perks and connected vehicles that communicate with each other and with road infrastructure," Mohn writes. "But what lies ahead? Can A.I. do what humans can't? And will the technology develop before the proliferation of self-driving cars?"
She takes a look at several technologies under development that rely on traffic monitoring and large-scale data collection to prevent accidents.
Intelligent speed assistance (ISA), a technology that uses AI to manage a car's speed via in-vehicle cameras and maps, will become mandatory in all new vehicles sold in the European Union beginning in July, but is not yet embraced in the U.S., Mohn said.
She focuses on the work of an Australian company, Acusensus, that uses high-resolution cameras and machine learning to spot dangerous driving behaviors like speeding and texting.
"We can assess distraction," company vice president Mark Etzbach told Mohn. "We can assess occupant restraint. We can assess vehicle speed. We're able to look at three behaviors at the same time. Well over 90 percent of the behaviors are happening below the dashboard."
The latest evolution of Acusensus' technology, Heads-Up Real Time, is being considered for use in the U.S. Data and images – some collected via "invisible flash" through the windshield – would be sent in real time to the laptops of police in cruisers.
According to Acusensus, trails of an earlier version of the technology in New South Wales and Queensland resulted in a 22% drop in fatalities and an 80% reduction in phone use over the course of two years.
"It's about being able to leverage technology, and A.I. in this case, to help us better understand what people are doing behind the wheel that potentially puts themselves and others at risk," said Pam Shadel Fischer, senior director of external engagement for the Governors Highway Safety Association, a nonprofit representing state highway safety offices. "We think there's real potential here."
The article concludes with a nod to privacy concerns, and an acknowledgement that, right now, humans are still capable of outperforming AI.
"An observant driver who makes eye contact with a pedestrian can gauge whether or not there's an intention for that person to cross the street. A.I. is not able to do that, not yet," David Ward, president of the Global New Car Assessment Program, a nonprofit based in London, told Mohn. "We know that A.I. has a tremendous capacity to improve, but we could be making a big mistake if we think that it can completely eliminate the human dimension in all of this."
Images
The first-generation Cruise AV, built on the platform of the Chevrolet Bolt, has logged millions of miles of testing, GM said. (Provided by Cruise)
Figure 1 from the GM patent filing. (Provided by the USPTO)
Share This: