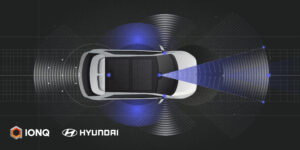 Hyundai partnership using quantum machine learning to improve ADAS, AV tech; Audi to offer ADAS in more models
By on
Technology
Hyundai and Audi announced plans this week to enhance advanced driver assistance systems (ADAS) aboard their vehicles; Audi's beginning with the 2023 model year.
Hyundai has partnered with IonQ, a quantum computing company, on a project to apply quantum machine learning to image classification and 3D object detection for future mobilities, according to a press release. When announcing its 2023 model year lineup, Audi said enhanced standard equipment will be offered across all model lines and ADAS, as well as technology updates, will be available on more models.
The goal of the Hyundai/IonQ partnership is to "improve computational functionality through more efficient machine learning on quantum computers, as they can process enormous amounts of data faster and more accurately than classical systems."
Using a breakthrough in encoding images into quantum states, IonQ is already well underway in classifying 43 types of road signs using IonQ's quantum processors, according to the release. The next phase will be taking the machine learning data to Hyundai's test environment to simulate real-world scenarios.
"We are excited to expand our existing relationship with Hyundai Motor to focus on another key aspect of next-generation mobility," said Peter Chapman, President and CEO of IonQ, in the release. "From partnering on battery research for electric vehicles to image classification and object detection research for automated driving, we expect to see quantum computers become an even more integral part in developing novel transportation solutions."
Running object recognition tasks on IonQ's latest quantum computer, IonQ Aria, "should enable more efficient processing with lower costs, leading to the development of safer, more intelligent mobilities in the future," the release states.
Audi advancements
Audi said that the upcoming model year charges "emphasize the brand's growth in the premium segment as a leader in technology innovations and producing quality vehicles."
And by the end of this year, the OEM plans to have more fully electric models on sale in the U.S. than any other luxury brand. The Audi e-tron, e-tron S, e-tron Sportback, e-tron S Sportback, Audi e-tron GT, and RS e-tron GT will be joined by the Audi Q4 e-tron, and Q4 Sportback e-tron.
Adaptive cruise control will be available through "Function on Demand" as a one-time purchase for both A3 and S3 models in the base Premium trim. It will be offered in the A5 and S5 models as part of the "Convenience" package. Adaptive cruise control will also be offered in all Q5 and SQ5 models.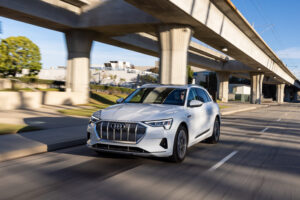 The A6 45 and 55 TFSI will have adaptive cruise assist with lane guidance as a part of the convenience package in the Premium trim level. The same function will be offered in the A7, Q7 45, Q7 55, and Q8 convenience packages of the Premium trim level for all four models.
The Prestige trim for all models will have remote park assist plus, which uses the vehicles' "numerous sensors to identify the ideal entry/exit points in a parking situation." The RS7 executive package will offer remote park assist.
The Premium Plus trim level for the S6 and S7 models will also include ADAS features. Also for the 2023 model year, the potential federal tax credit of up to $7,500 is still expected to be available for those who buy the e-Tron and e-Tron Sportback models.
IMAGES
Featured image: IonQ and Hyundai Motor Co. have partnered to use quantum computing for object detection. (Provided by Hyundai)
Audi e-tron (Provided by Audi)
Share This: