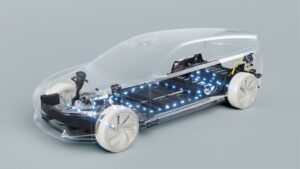 Volvo, which has announced plans to become all-electric by 2030, has invested in StoreDot, an Israeli company that is developing extreme fast-charging technology for EV batteries.
StoreDot said the collaboration is expected to help accelerate the development of the technology, with mass production now expected by 2024. The amount of the investment was not disclosed.
According to StoreDot, the silicon-based battery cell technology should result in batteries receiving about 100 miles of range in just five minutes of charging. The company expects to cut that time to three minutes with a solid-state battery to be introduced in 2028, and to two minutes with a "post-lithium" cell by 2032.
Volvo Cars said it is the first premium car maker to invest in StoreDot. The investment was made through the Volvo Cars Tech Fund, the OEM's venture capital arm.
According to Volvo, its collaboration with StoreDot will mainly take place within the battery technology joint venture it formed last year with Northvolt, Sweden's largest battery manufacturer.
Doron Myersdorf, StoreDot's CEO, said in a statement that the company is "working to ensure that EV drivers will never have to be concerned with anxiety over charging times, currently the major barrier to EV ownership and a cleaner world."
"We aim to be the fastest transformer in our industry and the Tech Fund plays a crucial role in establishing partnerships with future technology leaders," Alexander Petrofski, head of the Volvo Cars Tech Fund, said in a statement. "Our investment in StoreDot perfectly fits that mindset and their commitment to electrification and carbon-free mobility matches our own. We're excited to make this a successful collaboration for both parties and work towards bringing this groundbreaking technology to the market."
StoreDot's battery development is centered around silicon-dominant anode technology and related software integration. It aims to develop extreme-fast charging battery technology, which Volvo said closely aligns with its goal of producing EVs with a longer range, quicker charging, and lower costs.
Last year, Volvo announced a $3.2 billion investment in its joint venture with Northvolt. The collaboration will focus on developing and producing battery cells for Volvo and Polestar vehicles. Among Northvolt's partners are BMW, Volkswagen, and Swedish truck manufacturer Scania.
StoreDot, founded in 2012, lists Mercedes-Benz parent company Daimler and Vietnamese EV producer VinFast among its partners.
Images
Featured image: StoreDot said its technology will allow an EV to get 100 miles worth of charge in just five minutes. (Provided by Volvo Cars)
Share This: