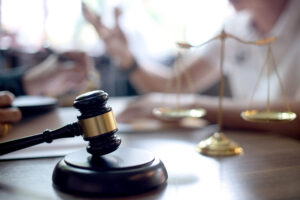 Suit says USAA owes Californians more than $5M in COVID 'windfall' profits
By on
Insurance | Legal
A lawsuit filed against USAA by auto insurance policyholder Philip Johnson in California alleges the company has "scored a windfall" of profit throughout the COVID-19 pandemic by continuing to "charge and collect excessive premiums" in 2020 and 2021 despite fewer cars on the road resulting in a decreased number of claims.
The suit, filed on April 14, alleges USAA breached its contract with Johnson and all of its California policyholders who purchased USAA personal automobile insurance beginning March 1, 2020, to the present. It also claims USAA has been unjustly enriched and is in violation of California's Unfair Competition Law (UCL) as well as the state's Business and Professions Code. The plaintiffs seek a jury trial, disgorgement of "the ill-gotten gains obtained by USAA to the detriment of its customers;" all available damages, punitive damages, declaratory and injunctive relief, and all other available relief.
Although the suit doesn't seek a specific payment for the plaintiffs, it states the amount "in controversy" exceeds $5 million exclusive of interest and costs.
The purpose of the complaint is to "end USAA's practice of unfairly profiting from the global COVID-19 pandemic." While USAA is being sued, the suit does note that other auto insurance companies have been able to "unfairly profit at the expense of their customers," but no others are named.
"While many companies, industries, and individuals have suffered financially as a result of the COVID-19 pandemic, auto insurers like USAA have scored a windfall," the suit states. "Not surprisingly, as a result of state-wide social distancing and stay-at-home measures, there has been a dramatic reduction in driving, and an attendant reduction in driving-related accidents. This decrease in driving and accidents has significantly reduced the number of claims that auto insurers like USAA have paid, resulting in a drastic and unfair increase in USAA's profits at the expense of its customers."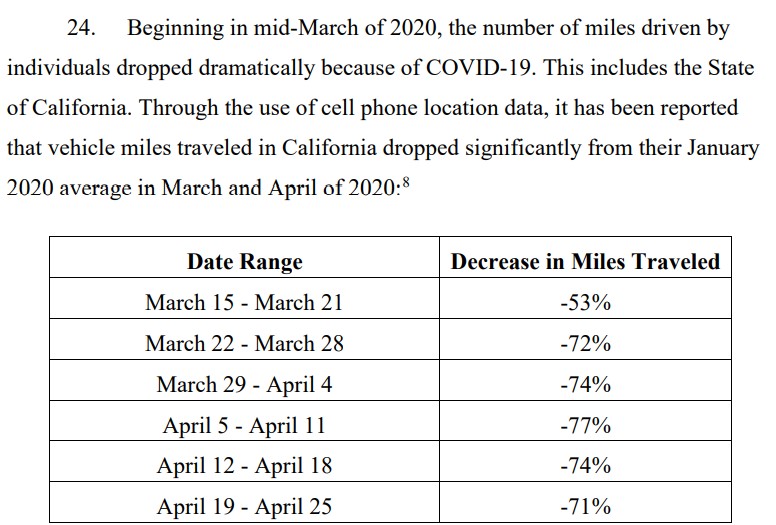 The suit notes, according to the Consumer Federation of America, decreases in pre-COVID miles traveled continued through the end of 2020 and well into 2021.
Johnson also alleges USAA's dividend and premium credit program was inadequate to compensate customers for overpayments. "The program applied only a 20% dividend to policyholders spanning three months starting in March 2020. And although USAA reports that it offered an additional dividend and smaller premium credits later in 2020 and 2021, these amounts were still insufficient."
A second credit, equal to 10% of one month's premium, was later issued to USAA auto policyholders who had a policy in effect as of August of 2020, and a third was given to California residents in 2020 and 2021 equal to 3-5% of one month's premium, according to the suit.
According to a May 2020 report by the Center for Economic Justice and the Consumer Federation of America, which was cited in the suit, at least a 30% minimum average premium relief payment to consumers is needed just for the time period March 18, 2020, through May 2020 based on vehicle accident data.
Among the allegations in the suit, Johnson also states USAA is in violation of California's Proposition 103 – a consumer protection ballot measure passed in 1988 that requires prior approval of property and casualty insurance rates by California's Department of Insurance.
"USAA's collection and/or retention of such excessive premiums violates California public policy and contravenes Proposition 103's mandate to protect consumers from arbitrary insurance practices, to encourage a competitive insurance marketplace, and to ensure that insurance is fair, available, and affordable for all Californians," the suit states.
The breach of contract allegation is brought because "under the insurance contracts, USAA had the discretion to make voluntary downward premium adjustments based on an insured's changed circumstance" and allegedly not doing so "constitutes a willful violation of the obligation of good faith and fair dealing owed for the purpose of unfairly maximizing revenue from premiums paid by Plaintiff and members of the putative class."
As for the UCL, the suit states USAA is in violation of it by "failing to fully refund premiums with full knowledge of the amount and extent of their excess and the fact that they are not based on an accurate assessment of risk, and failing to disclose the fact that it is earning excessive profits, or the amount of those profits."
USAA Public Relations Director Roger Wildermuth issued the following written statement to Repairer Driven News when asked to comment on the lawsuit: "USAA is confident that our auto policy dividends and premium credits, along with a range of other financial relief efforts to help members, were appropriate. We remain committed, as we have been for nearly 100 years, to providing highly competitive products and exceptional service to military members and their families."
Wildermuth also directed RDN, without listing any specific points of interest, to a Dec. 16, 2020 article by the United States Public Interest Research Group (U.S. PIRG), which states, in part, "In some cases, customers didn't get a refund or rate cut unless they called. Still other insurers did nothing at all, even if customers asked. The range of responses disappointed some customers. In one example, consumers sued Allstate, American Family Insurance, Progressive, Geico, Erie, Travelers  and other insurers in Illinois, alleging inadequate relief."
Johnson's attorneys didn't return RDN's request for comment by the publication deadline.
More information
Ruling casts doubt on Calif.'s ability to order $3.5B in auto insurance premium refunds
IMAGES
Featured image credit: sabthai/iStock
"Decrease in miles driven" chart (Information provided in a joint May 2020 report by the Center for Economic Justice and the Consumer Federation of America. Screenshot taken by RDN from Johnson v. USAA lawsuit.)
Share This: