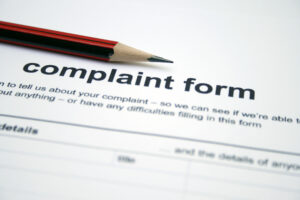 NAIC: No. 1 insurance complaint from policyholders is claims handling delays
By on
Announcements
The National Association of Insurance Commissioners (NAIC) insurance complaint data shows that the No. 1 complaint from insurance policyholders is claims handling delays and that all of the top five most complained about insurance processes have to do with claims handling.
Of the more than 48,000 complaints compiled by the NAIC, 22,761 were about auto insurance – the second-highest, with accident and health insurance lines No. 1 at 25,871 complaints.
More than 10,000 complaints from all lines combined – accident and health, auto, homeowners, life and annuity, and fire, allied lines and commercial multi-peril – were filed due to claims handling delays. Nearly 6,500 policyholders also filed complaints about unsatisfactory offers or settlements.
The No. 3 complaint was dissatisfaction with the denial of claims (5,987), followed by dissatisfaction with how adjusters handled claims (2,334 complaints) and complaints about prompt payouts (2,112 complaints).
So far this year, complaints about claims handling practices still hold the top five reasons with the most complaints, with just under 9,400 complaints already filed.
According to data and insights company Voxco, 29% of policyholders are satisfied with their carriers, 21% believe their carriers don't tailor policyholder experiences, and more than 30% switch carriers within a year because of one poor claim experience.
"With 88% of insurance customers demanding more personalization from their providers and only 15% of customers satisfied with the existing digital experience, insurers need to put customer experience at the center of their business strategy," Voxco states on its website.
ValuePenguin found in November, based on NAIC complaint data, that across the 10 largest U.S. home and auto insurers – Allstate, Chubb, Farmers, GEICO, Liberty Mutual, Nationwide, Progressive, State Farm, Travelers, and USAA – 68% of all 2019 complaints were related to claims handling. ValuePenguin also found that GEICO policyholders were most likely to complain about claims, and Chubb's the least likely.
IMAGES
Featured image credit: alexskopje/iStock
Share This: