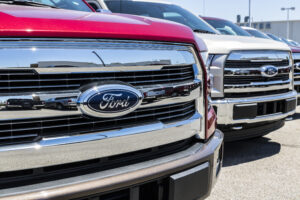 Ford has applied for a tank turn patent that would give its trucks the ability to move each axle in opposite directions simultaneously, much like a military tank can be maneuvered in and out of tight spaces. Several trade publications have surmised the patent is for the new Ford F-150 Lightning – the OEM's first all-electric pickup truck, which was released earlier this month.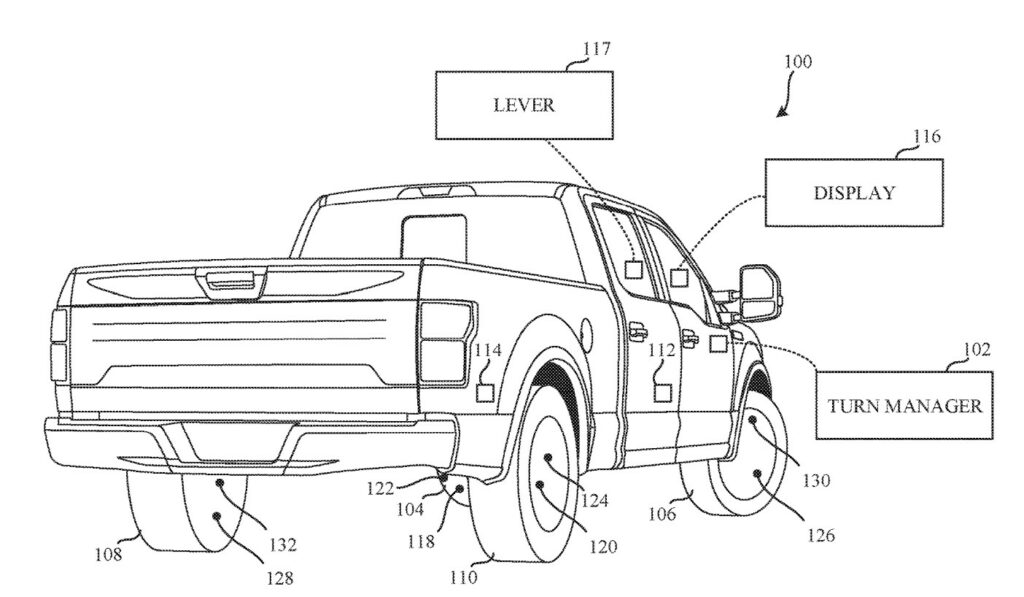 OEM Rivian said a tank turn feature would be available on its R1T pickup and R1S SUV, but it has yet to launch on either. InsideEVs reports that while Toyota and Rivian have filed tank turn patents, Rivian is the only one so far to demonstrate it working.
Ford's patent filing, publication number US 2022/0118979, was published with the U.S. Patent and Trademark Office (USPTO) on April 21. The application was filed Oct. 16, 2020.
The patent states: "An example vehicle includes a first wheel and a second wheel, the first wheel located on an end of a first axle, the second wheel located on an end of the second axle, the end of the first axle opposite to the end of the second axle, a first suspension coupled to the first wheel, a second suspension coupled to the second wheel, and a controller to drive the first axle in a first direction, drive the second axle in the second direction and decrease a first suspension load of the first suspension and a second suspension load of the second suspension."
InsideEVs explains that since the Lightning doesn't come with a quad-motor setup, and instead only with dual-motor versions, a tank turn would only be possible by reversing one side and moving the other forward with gears, or locking all four wheels.
The Ford patent was published a couple of days before World Intellectual Property Day, on April 26, for which the Alliance for Automotive Innovation released some policy recommendations for better patent quality to help OEMs "support the development and deployment of cutting-edge technologies to meet crucial safety and environmental goals."
The AAI's recommendations, in part, are to:
"Prioritize patent quality: low-quality patents often lead to nuisance litigation alleging infringement of patents that should never have been issued;
"Promote fair and efficient resolution of patent disputes: Disputes over patent rights should encourage good faith negotiation and discourage bad faith
gamesmanship;
"Prevent online counterfeit auto parts sales: Require e-commerce platforms to vet third-party sellers, their products, and their suppliers to ensure consumers are receiving authentic goods and …mandate that e-commerce platforms notify consumers who may have purchased counterfeit goods and provide clear information on what consumers can do to receive refunds and purchase authentic parts going forward;
"Ensure fairness in technical standards licensing: when standardized technologies, such as connectivity, computing capacity, and cellular networks, are put into vehicles, and not "licensed on fair, reasonable, and non-discriminatory ("FRAND") terms, it impedes innovation and efficiency in the automotive industry;
"Preserve automotive design patents: Reducing the term of protection for automotive design patents would negatively impact the safety and reliability of automotive parts and devalue the work of automotive design center employees."
The full AAI document can be viewed here.
IMAGES
Featured image credit: jetcityimage/iStock
Ford tank turn patent graphic. (Provided by the U.S. Patent and Trademark Office)
More information
BASF, L&L collaborate on battery protection in Ford F-150 Lightning EV
Share This: