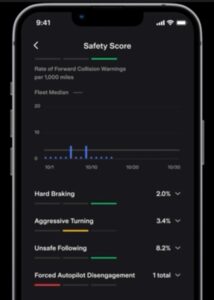 Insurer accused of unfairly raising premiums based on false collision warnings from Tesla vehicles
By on
Insurance | Legal
A Chicago Tesla owner has sued State National Insurance Company, claiming that the carrier raised his premium based on false forward collision warnings that were reported by the vehicle but never actually occurred.
The complaint, filed by Shawn Schneider in the Chancery Division of the Circuit Court of Cook County, Illinois, seeks class action status for all U.S. drivers who purchased usage-based insurance (UBI) for their Teslas from State National. It seeks unspecified damages.
Schneider claims that by raising his premium for incidents that never took place, State National has breached its contract, engaged in unfair conduct, violated the Illinois Consumer Fraud and Deceptive Business Practices Act, and unjustly enriched itself.
He alleges that the carrier's conduct violates Tesla drivers' reasonable expectation that their insurance premiums would be based on their actual driving habits.
Schneider said he insured both of his Teslas, a Model S and a Model 3, under State National's UBI plan, which sets premiums based on a Safety Score that Tesla provides under an agreement with the carrier. That score includes forward collision warning alerts, as well as instances of hard braking, aggressive turning, unsafe following, and forced Autopilot disengagement.
He said his Model 3 "has on numerous occasions experienced false Forward Collision Warnings when there was no danger in sight or any car in front." The Model S, he said, suffers from a similar problem, adding forward collision warning demerits to his Safety Score even when warnings were not displayed to the driver.
With both vehicles, the "ghost" forward collision warnings "have significantly affected his monthly premium … as his Safety Score has decreased as a result of them," the suit claims.
State National has "failed to implement any steps to account for" the false warnings, it says.
"… [D]ue to the advanced and still in development technology that powers Tesla's semi-autonomous driving features, including the safety features that Defendant's Safety Score tracks, some of the features do not work as intended," the complaint says. "Specifically, numerous Tesla drivers have reported suffering sporadic and random Forward Collision Warnings when there is no danger in sight or any car or object in front to signify the danger supposedly detected."
The false reports have a significant impact on premiums, the suit claims, because forward collision warnings are weighed more heavily than three other factors in determining the Safety Score.
Some Tesla owners have long complained about a "phantom braking" issue. The National Highway Traffic Safety Administration (NHTSA) said in February that it had begun a review of consumer complaints that Tesla vehicles had activated the brakes unnecessarily.
NHTSA received 354 complaints of phantom braking in the previous nine months, the agency reported in February.
"NHTSA is aware of complaints received about forward collision avoidance and is reviewing them through our risk-based evaluation process," a NHTSA spokesperson told The Washington Post in a statement. "If the data show that a risk may exist, NHTSA will act immediately."
"The complaints allege that while utilizing the ADAS features including adaptive cruise control, the vehicle unexpectedly applies its brakes while driving at highway speeds. Complainants report that the rapid deceleration can occur without warning, at random, and often repeatedly in a single drive cycle," NHTSA said.
According to the Illinois suit, Schneider and and other customers "would not have purchased their insurance from Defendant and paid the premiums that they did, or would have paid materially less for it, had they known that their insurance premiums would be based on false Forward Collision Warnings that they did not actually cause and had no control over."
"As a result, Plaintiff and other members of the Class have suffered damages and concrete harm through payment of inflated premium fees to Defendant that they cannot now ever recover."
The suit seeks "an award of actual or compensatory damages in an amount to be determined at trial."
State National Insurance is the underwriter for Tesla Insurance in several states, including Illinois. However, the suit does not mention Tesla Insurance.
According to the suit, State National began offering UBI to Tesla owners in Illinois in December 2021.
More information
Shawn Schneider v. State National Insurance Co.
Click to access 1489000-1489702-tesla.pdf
Images
Featured image: Tesla's Safety Score screen. (Provided by Tesla)
Share This: