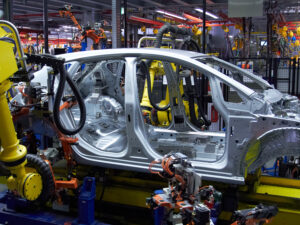 Ford reports 'mixed' Q1, GM 'strong'; both share details on EV focus, supply chain issues
By on
Business Practices
While facing continued supply chain constraints and the semiconductor shortage, Ford and General Motors, during their recent Q1 earnings calls, reported differing financial results – Ford seeing a "mixed" quarter and GM a "strong" quarter. However, both say they're making strides on each of their electric vehicle (EV) production goals.
"Supply chain constraints continued to impact our business, including some of our key profit pillars," said James D. Farley, Ford's president, CEO, and director. "That said, we're making progress on launching and scaling new products, as you can see with Lightning. …our major focus now is accelerating a more fundamental change in our supply chain management to improve visibility through our entire value chain and secure supply, especially in places like semis and batteries."
He called the company's Q1 performance "mixed" due to supply chain issues, but said customer demand is strong. CFO John T. Lawler explained that the year-over-year decline in total profits was the result of higher commodity prices and lower volume and mix. Farley noted that Ford plans to produce more than 2 million EVs by the end of 2026 and that EVs will account for nearly 50% of the OEM's global sales.
In GM's earnings call, Chairman and CEO Mary Barra touted the OEM's creation of "a sustainable, scalable and North America-focused EV supply chain to control our own destiny," which she called "a competitive advantage." She also noted that work is underway to produce 400,000 EVs in North America by the end of 2023 and by the end of 2025, GM factories will have the capacity to build 1 million EVs in the U.S., Canada, and Mexico.
"We have invested alongside industry leaders and startups alike, and we are sourcing as much as possible from North America and strong trading partners like Australia," Barra said. "This includes rare earth material, permanent magnets, cathode active material, and lithium, as well as the cobalt agreement we announced this month with Glencore. We're also in the process of securing additional long-term supply agreements for nickel."
Both CEOs said their companies are facing high demand for their vehicles.
Ford Q1 results and 2022 outlook
Farley said Ford has "work ahead to fully scale production and fill an extraordinary order bank" for the new all-electric Ford F-150 Lightning and its Ford Pro business segment, but Ford+ – the company's growth plan – is "the right plan" to have in place to move forward.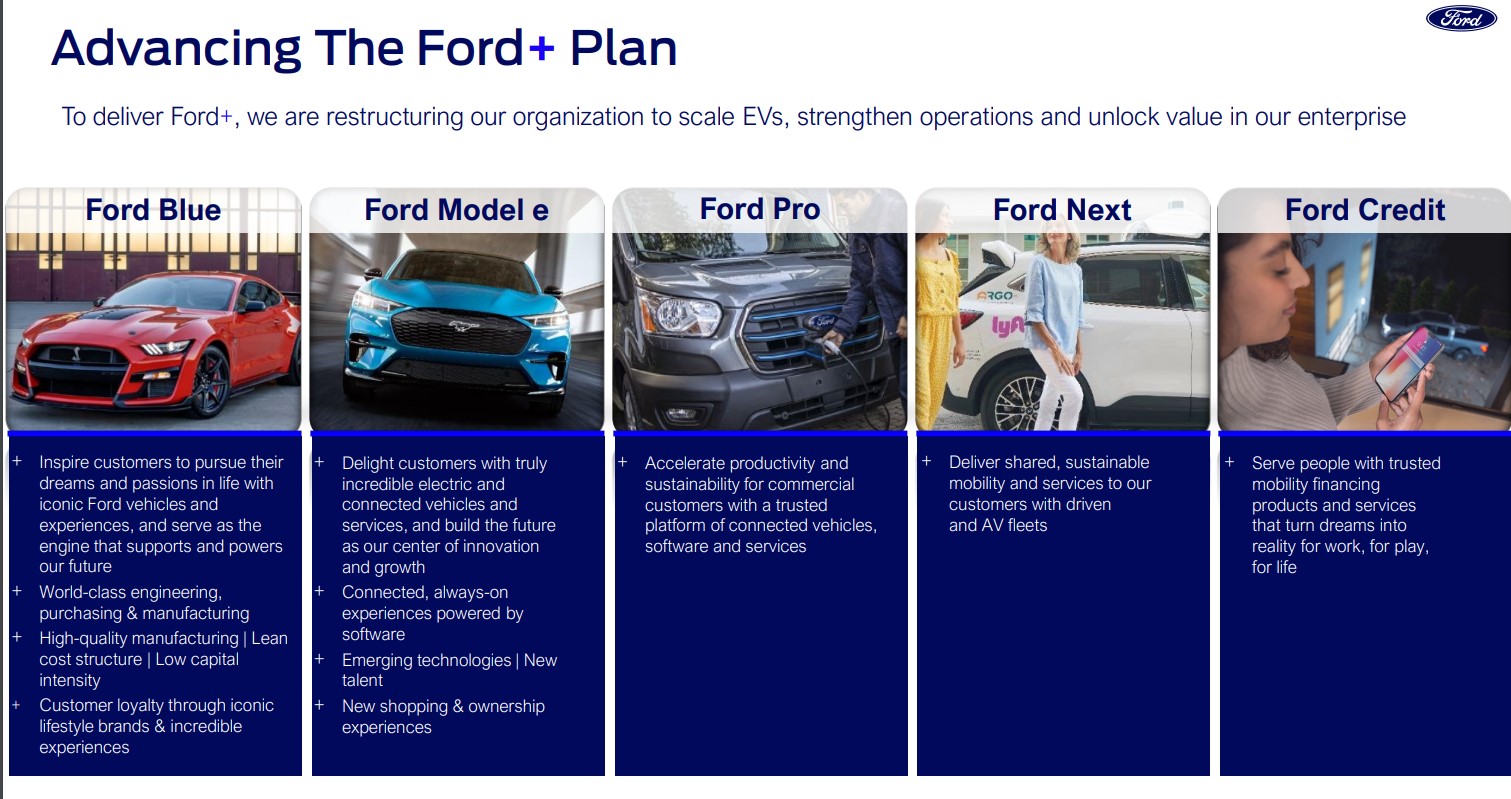 Specifically, in regard to the production of the Model e segment – Ford's new EV lineup – Farley said battery capacity is the key to unlock "our EV aspirations and propel our growth in the future." That will mean securing raw materials, processing, precursor, and refinement as well as setting up battery production around the world and in the U.S., he said.
"We're crafting our EV future product pipeline and are focused on a small number of highly compelling, high volume models in key segments where we already lead," Farley said.
He added that filling employee gaps in EV engineering, software, and autonomous driving technology will also be important, which the OEM is being "very aggressive" in recruiting. Farley noted that Ford's EVs will be "progressive" and not "electric versions of our existing lineup."
In its internal combustion engine (ICE) segment, called Ford Blue, Farley said the company will invest in it "in targeted ways to build our most popular and profitable vehicle lines: F-Series, Bronco, Super Duty, and a few others," with a focus on quality.
Ford Pro – the OEM's professional fleet segment that offers parts sales, mechanical repairs, and more for ICE vehicles and EVs – is "on track" with healthy growth, according to Farley.
In Lawler's highlights of Q1 earnings, he said global wholesales were down 9% because of continued supply chain issues. "However, our run rate of vehicle production in North America improved significantly during the month of March, and we ended the quarter with an extremely healthy order bank. In fact, in the US alone, our order bank is primed to deliver about $17 billion in revenue."
He added that he expects wholesales to grow 10-15% by the end of the year assuming semiconductor availability improves during the second half of the year.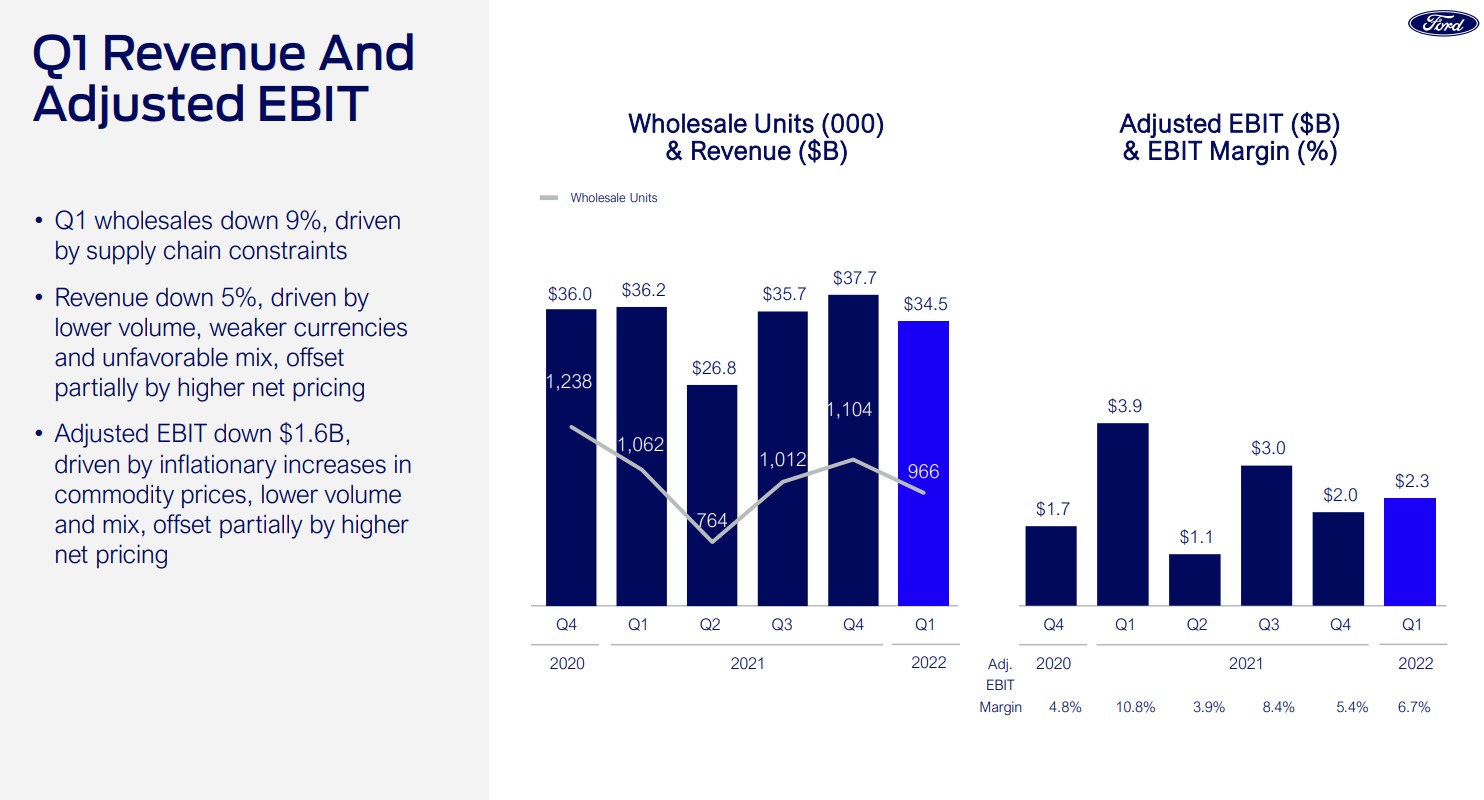 "We also assume in our guidance that disruptions in the supply chain and local vehicle manufacturing operations resulting from the renewed COVID-related health concerns and lockdowns in China do not further deteriorate our supply chains," Lawler said.
He and Farley said they expect commodity inflation. That will keep vehicle pricing in flux, according to Lawler, but with "robust" EV demand, Farley said the company believes figuring out the best battery chemistry will be key in keeping commodity costs down.
"Lithium iron phosphate, of course, we know from the industry is something that takes you away from the dependence on nickel," said Douglas Field, Ford Model e chief EV and digital systems officer. "That will be a part of our future, and we're also looking at chemistries that give us an opportunity to be less dependent on the specific materials that everyone seems to be fighting over in the market."
Farley said the current focus is on lithium and nickel. And when asked what his message would be to the metal and mining industry, he said "we need to work together and find good deals."
"And, number two, we want to move some of the processing to North America, and we're willing to invest capital to move the processing, precursor work from overseas to North America for a variety of reasons," Farley said.
Farley also mentioned Ford plans to invest in Level 2, Level 3, and Level 4 autonomous vehicle technologies.
Hau Thai-Tang, Ford's chief industrial platform officer, said the company has managed to minimize significant production issues as a result of the Ukraine-Russia conflict "mostly because of our global sourcing patterns" and getting parts from other locations. In China, Ford is working with its teams on the ground to help suppliers get partially operational, he said.
"What's going to be gating us is semiconductors," Thai-Tang said. "A lot of these constraints are nested within that, so it comes down to the work that we're doing on the semiconductor supply."
A Ford news release on Q1 earnings states the company made $34.5 billion and experienced a net loss of $3.1 billion, primarily due to the valuation of its investment in Rivian. Ford owns nearly 12% of the startup, according to Bloomberg.
GM Q1 results and 2022 outlook
Barra said Q1 was "yet another strong quarter." The OEM has been "very deliberate in our approach to get EVs right and to get solutions that are scalable and position us for leadership in key segments like pickups, luxury, and affordable EVs, and deliver programs and services that support margin expansion." Those include:
The Ultium platform and Ultifi;
EV focus in 2020 "on the consumer experience and to take out inefficiencies of our distribution system;"
Opening three battery plants in the U.S. between this summer and 2024, with the fourth plant to be announced shortly;
The creation of "a sustainable, scalable and North America-focused EV supply chain to control our own destiny;"
A manufacturing plan that "leverages our talent and our scale;" and
GM's "close partnership" with Honda, including both EVs and AVs.
"We delivered a very strong first quarter, including over 10% year-over-year revenue growth, fueled by robust demand for our products, especially for our full-size trucks and SUVs," said GM Executive Vice President and CFO Paul Jacobson. "Our plants were largely running regular production, as the team worked to overcome semiconductor and other supply constraints. Strong customer demand for our products has continued into April, with most vehicles continuing to turn immediately as they arrive at dealers."
He added that GM made $36 billion in revenue in the Q1, which he noted is similar to 2021 Q1 "despite $2.5 billion in higher costs." And wholesale volumes, he said, were up 12% from 2021 Q4.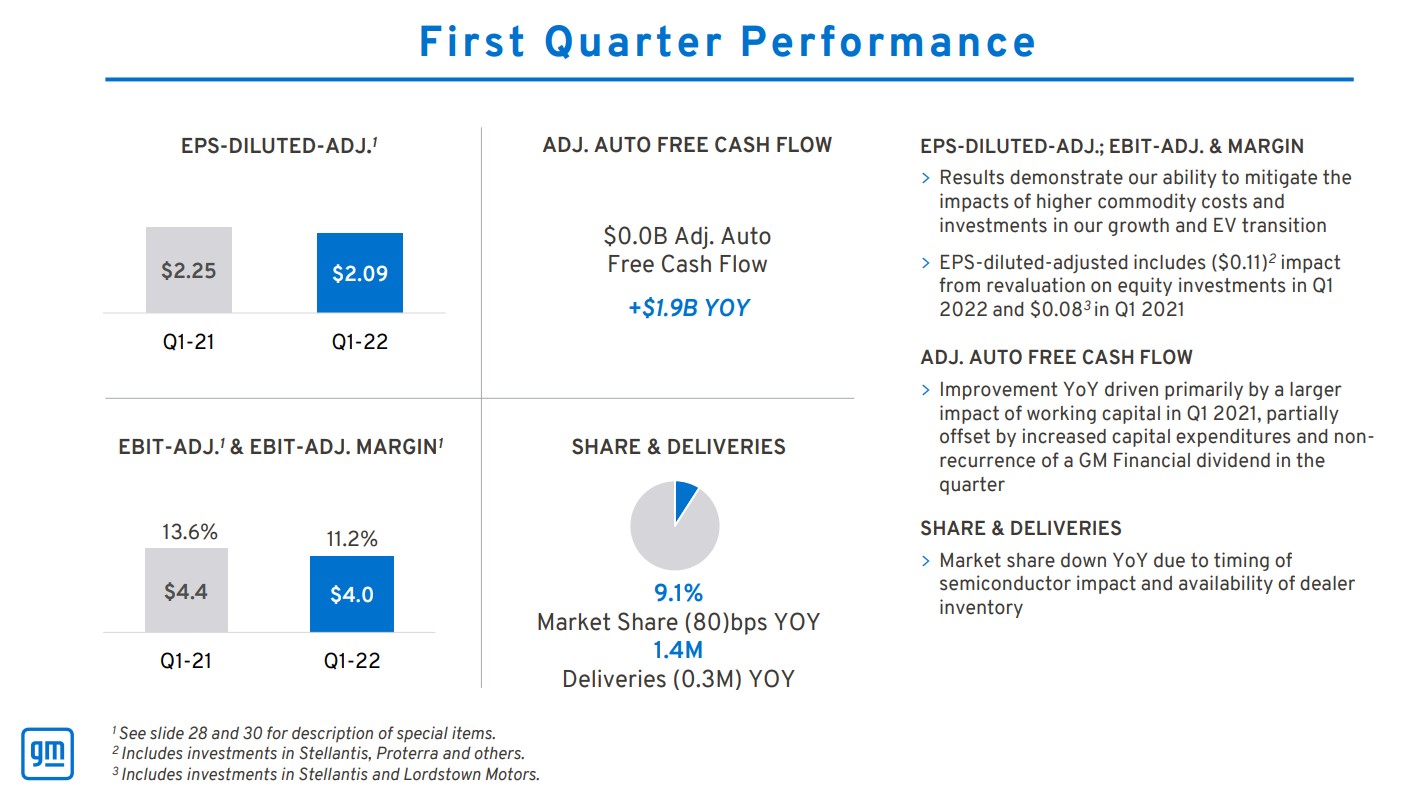 "Overall, we see the availability of semiconductors continuing to improve and are working closely with our supply chain partners to help deliver our full-year total company wholesale volume goal of 25% to 30% growth," Jacobson said. "While the first quarter presented challenges for commodity and logistics costs, our teams are working effectively to manage these dynamics. We have contractual protections in place for some commodities to help ensure supply and to provide some protection against cost volatility. We also made some proactive decisions early in the year to bolster our supply and provide pricing protection. For example, we secured palladium inventory that is sufficient to meet our production needs through the end of this year."
When asked about GM's strategy when it comes to inflation, Jacobson said "inflationary pressures" have been passed on to customers over the last two years "on the backs and the strength and the strength of the products that we've offered."
"Certainly, lower inventory levels have helped that in the short run," he said. "So I think, it's been a very good tool for us. I think the billion-dollar question is, what happens when inflation is too much? And the thing we have to remember is these variables don't move independently. So, in a world where we start to see inflation taking a toll on a consumer, you'd also expect there to be some reduction in commodity prices, et cetera, reflecting macro demand trends. So I think we're watching it very closely. And I think the message to take away from our first quarter performance, as well as going back through 2021, is the team's been very nimble and adept at managing through this."
Barra added that GM continues to see "very strong demand" for its products and expects that to continue as the OEM focuses on what its customers are looking for, she said.
GM supply chain issues from the Ukraine-Russia conflict are "fairly limited" and the automaker is "on track" with meeting its need for semiconductor chips, according to Barra. In China, Barra thinks it's possible to mitigate COVID-19 lockdowns, which have been of minimal impact so far, she said.
"There is some volatility with everything that's happening in the world, but we just try to get in front of it as quickly as we can and find solutions, which I think a proof point of us being able to do that is, the strong results we had in Q1," Barra said.
When asked if she sees any future issue with increasing the price tags of GM vehicles, Jacobson said demand is strong, the quality of products is high, and consumer data doesn't show "any demonstrated weakness" in spending or demand, especially for pickup trucks. Specific to demand, he noted that most vehicles are "essentially being spoken for" upon delivery to dealerships. "While production is up, grounded inventory remains quite low," he said.
"We have to be nimble, though. And as I mentioned to an earlier question, we have to watch that balance between the strength of the consumer, as well as what we see in the input costs, et cetera, and making sure that we've got alignment on that."
Jacobson later said he doesn't expect industry inventories to increase substantially this year, "even in the face of our own higher production."
"We think the supply-demand construct across the industry is good," he said. "And when you look at the combination of that with our products and what we've seen from our consumers, that's what gives us some of that confidence going forward, in terms of our ability to maintain where we are."
Barra also gave an update on Cruise – an AV ride service company that GM now has 80% ownership in. Cruise is operating across 70% of San Francisco with plans to operate 24/7 throughout the entire city by the end of this year, she said. Cruise CEO Kyle Vogt said GM is one permit away from being able to charge for rides.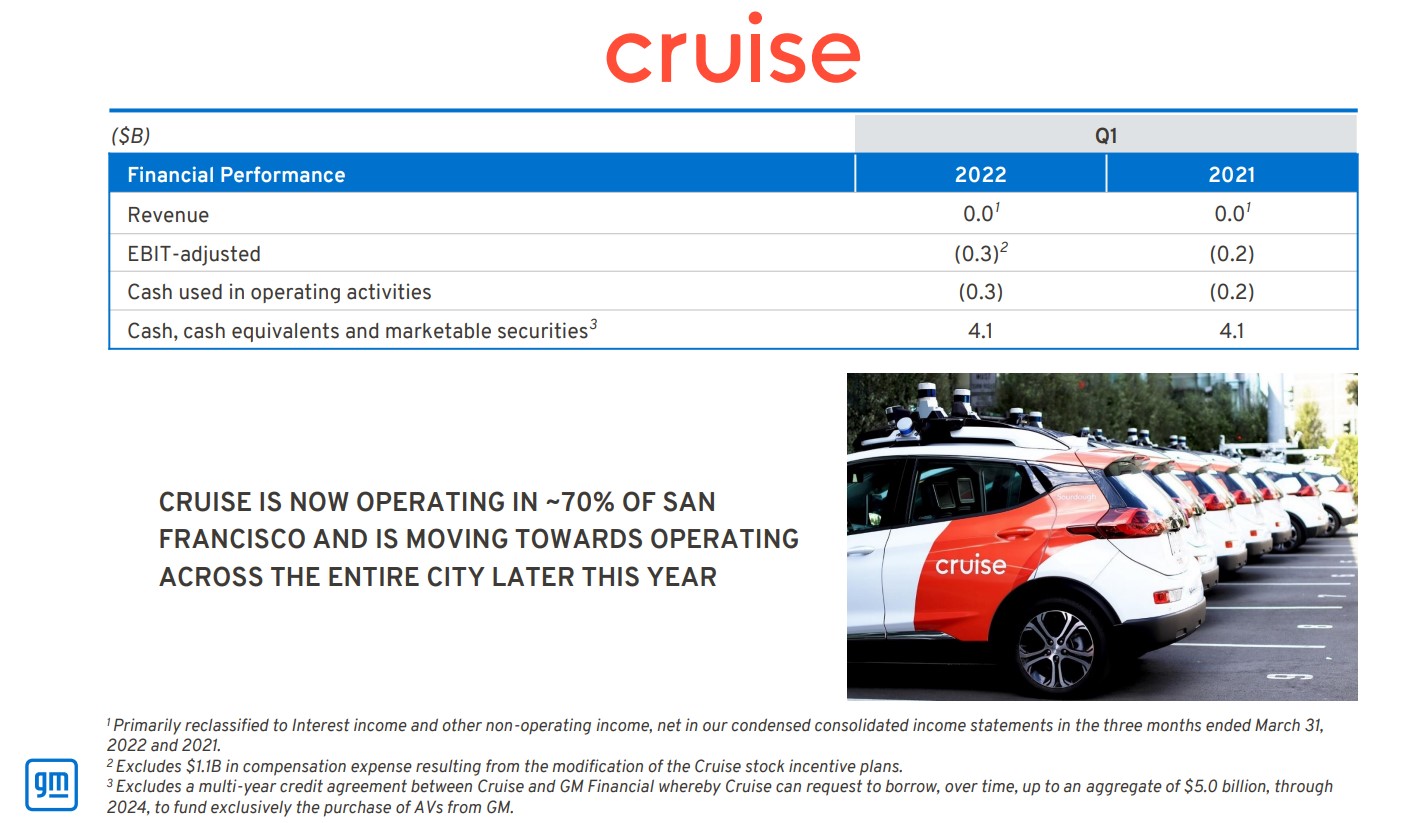 In recognition of National Skilled Trades Day on Wednesday, GM announced the first quarter results from its  Customer Care and Aftersales Technician Excellence Program that launched in January. The year-round program recognizes dealership technicians who continue expanding their knowledge through a mix of virtual and hands-on training, according to a GM news release.
During its first quarter, 70% of all dealership technicians enrolled in the program and more than 9,000 auto technicians qualified for a reward across three certification levels, according to the release. Nearly 300 new technicians also began with entered GM.
A video series was also launched on Wednesday to attract new technicians and "combat the stigma of entering a trade" by addressing "how affordable" and accessible education is through two years of training at a GM Automotive Service Education Program, the highly technical skills needed to work on today's vehicles, and how skilled trades can "become more than a job and result in a rewarding and lifelong career." The videos can be viewed here.
Barra mentioned during the earnings call that over 40% of salaried employees and "even higher percent of our technical talent" have been with GM for five years or less and are employees because of its EV mission.
"We believe every single one of them is valuable and has an important role to play in our future EV, whether they're working on EVs today or they work on seats or they work on software design or interior design, all those things that exist in an EV as well," Barra said.
IMAGES
Featured image credit: pierrephoto/iStock
"Advancing the Ford+ Plan" and "Q1 Revenue and Adjusted EBIT" slides (Provided by Ford)
"First Quarter Performance" and Cruise financials slide (Provided by GM)
Share This: